Is Neve Campbell Still Married? Learn her Relationship History here
A look into Neve Campbell's married life: The actress is a mother to two!
Regarded as one of the few scream queens, Neve Campbell has long been a staple in horror films. Thanks to her long portrayal of Sidney Prescot in the Hollywood slasher franchise Scream, Campbell has successfully carved a stellar career for herself. The actress recently announced her exit from the franchise over pay disputes; click here for details.
The Canadian actress was born in Guelph, Ontario, on October 3, 1973, with the name Neve Adrianne Campbell. Her earlier credits include Canadian drama shows, The Kids in the Hall, Catwalk, Are You Afraid of the Dark? and Kung Fu: The Legend Continues. Campbell became a global star after she landed the role of Julia Salinger in the teen drama Party of Five, and soon Neve starred in her breakthrough Scream. Campbell's personal life is as thriving as her career; the actress is decoded to her boyfriend and with two kids.
Inside Neve Campbell's marriage!
Neve Campbell is known for the fan-favorite character Prescot had hard luck in love. Although her character transformed into a wife and mother of two in the last Scream installment, to fans' dismay, the story arc wasn't thoroughly followed. Thankfully, Campbell's onscreen life didn't translate into her real life.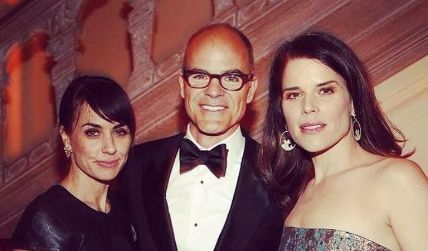 The Canadian actress was married twice but currently isn't a wife. Campbell is in a committed relationship with the actor JJ Feild. But the actress has had her share of rotten luck in love. Before discovering a lifetime partner in Field, or so we presume, Neve was married to a co-star and another mystery man before that.
You know what they say; the third time's a charm. After a year of dating, Campbell confirmed her love connection with her boyfriend Feild in March 2012. Neve and JJ have displayed a pretty enviable relationship since then.
Don't Miss: Who Is Jon Bon Jovi's Wife? How Many Kids Does He Have?
Who is Campbell's Partner JJ Feild?
Campbell's partner and the father of her two sons, JJ Feild, is an English-American actor. Unlike his commercially successful wife, Feild holds most credits in theatre and television. Feild's credits include The Ruby in the Smoke, The Shadow in the North, Austenland, and Captain America: The First Avenger.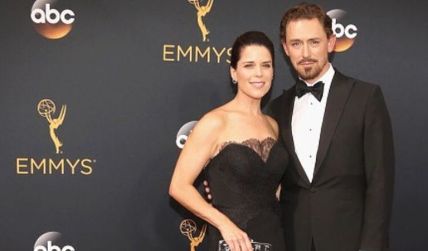 Campbell has consistently kept her personal life out of the spotlight; hence not much is known about the duo's relationship dynamic.
Neve Campbell married Twice Before Meeting Feild!
Before Feild, the Scream famed actress Neve Campbell was married to English actor John Light. Neve met John on the sets of the 2001 comedy-drama Investigating Sex. The pair started dating the same year in December and were married by May 2007.
Campbell and Light's marriage lasted three years, during which the pair didn't conceive any children, but the actress did move to Islington, north London, to spend her life with Light.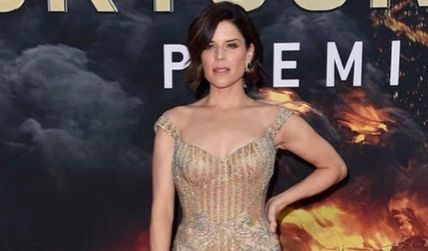 Neve filed for divorce in June 2010, citing irreconcilable differences. Likewise, Campbell even filed to block John from seeking any spousal support. By 2011, the Scream franchise actress finalized her divorce from her second husband, John.
Yes, the iconic actress was married once before. Campbell's first husband was Canadian actor Jeff Colt. The Canadian actress was married to Cold in 1995. However, things between the couple failed; by 1998, Neve and Jeff had finalized their separation.
Neve Campbell and her long-time partner JJ Feild welcomed two kids!
The Blind Horizon actress and her partner stepped into parenthood a little after they started their journey as partners. The couple welcomed their firstborn, Caspian Feild, five months after dating. And their second addition, Raynor, came via adoption six years later, in June 2018. The twosome has been just as tight-lipped about their kids, but Neve has shared some insights.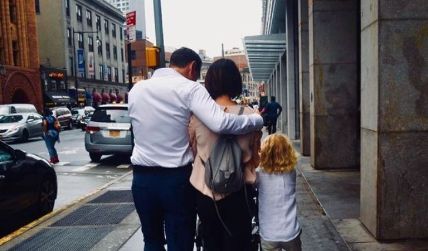 During her appearance on The Late Show with Stephen Colbert in July 2018, Campbell revealed how she and Feild came about their firstborn's unique name.
"When we were pregnant, we didn't find out whether he was a girl or boy, so we thought we'll bring five boy names and five girl names to the hospital," Neve shares.
Recommended: Inside Michael B. Jordan and Lori Harvey's High-Profile Breakup.
Campbell continues, "I was in labor for nine days. I know I should have gone to the hospital sooner; it was really silly. Anyway, we got to the hospital, and then, after the nine days, we'd forgotten the list, and it was the only name we could remember."
The actress also shared a similar anecdote about her adopted son's name! Initially, Neve and JJ planned to go with Bob but settled on Raynor.
Campbell and Feild welcomed their second son, Raynor, via adoption in 2018.
Source: Access
"Sheer joy. So it's been a secret up until now as JJ, and I wanted to wait until it was official, but we adopted a beautiful baby boy five months ago," wrote Campbell alongside a vague picture of her family.
The scream queen adds, "His name is Raynor, and we are madly in love with him." Earlier this year, Neve revealed that she and her boyfriend have already told their 3-year-old son that he is adopted.
Stay connected to glamour fame for more.
-->