What is Bruna Marquezine Net Worth in 2021? Here's the Complete Breakdown
Published Sun Feb 14 2021 By Bran
How much is the net worth of the dashing Brazilian actress, Bruna Marquezine?
Bruna Reis Maia aka Bruna Marquezine is one of the highly loved personas in the Brazilian showbiz industry, as the actress started out young in her pursuits to play in television and films. You would be surprised to know how she started out as a child actor, which later strengthened her portfolio with a prominent character in Brazilian telenovela, 'Women In Love.'
The gorgeous model cum actress, Bruna Marquezine recently made it to the headlines as a TikTok video of herself alongside ex-boyfriend Neymar went viral. Over the years, she has been occupied a lot with work featuring in numerous television shows like 'I Love Paraisopolis' and 'Salve Jorge.' Thanks to her so much affiliation in the industry, Bruna Marquezine gathers a colossal net worth, whose details are revealed below.
Bruna Marquezine's Staggering Net Worth Details'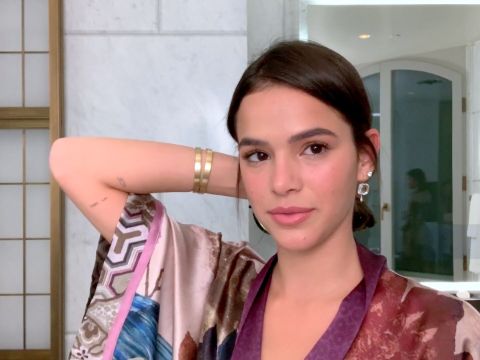 Bruna Marquezine owns a whopping net worth of $3 million.
Photo Souce: Vogue
The income level of Bruna Marquezine as an actress cum models is something that not many Brazilians can match with. Specifically, the dashing actress gathers a massive net worth of $3 million as of February 2021. As the main character of 'En Familia', the Brazilian soap opera on Globo Television, her millionaire status is definitely justified.
Related: Jerome Boateng's Ner Worth and Salary Breakdown.
As per several online estimates, Bruna Marquezine earns a salary in the expected range of $73,000 to $139,000 per year, which happens to be the average salary of an actress in Brazil. In addition to that, her earnings are subject to both, rise or fall considering her intensity in the films and television shows she works. In the case of the movies that do well at the box office, Bruna can further expand her bank account through bonuses.
Bruna Marquezine won several awards as a child actress.
Photo Source: Lezwatch TV
Apart from films and television shows, Bruna Marquezine adds her fortune by doing commercial advertisements and videos. Interestingly, she worked with presenter Xuxa in some advertisements to get enough exposure to make her debut in 'Gente Inocente.' As she grew up, Bruna also featured in films like 'Breaking Through', 'Xuxa Abracadabra.'
Bruna Marquezine Is The Ex-Girlfriend Of Footballer Neymar
Bruna Marquezine was always a fan-favorite in Brazil, but her fame in Europe isn't entirely through her work in the glamour world. Rather, she got a social media spotlight after dating the PSG winger way back in 2012. To be precise, we can call her the woman who stood by the soccer star when he was a boy, and saw him become a man as they spent so many years. Although the pair received a great amount of appreciation and public support, the love birds failed to make things work by breaking up in 2018.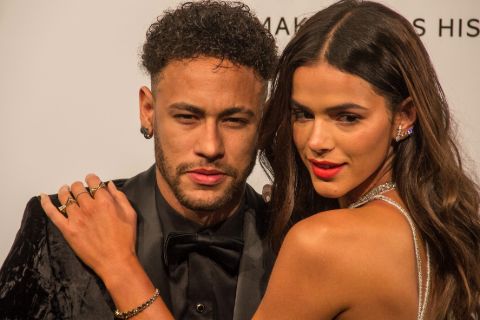 Bruna Marquezine is the ex-girlfriend of footballer Neymar.
Photo Source: The Sun
Recently, an old Tik Tok video went viral where you could spot both Bruna Marquezine and her former partner Neymar in a wedding. The soccer star's lover was wearing a dashing blue dress on the internet video, which got the people speculating on whether they themselves got married or got back together. Getting into the truth, the wedding picture was an old one where the former pair went to a wedding and Marquezine was actually a bridesmaid than a bride. The reputed duo is no longer together and is happy in their lives independently together.
Also See: What is Thanasi Kokkinakis' Net Worth In 2021?
For more news and updates about your favorite stars,please stay connected with us at Glamour Fame.
-->