Nicki and Meg Collab? Fans Can't Contain Their Excitement On Twitter After Nicki Minaj And Megan Thee Stallion Drop A Bombshell On Instagram Live!
Published Sun Jul 28 2019 By Travis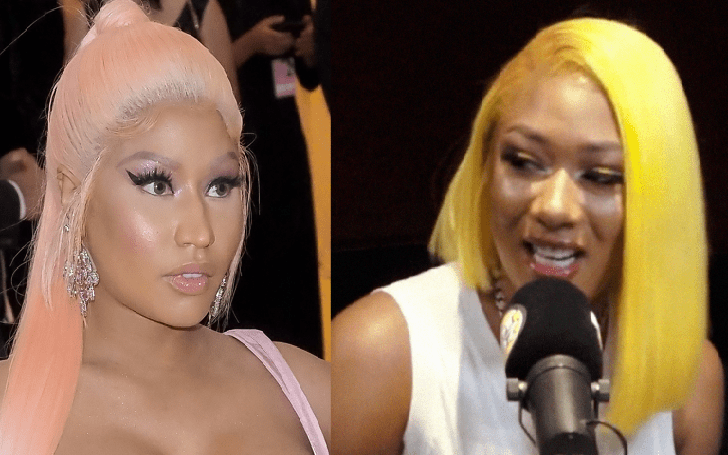 Nicki and Meg were on Instagram together and people lost their mind.
Megan Thee Stallion is making waves in the female hip hop world as she is surging in popularity like no other. Her work ethic, her Instagram smarts and her handling of both college and becoming a successful recording artist is something which is making her endearing among fans of hip-hop music.
On the other side of the spectrum is Nicki Minaj, who is the most successful female rapper in hip-hop history. And after a hiatus from social media, she came back last month, and the hip hop community took notice when Nicki and Meg Instagram lived each other sending twitter in a frenzy over the possibility of the two rappers collaborating.
Megan came under fire last month when during an interview she was asked to list the five best female MC's of all time, and she responded with Lil Kim, Missy Elliott, Eve, Foxy Brown, and on the last spot, she named herself. As you know Nicki Minaj rolls with a loyal fanbase who call themselves 'Barbz' and needless to say, the comment didn't go down really well among the fans of the multiple time Grammy-winning rapper.
The fans of Nicki Minaj felt like she was "switching up" as Megan was heard praising Nicki on many occasions and when asked about the top five female rappers of all time, Megan not naming Nicki was taken as a slight by fans of the rapper. Megan even went on Twitter to clarify her position, saying, "It's funny how you're making nothing into something...I can't like the OG female hip hop artist? I can't show love to more than one woman ?"
Nicki seems to be not offended as she took to Instagram to talk to the rapper, and both of them were having fun. Nicki was imparting wisdom about staying in school and talking about how she never got to enjoy college life, and Megan talked about coming to LA and both of them hitting each other up.
This whole exchange got fans foaming at the mouth as rumors were flying before about the two rappers collaborating.
The collaboration rumors definitely reached fever pitch after the Instagram Live exchange. We cannot wait to hear the two rappers sprinkle some magic on a track together.
-->