Nicole "Snooki" Polizzi is Retiring from 'Jersey Shore'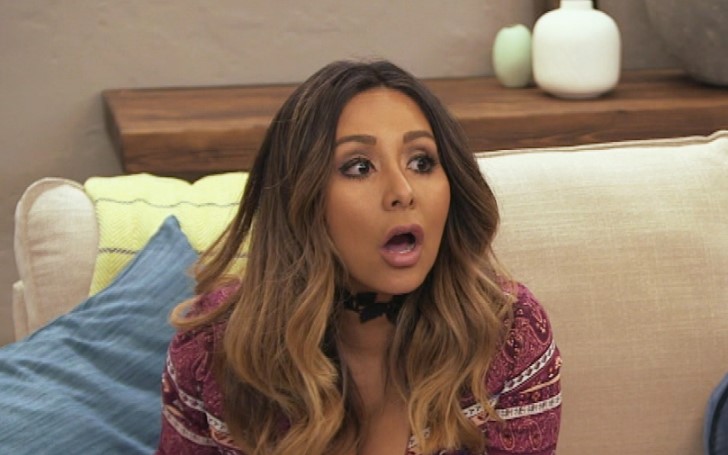 Nicole 'Snookie' Polizzi has decided to leave the Jersey Shore family and won't come back for the fourth season.
Sad news surfaced recently from the house of 'Jersey Shore,' as our 'Snooki' - Nicole Polizzi has decided to leave the Jersey Shore; Nicole said she wouldn't be coming back for the season 4 of the Jersey Shore spin-off - "Jersey Shore: Family Vacation."
Nicole revealed her decision during an episode of "It's Happening With Snooki & Joey," a podcast where Snooki came with a shocking revelation.
Watch: Nicole 'Snooki' Polizzi Is Quitting The 'Jersey Shore'
Polizzi said, "I'm going to throw up. Okay, you guys, I love you so much and don't hate me for my decision, but I have to do what's best for me at the moment, and I am retiring from Jersey Shore."
Also See: Snooki Shuts Down Rumors of Jionni LaValle Marital Issues
Nicole added, "I am not coming back to [Jersey Shore: Family Vacation] for a Season 4 if there is one. And there are a lot of reasons why, but the main reason is really -- I'm just like, I just can't do it anymore."
So, when asked about the reasons, Nicole said one of the main reasons why she came with a big decision is leaving her kids behind while she is at the shoot.
Nicole, who shares three children, Lorenzo, 7, Giovanna, 5, and Angelo, six months, with her husband, Jionni LaValle, admitted, "I try to quit every single day. The poor producers are, like, 'Dude, are you going to quit this time?' I quit every single time we film because I just hate being away from the kids."
Watch: YOU CAN STILL KEEP UP WITH ME HERE EVERY WEEK | ANGELO'S BAPTISM
Moreover, Nicole now thinks the whole environment is not suited for her anymore. Polizzi said, "I don't like partying, like, three days in a row. It's just not my life anymore. And I want to be home with the kids. You know, like, I don't mind a here or there going to a dinner or whatever, but it's just really hard on me to leave the kids and film the show."
Nicole further added, "Another reason is that when I leave my kids and I film the show, I want to have a good time, and I'm putting myself out there, and I just want to come off as a good person. And lately, on the show, there's just been very dramatic."
Well, all the reasons seem legit; moreover, the reality star is tired of all the drama, and backlashes she faces for things she might end up doing because of the demand of the script. And it seems, after three kids, Nicole is not the same person she used to be.
Polizzi has changed a lot, and we can see maturity on her, which was missing previously. Well, if she thinks the show is not for her anymore, she knows better for herself than any of us.
All we can say is, best of luck to the reality star, and hope for her bright future ahead. For more information on your favorite celebrities' lifestyle, stay tuned to Glamour Fame, and don't forget to sign up for the newsletter.
-->