Noelle Watters: From Fox News to Her Personal Life with Jesse Watters - A Closer Look!
Noelle Watters is recognized as a television personality and accomplished fashion stylist. While her former husband's extramarital affair may not be unfamiliar to the public, it's Noelle's notable silence on the subject that has captured the curiosity of fans and observers.
Prior to her marriage, Noelle had established a successful career at Fox News, showcasing her talents in the media industry. However, she made the difficult decision to step away from her professional endeavors to prioritize her family. Unfortunately, the dissolution of the very family she dedicated herself to came as a significant setback, adding a poignant layer to her story.
Is Noelle Watters Single or Dating? Know About Noelle's New Boyfriend
Following her divorce, Noelle Watters has embraced a single life and finds fulfillment as a devoted single mother. She has gracefully returned to her maiden name, Inguagiato. Her primary focus remains on nurturing her daughters and advancing her career.
Noelle's dedication to her family takes precedence, and she has chosen to keep her personal life shielded from the public eye. Notably private, there is no information available about her current romantic involvement.
Since parting ways with Jesse, she has taken steps to maintain her privacy, making her Instagram account private and sharing her last Facebook post in 2021. While any potential remarriage remains undisclosed, Noelle has shown support for the American Stroke Society, evident by her inclusion of the organization's website in her Instagram bio.
Married Life With Jesse Watters
Noelle Watters is not only recognized as a broadcaster and fashion stylist but also as a devoted mother of two and a former spouse. Her marital journey led her to conservative political commentator Jesse Watters, with whom she shared a decade-long bond from 2009 to 2019.
Their paths initially crossed in 2002 while both were part of the Fox News team. Noelle, then working in advertising and promotion, and Jesse, climbing the ranks, found a connection that blossomed into a deep romantic relationship.
Paparazzi captured glimpses of their affectionate moments during romantic outings, and their love story extended to social media, where they shared snapshots of their shared experiences.
In 2009, Noelle and Jesse formalized their commitment through marriage, drawing media attention to their relationship. Their union exemplified a harmonious and loving family dynamic, portraying a model of an ideal partnership.
Noelle Watters is the Mother of Twin Daughters
Two years following Noelle and Jesse's wedding, their lives were further enriched by the arrival of twin daughters. Born on November 4, 2011, the twins were lovingly named Ellie Watters and Sophie Watters. Visual glimpses shared on various online platforms offer insight into the joyous moments the family of four shared together. Despite their demanding schedules, Noelle and Jesse prioritized their roles as parents and cultivated quality time with their daughters.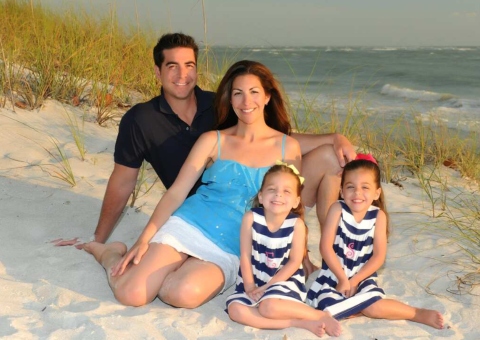 Noelle, in particular, embraced the role of a stay-at-home mom, dedicating her time and attention to nurturing her children. Jesse, despite his commitments, also managed to carve out precious moments to be present with his family. Their residence in Manhasset, located on the north shore of Long Island, served as the backdrop to their familial bonds and cherished memories.
Did Emma DiGiovine Split Noelle Watters and Jesse Watters?
The apparent facade of marital happiness between Noelle and Jesse Watters was ultimately shattered by a distressing revelation. Jesse's involvement with fellow Fox News colleagues became evident, as he embarked on an affair with Emma DiGiovine, a 25-year-old associate producer on his show. This clandestine relationship is believed to have commenced in 2017.
The revelation of Jesse's infidelity led to a significant turning point. In October 2017, Noelle initiated divorce proceedings, a stark response to her husband's betrayal. Recognizing the gravity of his actions, Jesse himself disclosed his affair with Emma DiGiovine to Fox management.
In accordance with the network's policies regarding such situations, Emma was subsequently reassigned to another talk show, "The Ingraham Angle." Eventually, Emma chose to depart from Fox News in the spring of 2018, marking the conclusion of her professional association with the channel.
Custody Battle
Noelle and Jesse managed to reach an out-of-court resolution for their divorce proceedings. Despite this, Noelle took a step to seek her ex-husband's contribution towards her legal fees through a filed motion.
While the specifics of their settlement remain undisclosed, it is evident that their daughters found their home with their mother. Following the finalization of their divorce in 2019, Noelle Inguagiato secured custody of her twin daughters. Subsequently, she made a significant move to Washington DC.
In an intriguing twist, Jesse and his current wife, Emma Watters, continue to maintain an active presence in the lives of the twins. This involvement was underscored when the twins assumed the roles of flower girls at the wedding of Jesse and Emma, solidifying their continued connection as a blended family.
Ex-Spouse Remarried
While Noelle Watters has moved forward in her own path, her former spouse, Jesse Watters, has also embarked on a new chapter in his love life. In August 2019, Jesse proposed to Emma DiGiovine, a few months subsequent to finalizing his divorce from Noelle Watters.
The couple then sealed their bond in matrimony later that same year. Their wedding ceremony boasted a notable guest list including figures like Donald Trump Jr., Lara Trump, and Kimberly Guilfoyle.
Their union has been graced with the arrival of a son named Jesse Bailey Watters Jr., born in the year 2021. Nonetheless, Jesse remains intricately woven into the lives of his twin daughters from his previous marriage. Notably, the twins held a role of significance in his nuptial celebration with Emma, serving as flower girls in a poignant gesture of continued familial connection.
Noelle Watters Age, Bio, Wiki
Noelle Inguagiato Watters, an adept fashion stylist, was born on May 5th, 1976, in the bustling metropolis of New York City, USA.
She entered this world as the cherished daughter of Peter and Rosemary Inguagiato, her lineage tracing back to a blend of Scottish and Irish heritage.
Height and Weight
With a distinctive appearance, Noelle Inguagiato Watters possesses captivating brown eyes that complement her light brown hair.
Standing gracefully at a height of 5 feet 6 inches (167 centimeters), she maintains a balanced physique with a weight of 121 pounds (54 kilograms).
Instagram
Noelle Watters has chosen to maintain a private and focused life, steering clear of the social media spotlight, particularly on the platform Instagram.
Instead of engaging in the digital realm, she dedicates her time and energy to her most cherished role: being a dedicated and nurturing mother to her twin daughters, Ellie and Sophie.
Net Worth of Noelle Watters
Noelle Watters stands as an accomplished figure, boasting success both as a prominent broadcaster and a skilled fashion stylist. Her remarkable endeavors have culminated in an estimated net worth of approximately $1.5 million.
In a parallel vein, her former husband, Jesse Watters, has established himself as a notable political commentator and television host. Recognizable for his engaging "On-The-Street" interviews and the popular segment "Watters World," Jesse has amassed a commendable net worth of around $10 million.
Keep in Touch With Glamour Fame
-->