Olivia Munn Gets Candid About Postpartum Hair Loss
Olivia Munn says her hair is "falling out in clumps" Complete story here!
Olivia Munn continues to share her postpartum journey since welcoming her firstborn Malcolm Hiệp Mulaney, with her beau, comedian John Mulaney. Munn's recent revelation about postpartum hair loss came when a follower, more precisely, Los Angeles fashion designer Amber Farr, gushed about the actress's shiny tress in her latest post.
"Can I have your hair one day please," asked Amber, to which Olivia replied, "Ummm, it's falling out in clumps postpartum; I'll let you have it once I can grow it back and give it to you in better condition." The post features Munn, 41, flaunting her beautiful brunette hair while holding her infant Malcolm in one hand. Sporting a soft glam look, Munn can be seen content with her little one.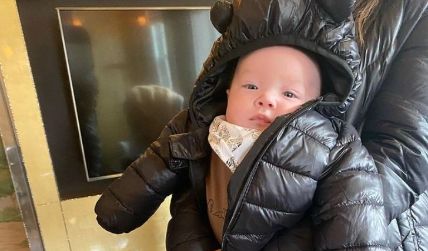 Munn writes her hair is falling out in clumps.
Photo Source: Instagram
The Predator actress shared her struggle with breastfeeding earlier this year. "Breastfeeding is so hard, especially if you have a low supply. Eight weeks in, and I've taken a million vitamins, countless teas, lozenges, and tinctures and worked with two lactation consultants. Breastfeeding. Is. Hard," Munn emphasises in her January post. The actress's plight as a first-time mother doesn't end there. Munn has also opened up about the physical toll on her hips since birthing Malcolm.
Don't Miss: Rihana and A$AP Rocky Hit With Breakup Rumor.
"My hips still feel wonky from pushing out a human being. My postpartum anxiety is still here (and horrible)," writes the Iron Man 2 actress. While the actress keeps her physical postpartum struggles open, she has also kept her fans updated on the emotional aspect of her journey. "I'm so so happy and at the same time I'm struggling (weird to feel both simultaneously yet so grateful to have all the happiness to keep me afloat)," Munn shares. In another post, the actress says how she is keeping herself upbeat by taking up martial class_ Capoeira.
Olivia and John welcomed their son in November 2021.
Source: Access
Munn, a native of Oklahoma City, is best known for her roles in Beyond the Break, Big Stan, Date Night, Iron Man 2, and Magic Mike. She started dating comedian Mulaney in May 2021. Both the pair came under backlash as the Kid Gorgeous comic was still married, though estranged from his former wife, lampshade artisan Annamarie Tendler. Before John, Munn was in a long-term relationship with quarterback Aaron Rodgers.
Stay connected to glamour fame for more.
-->