Piers Morgan Launched A Fresh Attack On Meghan Markle Accusing Her Of Caring More About "Promoting Herself Than The Royal Family"
Published Wed Jul 31 2019 By Travis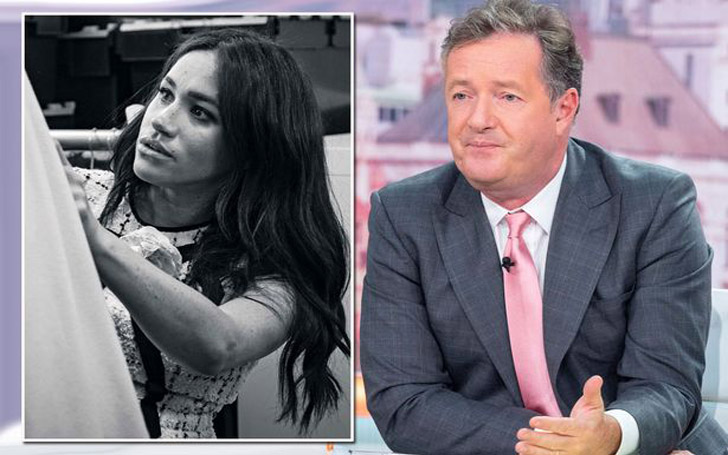 Piers Morgan just can't get enough of attacking the Duchess of Sussex, in fresh attacks, he went after her choice to edit British Vogue.
Another day and another Piers Morgan attack on the Duchess of Sussex, at this point we need to open a separate site just so we can put all the disgusting, vile things which come out of this human fart of a person.
Sorry about the language but it is what Piers does to us, we are living our normal life having fun with Orange Is the New Black's funny crossover with Love Island and along comes this attack on the beautiful and amazing Meghan Markle.
So, what got Piers' knickers in a twist this time? The news of the Duchess of Sussex doing a guest edit of for the British Vogue and it's like someone just served Piers a cold cup of tea.
Morgan who writes for the Daily Mail wrote in his column, "Meghan is now supposed to be a member of the royal family and not a publicity-craving celebrity. Her primary role now is to promote Britain, like any member of the British Royal Family. That's why they get the taxpayer-funded palaces, servants, and gilded lifestyle."
So she is supposed to be beholden to you because you paid taxes to keep her in a castle? A police officer who is supposed to protect the town gives an interview to a newspaper during his free time and also does his job during his work hour, but since you pay taxes which pay the officer's salary means he is indebted to you? You are not their slave master Piers, as much as you would like to be the Fuhrer of Great Britain, no one is your slave and Meghan can do whatever she wants in her free time.
Let's see what else he said about the Duchess.
"The message is pretty clear: promoting Brand Meghan to America is more important to her than promoting Brand Britain," he wrote, "Being a royal means you stay out of politics. Yet here is Meghan being about as political as any royal has ever been."
This was all stemming from the Duchess' choice to only include five British women in the British Vogue among 15 cover stars. She chose New Zealand's Prime Minister Jacinda Ardern and Greta Thunberg who works as a climate activist hailing from Sweden. The Duchess described the teen activist as "incredible trailblazers working tirelessly behind the scenes to change the world for the better."
The major constituent of the 15 women selected for the cover of Vogue is British women with the next highest number coming from the USA, which holds down four places. Everyone else is from around the world, amazing women doing amazing things is what the cover of Vogue is about, it doesn't matter where they are from. We get it Piers you are intimidated by strong women from all over the world over who can better challenge your intellect or lack thereof but goddamn man, don't be so insecure.
This is not the first time a member of the British royal family edited a magazine as Prince Charles edited the Country Life magazine multiple times and The Duchess of Cambridge appeared as the cover of Vogue before, but Piers was not complaining then. The reason he is complaining now can be summed up by two petty little things he wrote in the mail and said on the Good Morning Britain show. He wrote, "As a B-list actress, she's probably craved all her adult life to be a Vogue star." And Piers said in the show, "I knew her for about a year and a half, got on really well with her... then bang, she met somebody more important, immediately ghosted. I never heard from her again."
It is precisely what you read, a man who thought himself superior brought down to his place by a woman whom he considered inferior to himself. The colossal ego of Piers Morgan can't handle the fact he's fallen in the social ladder. Someone living in a glass house shan't throw stones at others; the one who was climbing the social ladder is you, Mr. Morgan. Divorcing your wife Marion Shalloe who was a hospital ward sister and then marrying a daughter of the Conservative MP George Walden is the definition of social ladder climbing.
Also Read: Ku Klux Klan: Formation, Bloody History, Hierarchy, And Immortality!
Since Piers ended his piece with a bit of advice for the Duchess of Sussex, we are also going to give Piers the same advice. Take a long hard look in the mirror, on second thoughts, don't do that, self-reflection is something you are incapable of, so here is our advice. Stop pining for the Duchess of Sussex and stop obsessing over her and go back to ranting about Arsenal, we all enjoy that very much.
-->