Pittsburgh Steelers Star T. J Watt Marries Dani Rhodes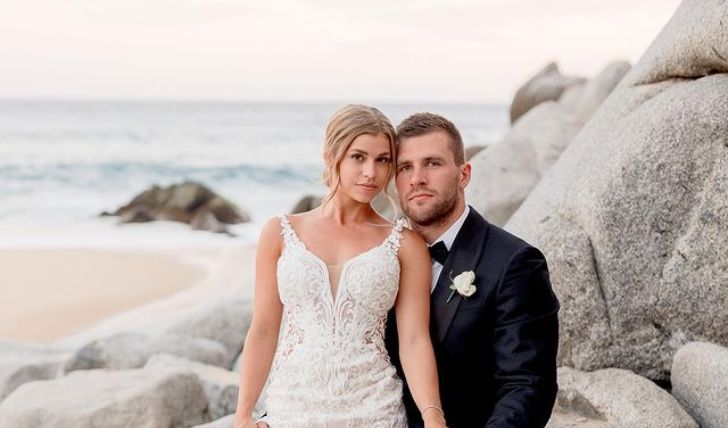 T. J Watt and Dani Rhodes tied the knots after a year since getting engaged: Complete story here!
Pittsburgh Steelers linebacker T. J Watt and Dani Rhodes, a former All-American soccer player, are married. The pair reportedly got hitched at a private resort in Cabo San Lucas, Mexico, on July 9. The star-studded ceremony includes athletes Cameron Heyward, Joe Haden, Ryan Shazier, and J.J Watt, T.J's older brother. Watt and Rhodes shared multiple glimpses of their dreamy wedding with the caption "Best day of my life."
Together since their university days in Wisconsin, Watt and Dani got engaged last year. "I am the luckiest man in the world," wrote Watt while sharing a picture where he can be seen getting down on his knees at a picturesque spot. "It still feels like I'm dreaming," Rhodes wrote after her engagement with the linebacker. She added, "Woke up today feeling so incredibly happy and blessed that I get to marry my best friend. I can't wait to love you FOREVER."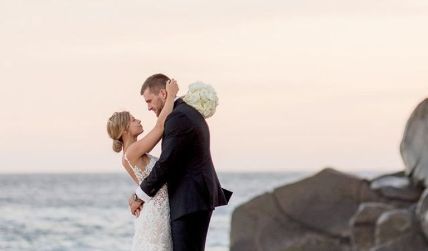 Watt and Rhodes tied the knots in a destination wedding in Mexico. Photo Source: Instagram
Watt, 27, is a native of Pewaukee, Wisconsin, and was rated a three-star recruit by various services after his high school graduation. After a notable collegiate career as a tight at Wisconsin Badgers, where Watt suffered early injuries and therefore had to change position to a linebacker, he was selected in the first round of the NFL draft by the Pittsburgh Steelers. Watt signed his first contract with the Steelers in 2017. Pittsburgh Steelers gave T. J a signing bonus of $4.85 million with a four-year, $9.25 million contract.
Don't Miss: Tom Watson and Former CBS Sports Executive LeslieAnne Wade are Married.
Watt topped his initial contract last year by bagging the largest contract in NFL history for a defensive player. Watt's $112 million four-year contract entailed $28 million per season to the All-Pro linebacker, with $80 million in guarantees. The colossal contract followed T.J after his laudable season with the Steelers in 2020, where the 27-year-old finished second in the NFL Defensive Player of the Year award.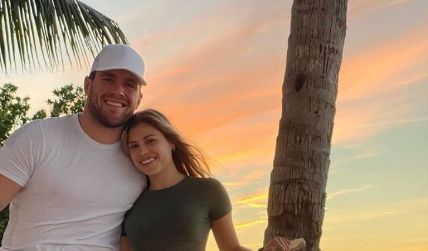 T.J Watts and Rhodes started dating during their time together at the University of Wisconsin.
Photo Source: Instagram
The Wisconsin-born won the AP defensive player of the year title last year. Watt's brother, J.J, accompanied by singer Katy Perry announced T.J the winner of the coveted award. 'To be able to be recognized as the best defensive player of the year is something that I strive to be," Watt said before thanking Rhodes for being his No.1 supporter. T.J thanks his brother J.J, who won the DPOY Award three-time at the peak of his career, for being an inspiration.
Watt was awarded the AP defensive player of the award last year.
Source: CBS Pittsburgh
Rhodes was an all-state basketball player in high school, with natural flair in other sports as well. She was two-time Gatorade State Girls Player of the Year and later won the All-American status in her senior year. Rhodes played for the Chicago Red Stars in the National Women's Soccer League.
Stay connected to glamour fame for more.
-->