Is Predestination' Actor Ethan Hawke Married? Who Is His Wife? Details Of His Children And Family!
Published Wed Jun 05 2019 By Travis
It's not always roses and rainbows when it comes to two people being in a romantic relationship. Sometimes you don't find 'the one' first time around, sometimes second time's the charm.
Ethan Hawke married twice in his life, sometimes you have to try to find love with a different person to truly be happy. Though his first marriage was not as forever as it seemed, looks like he has found his soulmate in his second marriage.
Ethan Hawke's Relationship with his Wife Ryan Shawhughes
Ethan Hawke is married to actress Ryan Shawhughes, the same woman he was accused of cheating on his first wife with. The couple tied the knot in 2008 and are together for over a decade.
Well, the couple met when Ryan was still in college and she was his children's nanny. An affair between the two lovebirds ensued and consequently, his marriage with Uma Thurman ended.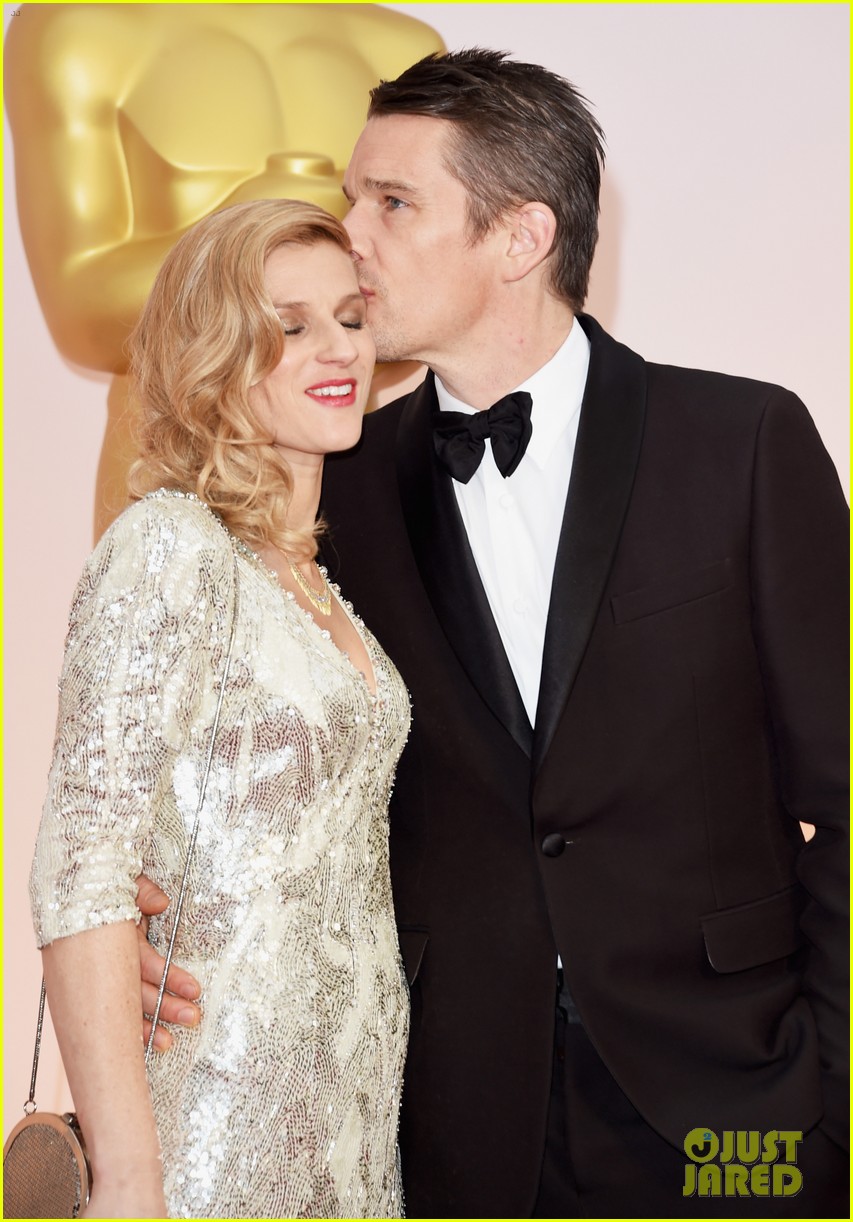 Ethan and Ryan during the 2019 Oscars.
SOURCE: Just Jared
After Ethan's divorce with his first wife, Ryan was more prevalent in his life and finally, the couple tied the knot. Before the power couple got married, Ryan got pregnant with the couple's first child. Ethan Hawke wife, Ryan, gave birth to their first child, Clementine Jane in 2008 and three years later she gave birth to another girl, Indiana Hawke.
Ryan must be Ethan's lucky charm because ever since the two got together, he scored the nominated for three 'Oscars'. The 'Training Day' fame actors' work has excelled and he seems to be happier.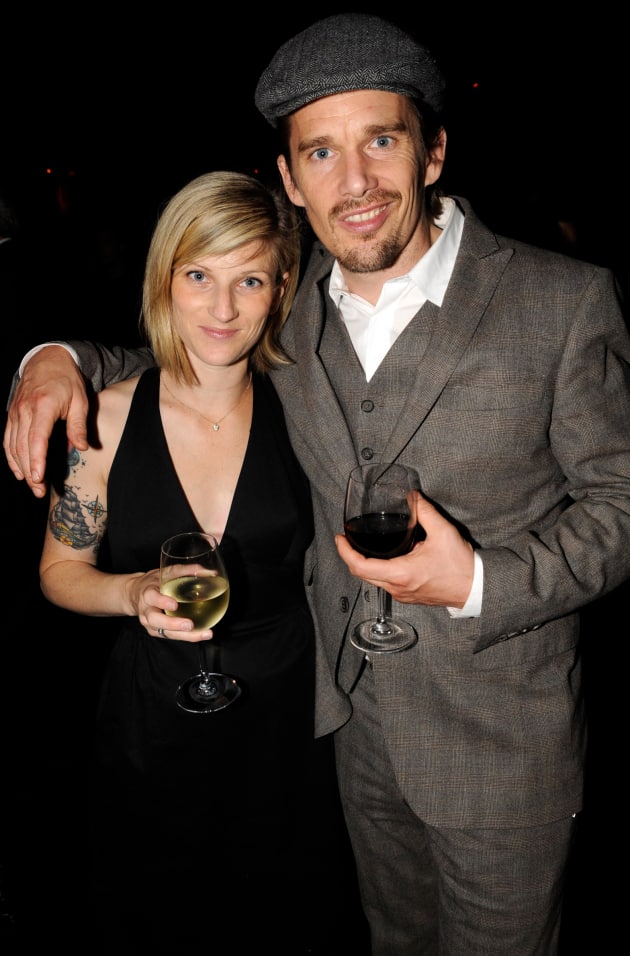 Ethan and Ryan Hawke enjoying a drink together.
SOURCE: The Hollywood Gossip
The couple though rarely seen in public, is magnetic when they do appear together. Their appearance in the 2019 'Oscars' was the talk of the town during the award ceremony. The couple looks happy together and Ethan's marriage to Ryan brought him much more success than his previous marriage.
The power couple is not only known for their scene-stealing award show appearances but also for the social works. Hawke is known Democratic party supporter and the couple together is an advocate to marriage equality rights. They are not only a pretty couple on the red carpet, but they also use their fame to bring attention to the causes they believe in.
Watch: Ethan and Ryan Hawke voicing their support for marriage equality
Though the relationship started mired in controversies, the couple seems to have left all that behind for a happy and healthy relationship, living in Boerum Hill, New York with their two daughters.
Ethan Hawke's Past Relationships
Before his marriage to Ryan, Ethan was married to the talented actress and Quentin Tarantino muse, Uma Thurman. The two met on the sets of 'Gattaca', a sci-fi movie, in 1997, sparks flew and romance ensued. The couple got married in 1998 and welcomed a daughter, Maya, in the same year.
Ethan and Uma were known for coordinating their outfits and always looking ravishing together. But like most Hollywood relationships, infidelity reared its head into their relationships. The couple decided beforehand that one person works and the other stays at home but this pact didn't last long.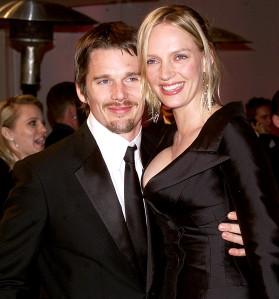 Ethan and Uma during the Vanity Fair Oscar party.
SOURCE: Us Weekly
Ethan stated in an interview, "One person works, the other person doesn't. Well, then somebody's always out of town. Then I'm living in a hotel room taking care of my kids while you're off on a film set six hours a day doing what you love. Do that for nine months and see what a good mood you're in. I don't know if it's just too hard to be married to a woman that wants to be a movie star. I know that she has that right to want that."
Also Read: Did Jennifer Lawrence Ever Genuinely Have An Affair With Chris Pratt Or Was It Merely Rumors?
Infidelity was the reason for the separation and the consequent divorce as Uma puts it, but the couple's lack of time for each other was the cause of infidelity. Before the couple divorced in 2005, Uma gave birth to a boy, Levon Roan who turned 16 recently.
There are four Ethan Hawke children, though they have never been seen together.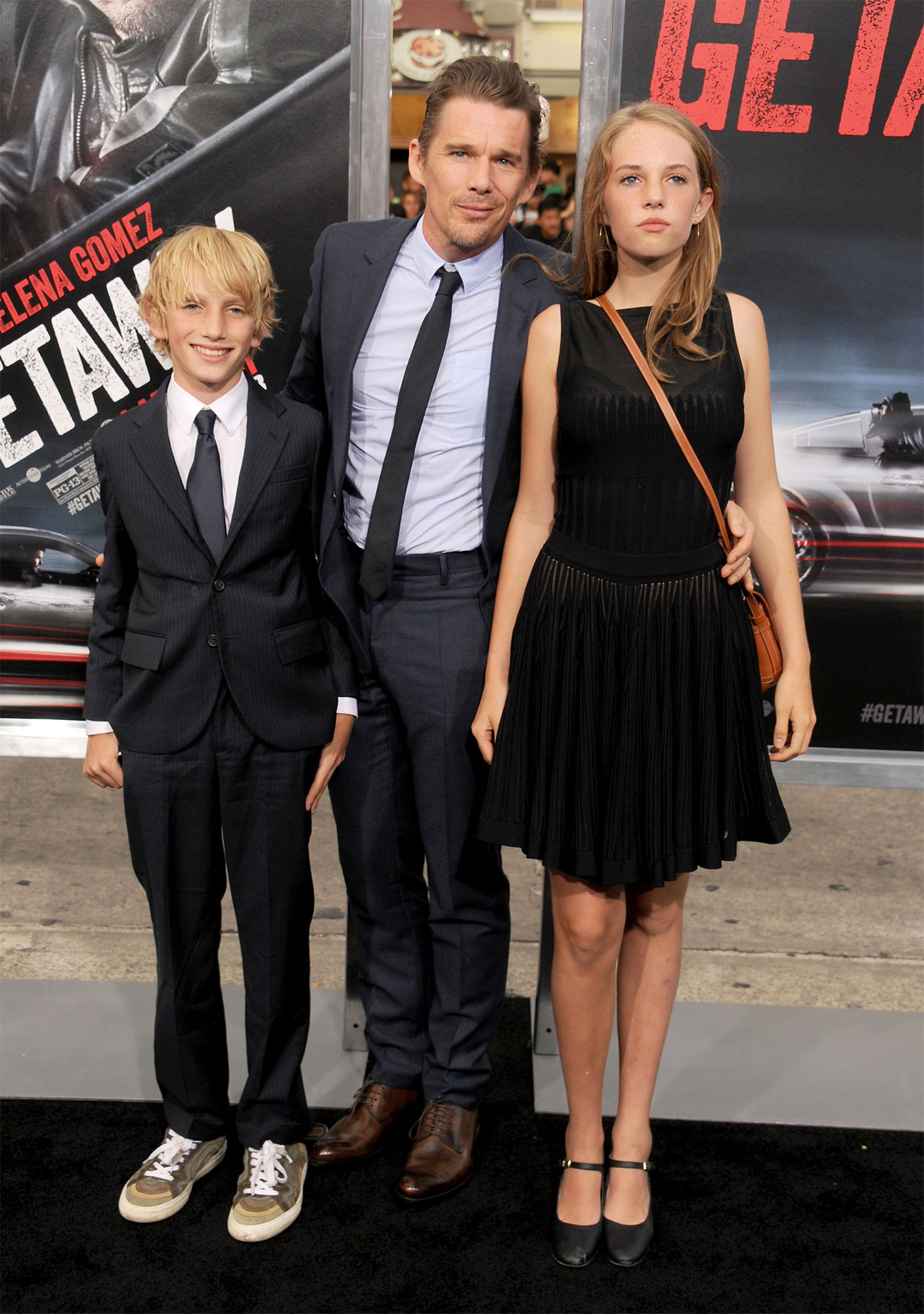 Ethan Hawke with his eldest daughter and son during the premiere of Getaway.
SOURCE: People
Ethan married twice and got lucky the second time, even though his first marriage was ruined, the two ex's hold no grudge against each other. Ethan is happily married to Ryan with two daughters. Uma, though never married, has a daughter with French financier Arpad Busson. Even though Ethan and Uma's relationship was not to be, they both seem to be happy in their own lives.
-->