Princess Diana Was Set To Star In Bodyguard Sequel With Kevin Costner
Published Fri Jul 05 2019 By David
Princess Diana was set to star in sequel to The Bodyguard with Kevin Costner.
Kevin Costner has confirmed the late and the popular Princess Diana was set to star alongside him in a sequel to the hit 1992 film 'The Bodyguard,' in which he starred as an agent recruited to defend a pop star played by Whitney Houston.
Speaking to PeopleTV, Costner said he, Diana and producers were excited to get the project in the rolling. "The studio liked the idea of doing a Bodyguard 2. With Diana taking on a role in the same kind of capacity as Whitney. Nobody really knew that for about a year," said the now 64-year-old actor.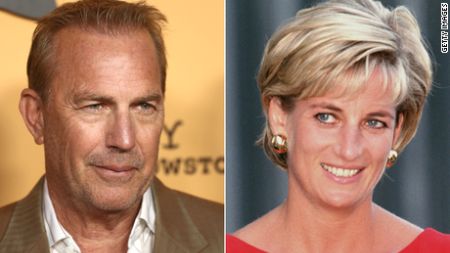 Costner first talked about the project in 2012, explaining the plot would have included his character protecting Diana's from stalkers and paparazzi before their relationship starts to blossom.
Also Read: Spider-Man: Far From Home Star Tom Holland Is Ready For A LGBTQ Superhero
Kevin said a first draft for the project arrived on his desk the day before Diana met her fate, in a car crash in Paris, on August 31st, 1997.
Speaking to People, Costner recalled he and Diana had discussed the film, in particular, the possibility of intimate takes. Costner remembered her being incredibly sweet on the phone and asking if they were going to have a kissing scene. The actor then described the moment where he calmed the princess, saying, 'Yeah, there's going to be a little bit of that, but we can make that okay too.'"
Recommended: Jacob Tremblay And Awkwafina Have Signed On To Play Flounder And Scuttle In 'The Little Mermaid' Live-Action Adaptation
Costner said meetings had been instigated by Sarah Ferguson, Diana's sister-in-law. He said Sarah was really important and that he always respected her as such she was the one that set up the conversation between him and Diana and never being the one to put her at first.
The Bodyguard grossed $411 million, or €364 million, at the box office on release, making it the second-highest-earning film of 1992, while its soundtrack is as yet the bestselling of all time, with 45 million copies sold. The movie marked the acting debut of singer Whitney Houston, whose character is facing a constant threat from an unknown stalker.
You May Also Like: 'Big Bang Theory' Actress Kaley Cuoco To Star In New Streaming Drama 'The Flight Attendant'
Costner played a former Secret Service agent who is called in to protect her before the pair develop a romance in between. The film, which was panned by critics, was turned into a stage musical in 2012 and is still being showcased in London's West End.
Houston, though, died suddenly in 2012, drowning in the bath after a long history with drink and drugs abuse.
-->