Quentin Tarantino Married his Fiancee Daniella Pick in an Intimate Ceremony in Los Angeles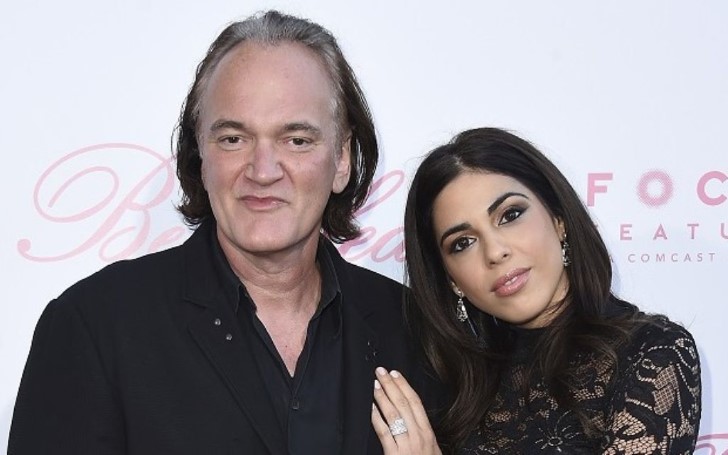 Quentin Tarantino exchanged wedding vows with Daniella Pick in an intimate ceremony.
The Pulp Fiction director Quentin Tarantino tied the knot in secret with fiancee Daniella Pick in Los Angeles. The couple had got engaged 18 months prior.
People reported an intimate ceremony is set to be followed by a large evening gathering.
CAPTION: Quentin Tarantino and Daniella Pick tied the knot in an intimate wedding
SOURCE: People
Quentin wore a simple dark suit while his singer and model wife Daniella, the daughter of songwriter Tzvika Pic, looked stunning in a pure white silk dress with tiara crown and waist-length veil.
You may like: Kylie Jenner Showed Off her Full Support For her Hubby Travis Scott at his Biggest Concert
Tarantino once famously said that a wife or child may get in the way of his movie-making. However, he did not hesitate to announce his engagement to Danielle in June 2017.
The couple first met during a promotional tour for Inglorious Basterds in 2009. The director claimed they were 'very happy and excited to be planning a wedding, eight years later.
Tarantino previously came close to getting married but says 'if that had happened, I wouldn't have made Inglourious Basterds,' or at least not with the same 'intensity'.
Also read: Priyanka Chopra and Nick Jonas are Getting Cozy in her Home Country
Daniella entered his life after the film was made. As a matter of fact, they are believed to have dated for a short time in 2009 before reconciling in 2016.
Remarkably, she managed to change his opinion on marriage, since he previously said that movie-making was his 'Mount Everest' and now was his time to create, not procreate.
"Here's the thing. When I'm doing a movie, I'm not doing anything else. It's all about the movie. I don't have a wife. I don't have a kid. Nothing can get in my way."
-->