Kylie Jenner Showed Off her Full Support For her Hubby Travis Scott at his Biggest Concert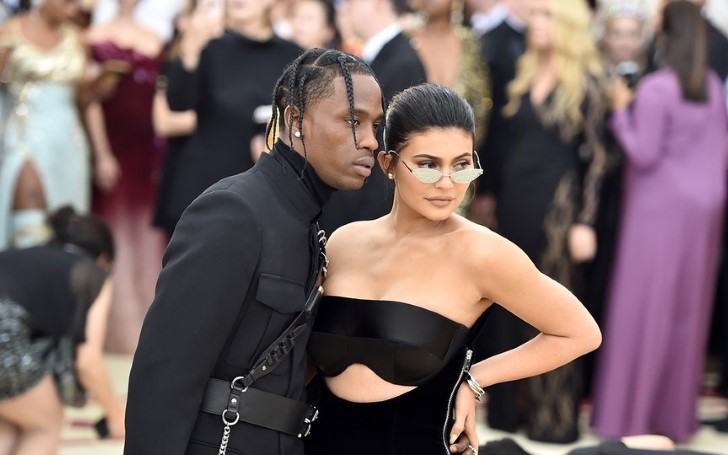 Kylie Jenner displayed full support for her husband Travis Scott at his concert as she could not be more proud of him.
The makeup mogul Kylie Jenner sparkled in an Astroworld t-shirt for Travis Scott's performance on Tuesday night. The event was held at the Madison Square Garden venue in New York City.
Jenner did not leave any shortage of effort to ensure she looked stunning as she sported new silver locks, bright orange pants, and a cheetah print purse. The cherry on the top was a dash of Kyle Cosmetics lip gloss.
CAPTION: Kylie Jenner heading to Travis Scott's concert in Madison Square Garden
SOURCE: E Online
Earlier, Kylie shared a snap of herself giving the camera a sultry look, captioning it "the look ya give when ur hubby is performing at Madison Square Garden tonight."
As mom and dad enjoyed a well-deserved night out of the town, their baby daughter Stormi Webster had to stay back at the hotel. But luckily for the cute baby, earlier in the day she had plenty of down time to chill with her mom.
You Might Also Like: Audrina Patridge is Officially Divorced From Corey Bohan After One Year of Filing Her Separation
As a matter of fact, last week the family of three put their traveling on hold so they could spend their first Thanksgiving together.
Kylie commemorated the special moment by sharing beautiful family portraits. The family of three intimately posed in matching black ensembles complimented by a black and white filter.
While the photos may make it appear like Stormi is quite the mommy's girl, a recent video of the babbling baby seems to prove otherwise.
Also See: Orange is the New Black' Star Made New and Explosive Allegations About Academy Award Winning Mentor
In the short clip, Kylie tries to teach her daughter to say "Kylie... Cosmetics." However, Stormi clearly has other things on her mind. She does not even come close to repeating after her mom as she just babbles incoherently before saying "Da Da."
Meanwhile, the father and daughter duo seem to carry amazing chemistry. Speaking on this, Kylie said: "They have this crazy connection and she's definitely a daddy's girl. It's cute to watch. When dad's around, [it's like] I'm not even there."
-->