Questlove Weight Loss: Know the Secret of His Healthier and Happier Lifestyle Now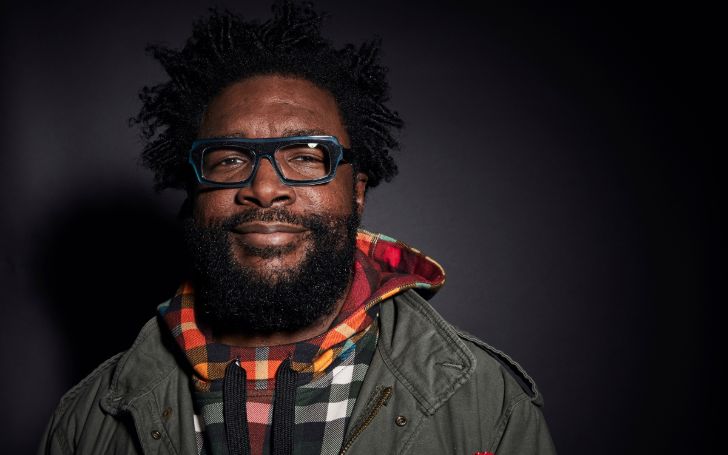 Learn about the weight loss details of the American musician and music journalist Questlove.
Many recognize Ahmir Khalib Thompson, better known by the name Questlove, as a musician and music journalist. He is the drummer and joint frontman with Black Thought for the hip hop band the Roots, which serves as the in-house band for 'The Tonight Show Starring Jimmy Fallon.'
Questlove is also one of the producers of the cast album of the Broadway musical 'Hamilton.' Additionally, he has also been the co-founder of the websites Okayplayer and OkayAfrica. Whatever he has done in life, he has been able to do it successfully. And it applied to his personal life too. One of his most important personal achievements is weight loss; the details of how he did it are given below.
Questlove Underwent Weight Loss to Lead a Healthier and Happier Lifestyle
Most people only begin to take action after they come into a situation that needs them to make a change. And Questlove was also one of these people. He used to eat everything without consideration for his health, and as a result, he began to grow in size. He continued his habit of this until he saw many of his friends die from strokes in their 40s.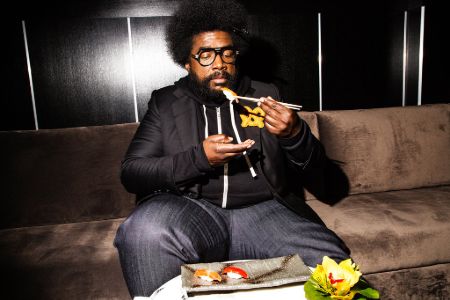 Questlove used to weigh nearly 488 pounds at his heaviest.
Source: The New York Times
'I was starting to hear the word 'stroke' just a little too much,' Questlove said, as per Black American Web. 'Friends of mine have died of strokes at 40, and peers of mine have died of strokes in their 40s, and it was disturbing me.'
Questlove used to engage in little physical activity before he embarked on his weight-loss journey. And with the glamourous lifestyle he lives in, it was easy for him to fall into bad habits by drinking and partying all night on regular occasions. He gained weight as the time passed, and at his heaviest, he reached 488 pounds of body weight. That was a very unhealthy weight for a person in his 40s.
Also See: Nikki Bella Weight Loss: The Former Wrestler is 18 Pounds Away From Her Pre-Baby Weight
Questlove's own weight and the death of his friends was a warning to him. His own life was at stake with nearly 500 pounds of body weight, and he knew he needed to make a tremendous change.
'I've spent the first 25 years of my life tryin' to avoid bullets,' he said. 'That was always the main concern. Don't go out late. Don't go to any shady neighborhoods. Don't hang in bars alone. Why? Because you wanna avoid bullets. So once I get to 35, then I was like, 'Woo, okay. Made it.' And now there's a new warning. Now it's like strokes; I gotta watch my health.'
Questlove Began His Weight Loss Journey by Changing His Diet
When Questlove made up his mind to change his lifestyle, he began by completely changing his diet. He got rid of all of his previous unhealthy eating practices and began consuming a healthy and balanced diet.
Questlove put vegan food items as the main priorities to his new diet. But he avoided those items high in carbohydrate content such as gluten, wheat, and most dairy products. He focused more on eating green vegetables and fresh fruits.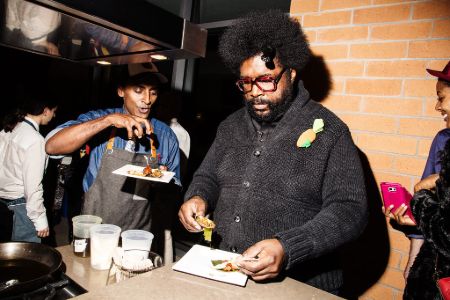 Questlove's weight loss was feasible with proper diet and exercise.
Source: The New York Times
'Two days of the week, I get to have fish, shrimp, or lobster,' Questlove talked of his diet, as per the Black doctor. 'The other five days of the week, it's either seitan, soy, or tofu. I do a lot of greens. I do a lot of juice cleansing, ginger, and a lot of beet juice.' Doing so, he dropped way below 400 pounds, and nowadays, he weighs around 350 pounds. This is over 100 pounds of weight loss, which is an impressive feat.
Nowadays, Questlove has adopted a vegan diet completely. To the point that he can't even have the fried-chicken, he makes himself. Even though people think he began this practice in recent years, he began this habit in 2013, so he's got pretty used to it.
In addition to diet, Questlove also has been adopting other healthier practices. He realized that a proper diet was not the only way to lead a healthier lifestyle, so he began incorporating other things into his life too.
Check Out: Jenni Murray Weight Loss: Did the English Journalist Lose Weight?
'That's another thing I've learned relaxin', sleep, yoga,' Questlove says. 'I didn't know that that's as crucial as going hard, as working' hard, as exercising hard…And what my yoga instructor, what my trainer, what they're trying to teach me is that, 'No, it's sleep.' That's important. That's just as important as working' out.' And that has helped him both lose and maintain his weight effectively.
Stay tuned to Glamour Fame for more weight loss related content of your favorite celebrities.
-->