Trae Young Girlfriend - Is the American Basketball Player Dating Someone?
Know if Trae Young has a girlfriend yet. Get the information about his past relationships too!
Trae Young (born Rayford Trae Young) is an American basketball player who plays for Atlanta Hawks. Trae, who was born on September 19, 1998) plays in the point position for his current team, Atlanta Hawks. The 23-year-old professional player played college basketball for the Oklahoma Sooners before his NBA draft.
The reason he is so well praised is Young is the only player to ever lead the NCAA in both points and assists in a single game, fantastic talent, right? Before he was picked by Atlanta, he was drafted to Dallas Mavericks in 2018, but fate had some other plans for him. After joining Atlanta Hawks, the star just keeps shining more every day.
While it is apparent Trae Young is excellent in his career at the young age of 21, the future beholds only good things for this professional basketball player. So, let's move our focus to his personal life. Is Trae Young dating someone in 2020? Let's find out.
Trae Young Girlfriend - is the American Basketball Player Dating Someone?
While we can pretty much assume girls are obsessed with Trae Young, and why should not they be, he has got the look, fame, talent, and he is pretty successful. It won't be too wrong if we say all girls want him. But sorry, ladies, he is already taken.
Trae Young has been in a relationship with his girlfriend, Shelby Danae Miller, for a little over two years. They started dating in 2018.
Photo Source: Shelby Danae Miller's Instagram (@traeyoung)
Trae Young is already in a relationship with his girlfriend turned fiance, Shelby Danae Miller. And if you are a fan of Trae, you are pretty much aware the couple has been together for many years now. Indeed, the two are going pretty strong so far.
Also Read: Charles Barkley Wife - Is the Former Professional Basketball Player Still Married?
According to the reports, the pair met at the campus, and romance was instant between the two. People started speculating about their love from their first meeting, which eventually became the truth. While nobody thought they would last long, they are still together and going strong.
The duo became engaged on December 20, 2021; the Atlanta Hawks point guard shared the picture of him on his knee with a diamond ring on his hand and popped up with the question. Well, you can say that marriage is around the corner!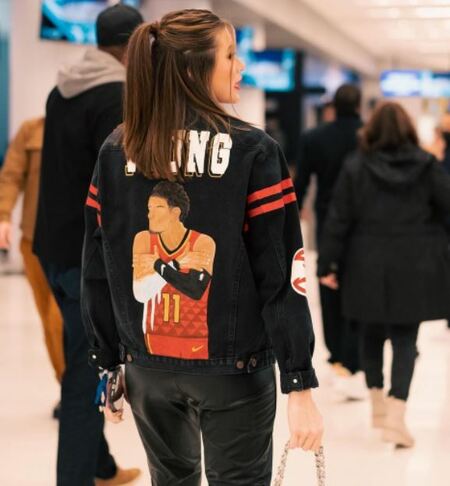 Shelby Miller flaunts a jacket that reads YOUNG to support her man.
Photo Source: Instagram (shelby_danae)
However, as of March 2022, Shelby and Trae are still yet to tie the knot. It looks like the young engaged couple is still making plans for their wedding or doesn't seem to hurry up to have their big day right away. But, Trae and Shelby are still going stronger. Only in February 2022, Miller posted a picture of herself in a Trae Young jacket to showcase her support for her athlete partner.
Who is Shelby Danae Miller?
Well, some of you might have guessed it already. Shelby Danae Miller was a campus cheerleader. That's exactly how the couple met during a college match. The pair saw and met each other after the game, and there was an instant connection between the two.
While much is not known about Shelby, what she did after her cheerleading days, what's known is she is really helping her beau to boost his performance by boosting his confidence and morale. That's really sweet, isn't it?
Even during these self-quarantine days due to the Coronavirus outbreak, the couple seemed to enjoy time with each other by doing some random fun things every other couple dreams of. These lovebirds just melt our hearts.
You May Also Like: Zandy Reich and Lea Michele are Expecting - Here's Something to Know About Their Beautiful Relationship
For more information on your favorite celebrities' lifestyles, stay tuned to Glamour Fame, and don't forget to sign up for the newsletter.
-->