What Is Rainn Wilson's Net Worth? All Details Here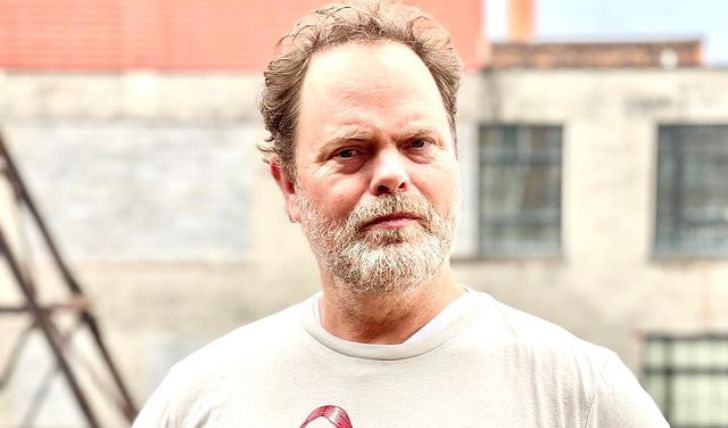 Inside Rainn Wilson's net worth and earnings: The complete breakdown here!
Rainn Wilson's acting career is widely defined by or should we say long overshadowed by the actor's fan-favorite role, Dwight Schrute, on the NBC sitcom The Office. If you are unfamiliar with the sitcom's plot, the show, a mockumentary-style series, follows the mundane lives of employees at the paper company Dunder Mifflin and Rainn plays a competent yet cunning worker.
Rainn Percival Dietrich Wilson was born on January 20, 1966, in Seattle, Washington. Wilson's formative career began with extensive work in theatre, including The Public Theater, Playwrights Horizons, and Guthrie Theater. His first onscreen appearance was a small role in the soap opera One Life to Live in 1997; the Seattle-native has since branched his career to become a comedian, podcaster, producer and writer.
What is Rainn Wilson's net worth?
Recent analysis shows the actor's accumulated net worth to be a striking sum, and there isn't an ounce of doubt that Wilson raked much of the fortune playing the obnoxious salesman in The Office. According to Celebrity Net Worth, Rainn has an estimated net worth of $14 million as of 2022.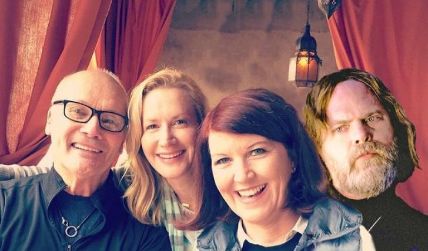 Rainn kickstarted his acting career via theatre.
Photo Source: Instagram
Although the NBC sitcom catapulted Rainn to a household name status, the actor had already racked up many acting credits before his breakthrough. He made his feature film debut in the 1999 sci-fi film Galaxy Quest, which grossed $90.7 million against a budget of $45 million. Rainn snagged his first notable role in the black comedy House of 1000 Corpses, a $16.8 million grosser.
Recommended: What is Estelle Berglin's Net Worth? Here is the Complete Breakdown of Earnings.
Following a few more roles in Six Feet Under, America's Sweetheart, Monk, Numbers, and Reno 911, Wilson landed the career-altering role of Dwight in 2005. He committed nearly nine years of his life, from 2005 to 2013, to the sitcom and the peculiar character while also starring in other projects, including The Rocker, Super, and Hesher.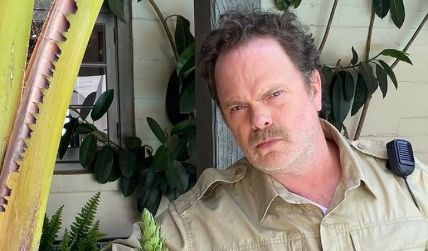 Rainn rose to fame playing Dwight in 'The Office.'
Photo Source: Instagram
Despite the aftermath effect of Dwight Schrute looming over his professional life, even years after The Office ended, Wilson continued his journey portraying versatile characters, mostly in independent projects. He starred in the independent horror film The Boy, Cootie, Permanent, and the relatively recently released films like Blackbird and Don't Tell a Soul.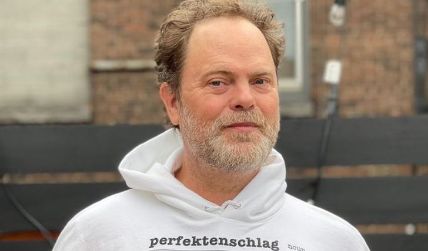 Wilson is married to writer Holiday Reinhorn.
Photo Source: Instagram
The Office fame's endeavors go far and beyond his stellar acting career. Rainn is the founder of the website and channel Soul Pancake, which has amassed over 3 million subscribers and has been featured in Oprah Winfrey's talk show Super Soul Sunday. Wilson is happily married to writer Holiday Reinhorn.
Rain Wilson's upcoming!
If you were hoping for a possible Office reboot to be the first on the list of Wilson's upcoming, you might as well give up on the wish. Several Office cast members, including Wilson and Steve Carell, have vocally called the idea of the reunion an unnecessary and even a damaging one.
Rainn isn't completely opposed to the idea of a reboot. Source: Good Morning America
Although Rainn has been pretty clear in his zero interest in a reboot, as he stated, "We can't do anything because we ended this show perfectly, and we don't wanna do anything else," it appears the star is not completely opposed to the idea of a crossover or a reunion on a different premise. "I'd love to revisit The Office. Hopefully, one day," Wilson says in hope.
Don't Miss: How Rich Is Kendrick Lamar? Inside the Rapper's Net Worth and Earnings.
The three-time Emmy nominee is gearing up to play a demented role in the upcoming biopic, Weird: The Al Yankovic Story. Wilson is portraying the infamous radio host, Dr. Demento, in the biopic. The 56-year-old is also set to host Rainn Wilson and the Geography of Bliss, a docuseries for Peacock.
Stay connected to glamour fame for more. extensive
-->