Rami Malek Looked Head Over Heels as he Stepped Out with his Girlfriend Lucy Boynton at Vanity Fair and Genesis' Toast to the Biopic at Cecconi's Restaurant in West Hollywood
Published Mon Feb 25 2019 By David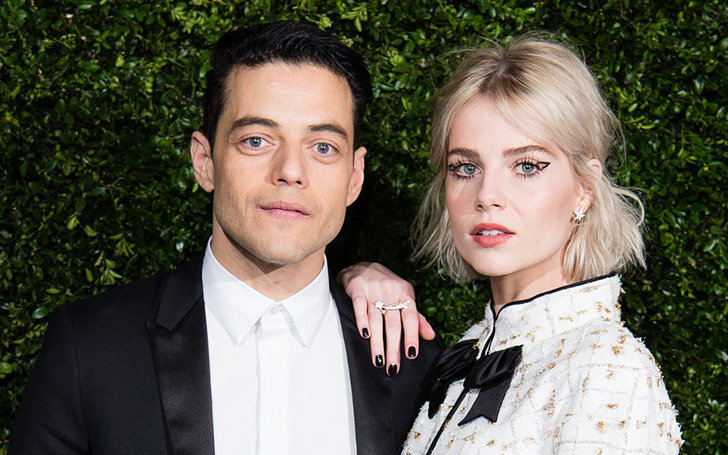 Bohemian Rhapsody's lead actor Rami Malek celebrated the film's Oscar buzz with his girlfriend Lucy Boynton at vanity fair and Genesis made a tribute for the Queen's biographical.
It hasn't been that long since we last saw the Egyptian-American actor Rami Said Malek trying his way out into the Hollywood from the time when he first appeared in the TV show, Gilmore Girls in 2004. Then came Twilight: Breaking Dawn 2, followed by Mr. Robot prominence to all the way onto winning three silverware in just two months span with a single featurette, the Bohemian Rhapsody.
This year, odds seem to be less of a word for the 37-year-old actor who is beating the mainstream Hollywood contenders as if the boy had been in their game from the very beginning. And some are already calling him the Mohammed Salah of Hollywood (well, the world minus the American film industry, of course).
Rami confirmed of his relationship with Boynton last month on 3rd of January

SOURCE: E! News
After his recent crown, BAFTA Award for the Best Actor, Malek is in the run to win the ultimate premium, the Best Actor at the Oscars for his portrayal of legendary Queen frontman Freddie Mercury in Bohemian Rhapsody.
But, Malek has already celebrated ahead of the upcoming awards show with his girlfriend Lucy Boynton at Vanity Fair last Friday. On the night, we also saw Genesis making a grand toast to the biopic at Cecconi's restaurant in West Hollywood.
Don't Miss: Dwayne Johnson Was The First Choice For Oscars Host But Jumanji 2 Got In The Way
The main star of the function, Malek, looked as studded in a black suit as he looked with his co-star and girlfriend, Boynton, 24, by wrapping his arm around her waist.
The Mr. Robot star put on a dashing display as he clothed a black velvet jacket over a polished button-up shirt and matching trousers.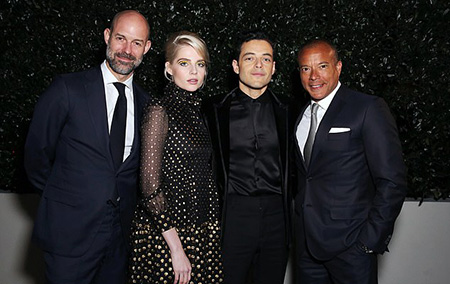 Rami Malek at Vanity Fair,
SOURCE: Daily Mail
Rami fashioned his hair in his key-signature, slicked-back updo, and he accomplished his look by stepping out in black Chelsea boots.
While Lucy bedazzled the gathering with her black gown—embellished with a gold print, complementing the ensemble was still her halcyon open-toe heels.
Pulling her blonde locks into a bun, Boynton let her fringe loose so that it could orchestrate her sculpted face pretty well.
Their film is one of the hot contenders at the Oscars on tomorrow evening, having scooped a total of five nominations for Best Actor, Best Picture, Best Sound Editing, Best Film Editing, and Best Sound Mixing.
Recommended: The Ultimate Party Guide For 2019 Oscars
The film's lead actor, Rami confirmed his relationship with Boynton when he won the Breakthrough Artist Award at the 30th Annual Palm Springs International Film Festival's; Film Awards Gala, last month on 3rd of January.
During his grandstand, the actor thanked the London-born actress by saying:
''Thank you, Lucy Boynton. You have been my ally, my confidant, my love. Thank you so much.''
Malek had been previously dated his Mr. Robot co-star Portia Doubleday, 30 before they eventually split in 2017.
Also Read: 'Black Panther' Boosts Oscar Chances As It Takes Top SAG Awards Prize
While, after triumphing over at the BAFTAs, Rami added:
''This is truly extraordinary. Thank you, BAFTA for this gorgeous gift. I cannot believe I am included in this group of actors. I've entered this world as an outsider. You Brits do it so well and it's not lost on me how sacred your musical heritage is so thank you so much for including me.''
With an hour at the Dolby Theater, Rami Malek would be looking for his first ever Oscar nod blooming into a first-ever Oscar win—the later which would ultimately mark a historic quadruple for Said and Nelly's heir.
-->