The Reason Sophie Turner Wanted To Date Friends Star Matthew Perry
Published Wed Jun 19 2019 By Andrew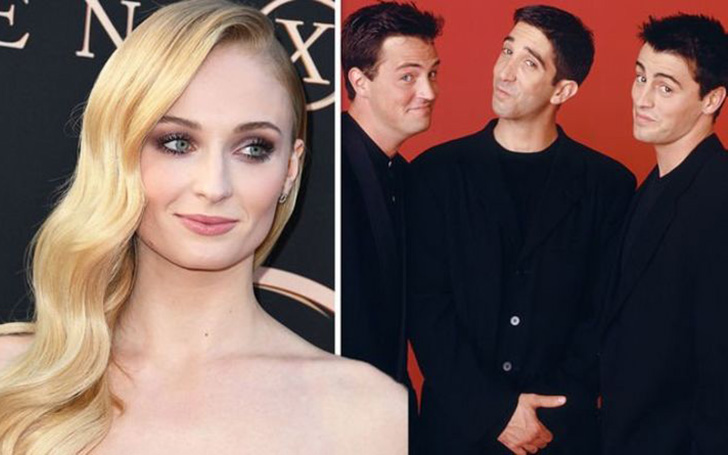 Why did Sophie Turner want to date Friends star, Matthew Perry?
Unless you've been living under a rock, you might be quite familiar with the fact that Sophie Turner, best known as Sansa Stark from the HBO series Game of Thrones, recently married Joe Jonas. However, he was not the first man she wanted to love as she recently revealed that once upon a time, she did her best to arrange a meet with Matthew Perry, the Friends star.
As per Daily Mail, the video series titled #BehindtheTweets, in which celebrities explain the hidden meaning of their cryptic tweets saw Turner reveal her secret crush. The 23-year-old actress expresses in the video that before crossing paths with Joe Jonas, she tried to win over Perry as he was doing a play near her home.
Watch: Sophie Turner talk about trying to woo Mathew Perry

The 'Dark Phoenix' star read the tweet from 2016 out loud on the show from the time when she found out that Perry was doing a play in the U.K.
She posted, "Holy balls. Chanandler Bong (sic) himself is rehearsing his play right next to my home,"
Sophie was actually referring to Chandler Bing, who Perry contributed his acting chops to while his time on 'Friends'. Moreover, she went on to add being utterly thrilled when she saw him outside smoking a cigarette. Turner also let the fans in on the information about how she plotted out a way to introduce herself to Perry, 49.
"I would walk around the corner every day to go to my local Budgens, which is a great little supermarket, and I would walk around the corner every day and I would see Matthew Perry smoking a cigarette."
Turner further elaborated that she always hoped the Friends star would see the tweet and miraculously ask her out for a date but that wish never came to be. Although she was swooning over Perry immensely, shortly after, Turner met Joe Jonas all they got engaged in 2017.
Joe Jonas and Sophie Turner recently got married.
SOURCE: Harper's Bazaar
As the 8 season run of Game Of Thrones is now over, Turner and Jonas had a civil ceremony in Las Vegas featuring an Elvis impersonator. However, the lovely couple is all set to have a formal wedding in Paris later this summer.
-->