RiFF RAFF's Net Worth In 2021 - The Complete Breakdown
Complete Analysis Of Riff Raff's Net Worth In 2021; The Detailed Report!
Hip Hop/ Trap genre rapper, he became internet famous after getting kicked out from MTV makeover show "From G's to Gents" for being a troll. But getting booted off the show actually worked in his favor, he was disliked but famous, as they say, no publicity is bad publicity.
Horst Christian Simco, known as Riff Raff professionally, was born on January 29, 1982, in Houston, Texas. The rapper is the second of four siblings and holds a distressing and piteous past. Born to Anitta Isac, a maid, and Ronald Simco, a Vietnam war veteran with severe PTSD.
His foray into the music industry was a constant struggle for a few years until his partnership with rapper Simon Rex in 2009. Continue reading to discover Riff's colossal net worth and his posh lifestyle today.
Riff Raff's Net Worth!
Starting with freestyle rapping, handing out home-recorded CDs in malls taking advantage of social media platforms like Myspace and Youtube, to signing with Souljaboy's record label SODMG, Riff has come far and achieved big.
Simco's net Worth in 2021 is estimated to be a whopping $7 million in 2021, which is a big figure considering the Houston-born rapper has been laying low for quite a while now and is replaced by more relevant rappers.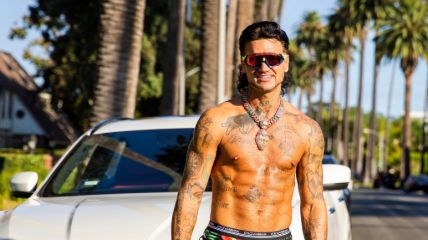 In 2021, Riff's estimated Net Worth is a whopping $7 million.
Photo Source: Ticket Master
In an interview with the Faders, Riff's lavish but reckless lifestyle came to light. Coming from the rags, evidently and rightly proud of his success, the rapper gloats that his day starts with two, three shots of whiskey at 2 in the noon.
Don't Miss: Zack Steffen's Net Worth And Bank Balance Is Huge - All The Details
The rapper currently lives in his $2 million valued home in Las Vegas which he bought back in 2015, boasting his $500,000 worth of jewelry, and new luxury car, Riff even stooped to subletting his mansion for $5,000 a night and 150,000 for a month.
The Rise And Fall Of Riff Raff!
Riff's singles "Jose Canseco", "Marc Jacobs", gave the rapper a massive fan following, which only grew bigger over the years, with Riff's hits like "Larry Bird", and a number of mixtapes.
Riff Raff was accused of two sexual assaults back in 2018.
Photo Source: MTV
Collaborating with his counterparts like Gucci Mane, Rusko, Usher, Riff was a growing name until 2017. In 2018, the rapper was accused of raping and molesting two women, charges that he was found innocent of in following years, but Riff's repute was already blown hard till then.
Check Out: Daniel Ek - Net Worth Details Of Spotify Founder!
The first choice for the movie Spring Breaker(2012), Riff would have made it in the movie alongside Selena Gomez but lost the chance because of a personal reason, hence, he was emulated by actor James Franco.
Turquoise Tornado Feat Yelawolf!
Working his way for more money if not the same clout, which looks pretty out of reach for the rapper currently, he has collaborated with rapper Yelawolf this April and released seven-track Turquoise Tornado.
Riff Raff and Yelawolf recently released an album titled Turquoise Tornado
Photo Source: Revolt Tv
For those unaware, Riff has been consistently releasing songs despite his visibly diminished fame and listeners. His new album too went unrecognized and was just another failed attempt in reviving his greater career.
For more information and news on your favorite stars, stay connected to Glamourfame.
-->