Rita Ora is in Relationship with her Boyfriend Taika Waititi, Details Here
Published Wed Mar 16 2022 By sujan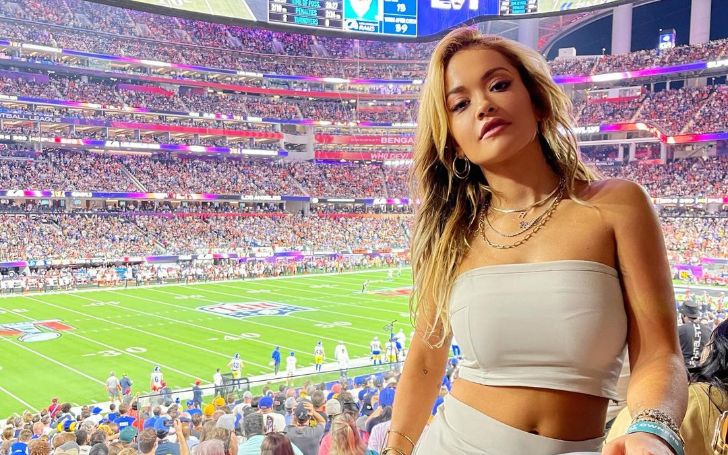 Know who Rita Ora is and her relationship details
Rita Ora was born on November 26, 1990, to Albanian parents, mother Vera, and father, Besnik Sahatçiu. Her mother is a psychiatrist, and her father is an entrepreneur who manages his pub. Rita is a British singer, songwriter, and actress who gained recognition after featuring as the main vocalist of DJ Fresh's single 'Hot Right Now.' She caught the attention of Jay-Z, whose record label released her debut album 'Ora.'
After her singles topped the charts in the UK. Since then, she has appeared as a judge in several talent shows in the UK and the US, such as The X Factor and America's Next Top Model. She is also an actress. She played a role in the 'Fifty Shades' movie franchise, Fast and Furious 6, and many others. She entered the UK as a refugee, and she got popular and famous with hard work and perseverance.
The 31-year-old accomplished musician family faced persecution when she was young. She is a philanthropist and advocate of women's rights. She was involved in many fundraisers and charity concerts for various causes. She has supported world-famous top brands like 'Calvin Klein,' 'Coca-Cola,' and 'Samsung.' She has also been the face of Madonna's clothing line 'Material Girl.
How is Rita Ora's Relationship Details With Her Boyfriend?
Rita Ora has been in several relationships so far in her life. She was in a relationship with Rob Kardashian, Calvin Harris, Bruno Mars, and Andrew Watts. At present, she is dating New Zealand filmmaker Taika Waititi.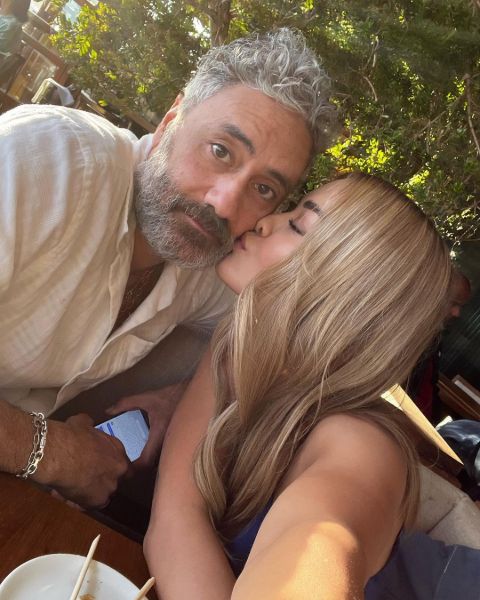 Image: Rita planting a kiss on her boyfriend, Takia, on a valentine's day
Source: Instagram @ritaora
The duo came out as boyfriend and girlfriend for the first time in Los Angeles on August 02, 2021. Ever since then, they have been engaging in romance, and so far, so good.
Rita captioned her post: 'Us. 4 years ago. To now. thanks for being cool. And entertaining me forevs..Happy Valentine's Day bestie.' Rita reminisced on her relationship with boyfriend Taika Waititi as she shared a fulsome Valentine's Day post on Monday. Rita thanked the director for 'being cool' as she posted a previously unseen throwback of the pair in 2018 - three years before their romance began.
Don't miss: Jasmine Tookes Stepped Out for a Date Night with her Husband, Juan David Borrero.
Other snaps included the pair enjoying a joint glam session, Taika proudly snapping Rita on the red carpet and pointing a hairdryer at her during a photoshoot. Taika also shared his tribute to Rita, with the caption: 'First photo the night we met four years ago. We've been mates ever since. Then a year ago, we decided to "complicate" things, but it just got more straightforward—happy Valentine's Day to my best friend.
Rita's Disputes and Social work
In 2015, she got involved in a dispute with her record label 'Roc Nation.' She filed a breach-of-contract lawsuit against the company, in response to which the company filed a counter lawsuit the next month. They eventually settled in May 2016.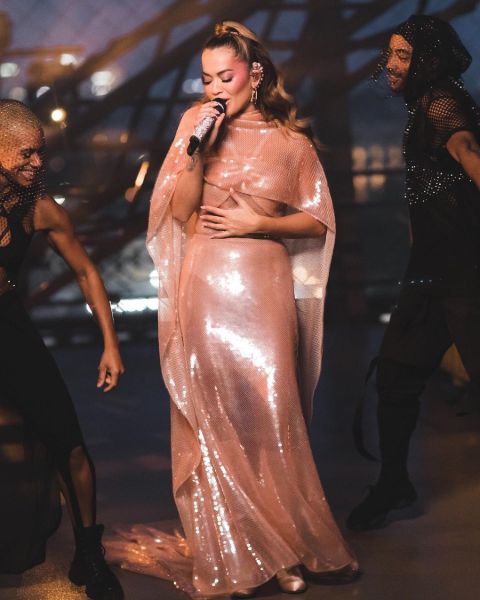 Image: Rita performing a song to her audience
Source: Instagram @ritaora
She considers herself a feminist and performed at the 'Chime for Change' charity concert in London about female empowerment. Rita has served as a special guest on many occasions to raise money for cancer research and fight the Ebola crisis.
You may also like: Is Colin Hanks Tom Hanks's, Biological Son? Details About His Family Here
For more updates on your favorite celebrity star, stay connected to GlamourFame.
-->