Who is Rob Riggle Wife? Here's Everything About His Married Life
Published Mon Jan 25 2021 By Bran
Who is the wife of the talented comedian Rob Riggle? Know About His Married Life.
Rob Allen Riggle, aka Rob Riggle, is a prominent figure in the showbiz sector as he displayed his humor in numerous television shows and films. One of his best appearances came way back in 2006 when he featured in Comedy Central's 'The Daily Show.' Apart from that, the versatile television personality even took over the role of Frank Caliendo from the 19th season premiere of the Fox NFL Sunday in 2012 until 2020.
Rob Riggle first made his entry in the entertainment sector way back in 2003 with a high-profile debut in a show titled 'Late Night with Conan O'Brien.' Interestingly, his profile kept on getting more and more impressive with roles in 'Saturday Night Live' and 'Modern Family' to become a household name.
All thanks to that, his fan-following and net worth grew at an exponential rate. Well, with a rapid rise in popularity, people started giving his romantic life a lot of interest as well. So, stay right here as we bring you all the details regarding the resounding married life of 'Dumb and Dumber' actor Rob Riggle.
Rob Riggle Was Married To A Longtime Wife
There are many successful celebrities and actors who just couldn't keep a balance between their professional and personal life, which led them to suffer a failure in marriage and get divorced. Well, Rob Riggle never thought that he would belong to the same category as he knew how to keep his partner happy no matter how busy and occupied he was with his wife.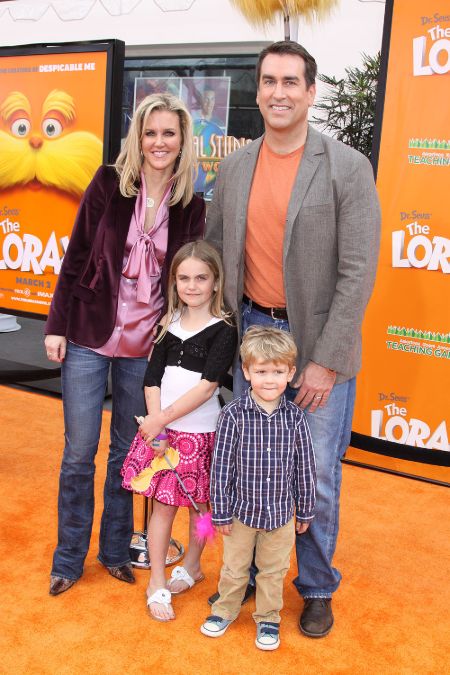 Rob Riggle and his wife Tiffany Riggle share two adorable children.
Photo Source: Assignment X
At least he thought so since they were together for over 21 years. Rob Riggle was married for two decades. And, unlike other celebrities, there seems no sign of a potential split up until a piece of shocking news came in October 2020 on how they were getting a divorce.
Related: Who is the wife of the handsome John Pringle?
Getting into the dating history between Rob Riggle and his former wife Tiffany Riggle, their love story dates way back to the late 1990s when they first crossed paths.
They eventually dated one another and tied the knot on April 13, 1999. In front of the cameras, the love birds were perfect, and there is no doubt that they shared a tremendous amount of love. Together the formerly married couple even started a family with two children, a daughter named Abigail and son George.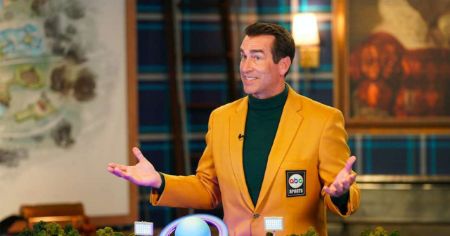 Rob Riggle and his longtime wife got married way back in 1999.
Photo Source: Popculture
While Rob Riggle became globally popular with his iconic roles in television shows and Hollywood films, his ex-wife was never a part of the same industry. However, that doesn't mean that she is any less of a woman since the diva is an accomplished interior designer.
When the couple was married, it was the celebrity wife who was responsible for redesigning their lavish house in Westlake Village, just across the beautiful mountains of Santa Monica.
Rob Riggle And His Wife Started The Divorce Proceedings
The entire fanbase of Rob Riggle was always proud of how their favorite actor had a resounding and blissful married life. Unfortunately, they were all disappointed when the 'Modern Family' actor disclosed the news on how he was parting ways with his wife of twenty-one years in October 2021.
It was his former wife, Tiffany Riggle, who took the first step by filing the legal documents and paperwork in Ventura County Court.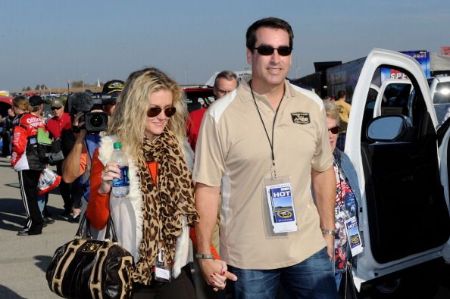 Tiffany Riggle filed for a divorce against actor cum comedian Rob Riggle in 2020.
Photo Source: Pinterest
Rob Riggle and his ex-wife never disclosed the primary reason for their split-up and cited irreconcilable differences as the primary reason in the paperwork. As per reports, they first separated on May 2, 2020. The agreement hasn't been reached yet, but things are progressing quickly.
Tiffany has demanded joint custody for their two kids with the comedian and the former face of FOX's NFL Sunday. In addition to that, she also made her intentions clear to ask for spousal support from her multi-millionaire husband.
Highly Recommended: Here's What You Should Know About Vanessa Nadal's Married Life.
For more news and updates about your favorite stars, please stay connected with us at Glamour Fame.
-->