Ronnie James Dio Set To Tour In Hologram Form
Published Fri May 31 2019 By Jessica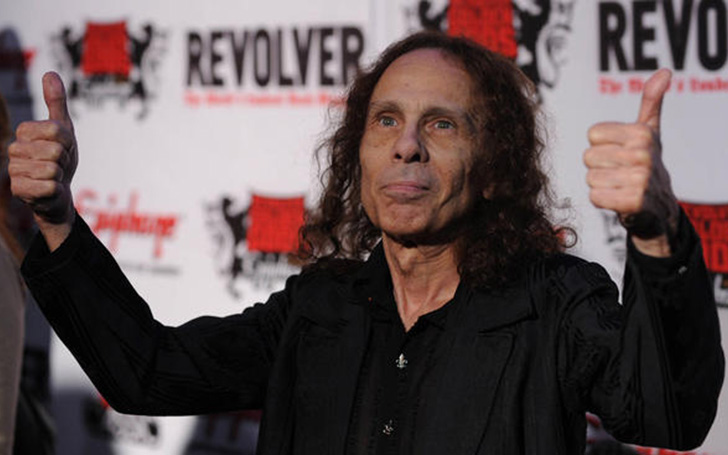 Metal icon Ronnie James Dio to return on stage in the form of a hologram.
Fans will get to witness the late Ronnie James Dio perform live on stage once again. All thanks to hologram technology that made it possible.
Ronnie will return to the stage in hologram version along with his other Dio former band members and special guests performers.
In details, former members Simon Wright, Scott Warren, Craig Goldy along with Bjorn Englen will take over the stage.
Also see: Pet Sematary Star Leo The Cat Passed Away: 'He Will Be Forever Missed'
As per reports, the hologram Dio will deliver performance on a total of eight songs with Tim "Ripper" Owens, a former lead singer at Judas Priest.
Metal icon Ronnie James Dio to perform in hologram.
Speaking of the project, widow of Ronnie, Wendy Dio said: "It's something that we want to do for the fans that never got to see Ronnie and the band or want to see them again.''
"This is a show, bringing Ronnie back and the memories, but also the band," she added.
The hologram project initiated after Wendy was first approached by Jeff Pezzutti, CEO at Eyellusion in 2015.
Don't miss: JK Rowling Is Set To Release Four New Harry Potter E-Books
The duo then collaborated and already performed in Germany for the first time a couple of years back but later stopped due to some issues.
Ronnie James Dio's career spanned for over decades before he perished from stomach cancer ten years ago in 2010.
The musician was known for his unique voice that would pull off all different genre of music; from heavy metal to soaring to melodic.
Throughout his career which began in the 70s', apart from Dio, he also formed and joined many other notable metal bands including Heaven & Hell, Elf, Rainbow, and Black Sabbath after Ozzy Osbourne left the group.
After the several successful years of performing with bands, he then focused on his solo career and gave multiple hits like 'Rainbow in the Dark', 'Holy Diver', and 'The Last in Line.'
The hologram Dio tour taking place in eighteen cities kicks off Friday in Ft. Myers, Florida.
-->