Ross Perot, A Patriot, Billionaire, and Former Presidential Candidate Dead at 89
Published Wed Jul 10 2019 By rhyss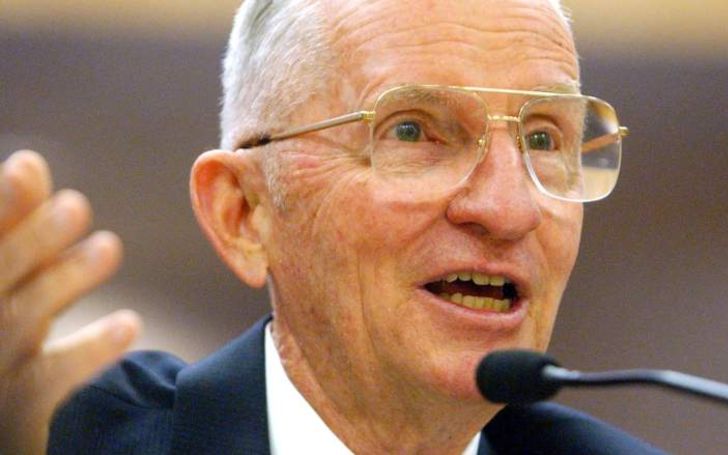 American Business Magnate Ross Perot passes away at the age of 89!
Ross Perot, the man who changed the shape of politics and exhibited many flaws in the political system of the country, is no longer with us. He died after his five-month battle with leukemia.
His family's rep, James Fuller said in a statement,
"In business and in life, Ross was a man of integrity and action. A true American patriot and a man of rare vision, principle and deep compassion, he touched the lives of countless people through his unwavering support of the military and veterans and through his charitable endeavors."
The Perot family further maintained,
"Ross Perot, the ground-breaking businessman and loving husband, brother, father and grandfather, passed away early Tuesday at his home in Dallas, surrounded by his devoted family."
Although Ross was a billionaire philanthropist, he is mostly known for running two presidential campaign back in 1992 and 1996. Despite being a third-party candidate for president, Perot almost singlehandedly won the elections after winning a staggering 19% of the vote in the 1992 elections.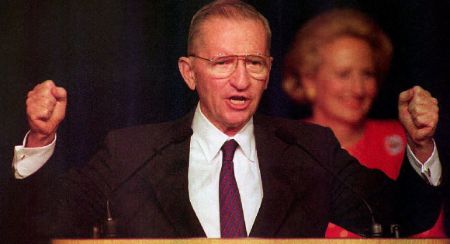 He didn't won the election but disrupted the political scenario of the US. The 19% of the vote was by far the largest any third-party has won since the 1912 election in which Theodore Roosevelt's Bull Moose Party also won that many votes.
After hearing the tragic news, his former opponent Bill Clinton said, "Although we were opponents in 1992 and 1996, I respected Ross for his support for our veterans, the business he built, and the passion he brought to his politics."
You May Also Like: Donald Trump Claims Windmill Noise Causes Cancer
Whereas, Vice-President Mike Pence took to his Twitter account and tweeted,
Ross is survived by his wife of 63-years, Margot Birmingham, five children, Ross Perot Jr., Suzanne Perot, Carolyn Perot, Nancy Perot, and Katherine Perot. He also had 16 grandchildren.
Even though Ross is no longer with us, we're sure he is happy wherever he is heading next. The man even got his wish fulfilled of dying in his native land of Texas. Back in 2016, during an interview with Dallas News, Ross said that he was born and raised in Texas and when he dies, he'll be a 'Texas Dead.' He took his last breath, at his family residence in Texas, while surrounded by his family.
One of the greatest thing about Ross is that he was more of a patriot rather than a billionaire. He was a big supporter of the American Military and even funded numerous rescue missions for all the American POWs.
Furthermore, back in 1979, when two of his employees got jailed in Iran after a contract dispute, Ross financed the mission to rescue them. The raid done by expert commandoes regained the custody of his employees and moreover inspired a film.
Recommended: Is Donald Trump A Time Traveller? A Person Claims To Have Found All The Proof!
Ross, having being born in a poor family, built himself from ground-up. He started his career in sales in IBM and founded Electronic Data System in 1962, with his $1000 worth of saving.
His company made him rich and in the 1980s he founded Perot System. The company quickly become one of the valuable companies in the world and was eventually bought by Dell for a staggering $3.9 billion.
-->