Ryan Crouser's Grandfather: Learn About His Family Life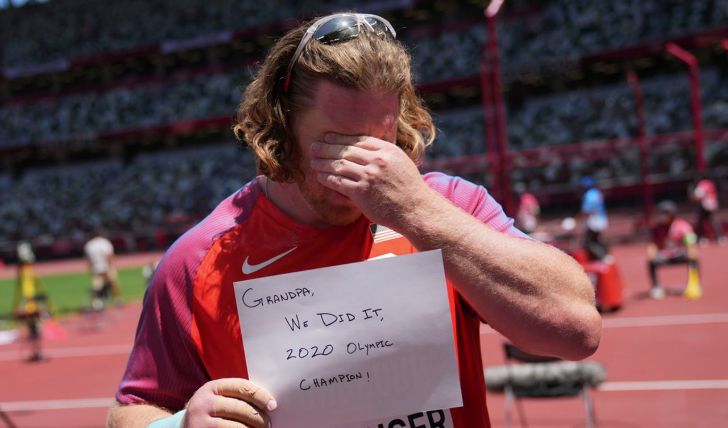 Ryan Crouser Dedicates Gold Medal to His Late Grandfather: All Details Here!
The world record holder in the shot put and a two-time Olympic gold medalist, Ryan Crouser, had a special message for his late grandfather after winning gold in the shot put. Following his big win, Crouser put up a sign that read, "Grandpa we did it, 2020 Olympic Champion."
Born on December 19, 1992, in Portland, Oregon. Crouser comes from a family of throwers. His father, Mitch Crouser, his uncles, Brian Crouser and Dean Crouser were all well-known throwers in their time. But the 28-year-old Olympian recently revealed that his late grandpa introduced him to short put.
"I Felt Like He's Here Watching Me!," Says Crouser About His Grandfather
A great woe struck the Olympian just a day before he left for Tokyo Olympics. Ryan's grandfather, Larry Crouser, reportedly breathed his last before he could witness his grandson score gold for the second time. Ryan, however, remained undeterred and determined during the game. Calling his late's grandpa his biggest fan, the two-time gold medalist says, "I felt like he was watching me."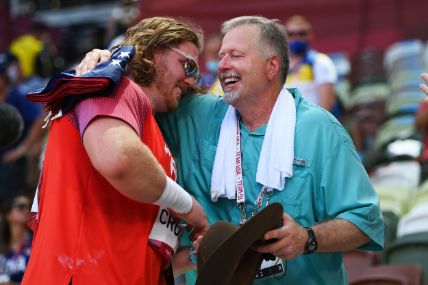 Crouser's grandpa left the world a day before he went for the Olympics.
Photo Source: Today
Crouser shared a special bond with his grandfather; the shot put thrower mastered the sport in the company of his late grandpa. Recalling the early days, Ryan shares that he practiced throwing at his grandpa's backyard in Oregon as an aspiring kid. "He's had a huge role in my throwing career," Ryan told USA Today.
Check Out: Elsie Fisher's Parents: Learn About Her Family Life Here
Crouser's grandfather, Larry, was a United States veteran; he passed away aged 86. Ryan, who was occupied because of fields and track trials, shared, he met his grandpa the last time in June, a reunion that came after a year due to the pandemic. The Olympian reveals his grandfather had many health issues but was always positive and full of light.
Crouser's late grandfather had introduced him to the sport.
Photo Source: Today 24
Larry had lost his hearing abilities in his last final days, "I held up the note because, at the end, he had lost his hearing and so I would write whatever I wanted to say to him and he would read it and answer back," Ryan told the reporters in Tokyo. When People asked what his grandpa's best advice to him was, Ryan says, "stop and enjoy the moment."
Ryan Crouser's Career Highlights!
The 28-year-old started his track career in middle school, and as a senior, he had set a national high school record in the discus. Ryan was also an avid basketball player and didn't pursue track full time until entering college at the University of Texas in 2011. In the following years, Crouser went onto win several championships.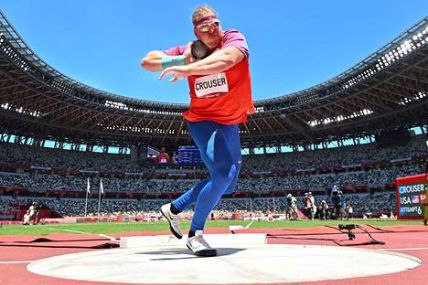 If not a shot put, Ryan would have pursued a career in finance.
Photo Source: Teller Report
He won the NCAA indoor shot put in 2014 and was placed second behind Stipe Žunić in the 2015 outdoor championship. After a notable collegiate career, Crouser pursued the sport professionally in 2016. Crouser took the gold medal in the 2016 Rio de Janeiro Olympics, setting the Olympics Games record 22.52 m.
Don't Miss: Does Yeonmi Park Have Kids? Learn About Her Family Life
Crouser defended his title at the Olympics 2020 and set a new world record; he raised the record to 23.30 meters. The world's best shot putter's alternative career choice was finance. The Crouser looks forward to winning the 2021 World Championships in Eugene, Ore.
For more information and news on your favorite stars, stay connected to Glamour Fame.
-->