Does Yeonmi Park Have Kids? Learn About Her Family Life
Published Sun Aug 08 2021 By Manvi
Does Yeonmi Park Have Kids? Learn About Her Family Life
No one can forget the speech Yeonmi Park presented at the One Young World 2014 Summit in Dublin, Ireland, on embarking on a journey as a North Korean defector. Few could imagine a young woman undergoing such an unimaginable life, yet Park's survival made her an example to countless girls.

Yeonmi is a North Korean defector born on 4 October 1993 in Hyesan, Ryanggang Province of North Korea. The brave woman fled from her country to China in 2007 and finally, in 2009, settled in South Korea. She endured immense hardship on her road to freedom.

The-28-year-old was married to an American citizen named Ezekiel, with whom she shares a beautiful child. Continue reading to know more about Yeonmi Park's child.
Who is Yeonmi Park's Child?
The human rights activist Yeonmi Park gave birth to a beautiful baby boy in 2018. The aspiring woman was happily married back then, which makes the baby of mixed ethnicity North Korean-American.
Park Yeonmi's early age picture with her sister in North Korea.
Photo Source: The Telegraph
Park and her ex-husband Ezekiel named their son James, who was born on 18 March 2018. Having endured and lived a tough life herself, the famous activist was immensely grateful after the birth of such an angel.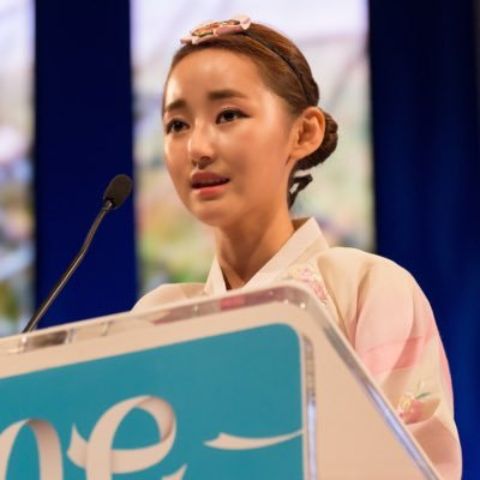 Yeonmi Park's speech in One Young World Summit gained her worldwide recognition.
Photo Source: Twitter
Park was pursuing her studies at Columbia University School of General Studies when she conceived the child. Yeonmi took a break from her studies to focus on her baby's grooming. The young boy recently became 3 years of age in 2021.
Recommended: Who are Bob Odenkirk's Children? Learn All About Them Here!
Park took to her Instagram, expressing her gratitude after her child's birth quoting, "Life is a miracle. I never knew I would survive starvation and become the mother of this beautiful angel. No matter what, let's not lose hope." Everybody wishes for good health and happy life ahead for the family.
Yeonmi Park's Journey Towards Freedom!
The renowned activist, Yeonmi Park, whose speech in the youth gathering program held in Ireland in 2014 crossed 80 million views on social sites, led a tough and disheartening journey at a young age. Park's family fled from North Korea to multiple countries before shifting to the US.
Yeonmi Park wrote a book named In Order To Live.
Photo Source: Sydney Opera House
At the ripe age of 14, Yeonmi's faced the worst nightmare anyone could ever imagine. The young girl witnessed her parents suffering as they were trafficked, sent to labor camps, and even sold to slavery while trying to get a taste of freedom.
Recommended: Who are LeVar Burton's Children? Learn All About Them Here!
Park's suffering didn't wither her from sharing her story with the world. She wrote a book In Order to Live: A North Korean Girl's Journey to Freedom, made available in September 2015. In addition to that, Yeomni's started the YouTube channel named "Voice of North Korea by Yeonmi Park," with an active subscriber of 640k where the campaigner discusses politics, culture, and news about North Korea.

For additional information and news on your favorite stars, stay connected to Glamour Fame.
-->