Salma Hayek Joins 'Magic Mike's Last Dance'
Actress Salma Hayek has replaced Thandiwe Newton in 'Magic Mike's Last Dance.' Complete story here!
Salma Hayek, 55, is the latest star to join the ensemble cast of the upcoming Magic Mike's Last Dance. Hayek's involvement in the project comes days after Thandiwe Newton left the movie for personal reasons. The forthcoming installment of the Magic Mike franchise was announced last year in December, with its headlining star, Channing Tatum, confirming the news on his social platforms. "Well, World, looks like Mike's lane tapping back in," wrote Tatum.
Thandiwe, 49, whose best credits include Beloved, Mission: Impossible 2, Crash, and The Pursuit of Happiness, reportedly stepped away from the project to tend to a family matter, although several reports claimed the actress got into a heated argument with Channing over the infamous Oscar slap, following which she was axed from the Tatum starrer. "Channing Tatum is the producer and number one on set. Thandie Newton is the number two-star. But 11 days into shooting, and it's all over," an insider reported.
Salma has replaced Thandiwe in the high-profile project.
Source: Screen Rant
"Thandiwe Newton has made the difficult decision to step away from the production of Warner Bros. Pictures' Magic Mike Last Dance to deal with family matters," a spokesperson explained. Hayek, who recently played Ajak in Chloé Zhao's Eternals for Marvel Studios, will be playing Tatum's (Mike's) love interest. Tatum and writer Reid Carolin gave a little insight into Salman's character earlier this year.
Don't Miss: Comedian Gilber Gottfried dies at 67.
"It's really about a woman stuck at a horrible strip show like a Chippendales and then realizing, 'What the hell am I doing here?' Carolin said about the character. Channing describes the character as even "stronger" than his role, Mike. "We've never done a traditional love story, and this isn't a traditional love story," said Tatum. Magic Mike, a Steven Soderbergh-directed comedy-drama, also loosely based on Tatum's early life when the actor worked as a teenage stripper in Tampa, Florida, premiered on June 24, 2012.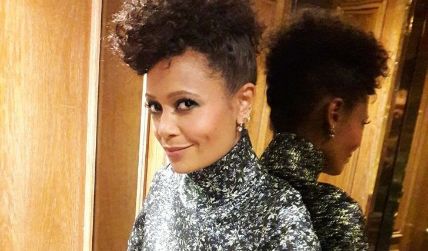 An insider said Newton had a heated argument with Channing.
Photo Source: Instagram
Its sequel, Magic Mike XXL, hit the screen on July 1, 2015. Both installments of the Magic Mike franchise were huge blockbusters with combined box office revenue of more than $300 million. The upcoming third installment will once again see Soderbergh as its director. Gregory Jacobs, who earlier held the credit as the director of Magic Mike XXL, will be serving as producer alongside Carolyn and Nick Wechsler and Peter Kiernan.
Stay connected to glamour fame for more.
-->