Pro Wrestler Scott Hall Is Dead at 63: What was His Net Worth at the Time of His Death?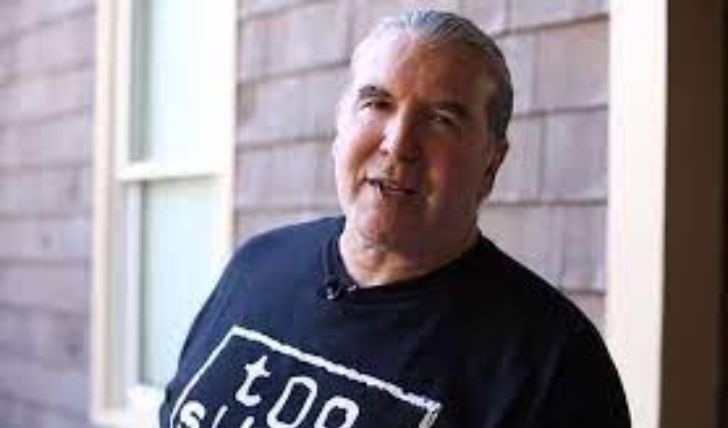 Scott Hall's net worth and career: The pro wrestler died of complications from surgery!
Scott Hall, a longtime pro-wrestler and a two-time Hall of Fame inductee, is no more. Hall was reported in a grave condition a week ago; he was taken off life support on March 14. In the wrestling world, Hall went by the gripping alias Razor Ramon and was often dubbed the "villain" or the "bad guy."Hall's name is still recalled as one of the great wrestlers who elevated their career and reinvented the history of pro wrestling via launching the iconic villain group nWo.
Scott Oliver Hall was born on October 20, 1958, in St. Mary's County, Maryland. Hall spent his early life as a military brat, with his childhood and adolescent life heavily influenced by the military culture. He started his wrestling venture in the 80s and subsequently rose to fame in the 90s after signing with the WWF. In his 30 years long career as a wrestler, Scott marked himself as the two-time world champion and two-time Hall of Famer.
Scott Hall is dead at 63!
Hall was hospitalized earlier this month after he broke his hip. The pro wrestler reportedly suffered several complications, including three heart attacks, after undergoing hip replacement surgery. Scott's longtime friend and his former tag teammate, Keith Nash, broke the concerning news on his Instagram. "Once his family is in place, they will discontinue life support," Nash wrote.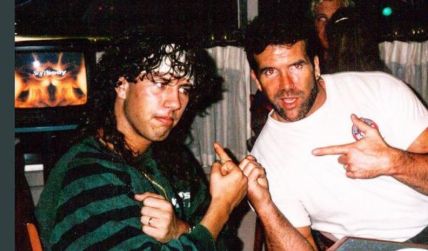 Hall was hospitalized in a grave condition after he fell and broke his hip earlier this month.
Photo Source: Instagram
Sharing a throwback picture of their earlier days, Nash further adds, I'm going to lose the one person in my life who I've spent more of my life with than anyone else." Nash's lengthy captions further read, "as we prepare for a life without him, remember there goes a great guy you ain't going to see another one like him again. See you down the road, Scott. I couldn't love a human being any more than I do you."
Hall is survived by his two children from his first marriage.
Source: What Culture Wrestling
Nash, also known as Diesel, signed with WCW after Hall left the then-WWF to sign as a free agent with WCW. The wrestlers' pair were later joined by the massively popular Hulk Hogan to start the villainous group nWo, short form for New World Order, creating an epic storyline in the wrestling world that the three were aspiring to take over the WCW. The group continued to dominate and influence the programing until its dissolution in 2001. The trio was inducted into the WWE Hall of fame in 2020.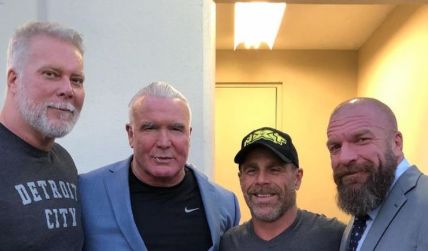 Hall was a founding member of the iconic nWo group.
Photo Source: Instagram
"A short while ago, a good friend of mine just passed away," Hogan said during a recent conversation. He adds, "he took care of me when I was down. He put me back on the map. I love him so much I can't even explain it to you." Hall is survived by his two children, Cody Taylor and Cassidy Lee, who he had with his first wife, Dana Lee Burgio. Scott's second marriage with Jessica Hart lasted only a year.
Recommended: Who Is Alicia Silverstone? What Is Her Net Worth?
Scott Hall's net worth at the time of death!
Despite being considered a legendary figure in the aggressive sport, Hall didn't boast a staggering amount during his death. As per Celebrity Net Worth, he had an estimated net worth of $3 million. During his early years in wrestling, Hall had unsuccessful stints at National Wrestling Alliance territories, National Wrestling Alliance territories, World Championship Wrestling, and finally, his breakthrough stop at World Wrestling Federation, now the WWE.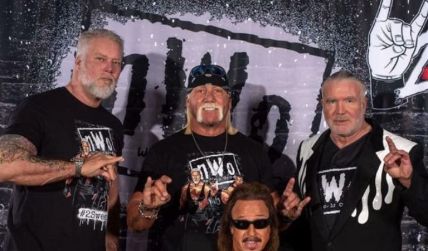 Hall rose to fame under the moniker Razor Ramon.
Photo Source: Instagram
Hall's career skyrocketed under the moniker Razor, which he only adopted in the early 90s at the WWF, under which he would go on to win the intercontinental championship against Rick Martel and rise to become the undisputed Intercontinental champion after beating the invincible Shawn Michaels at Wrestle X Mania, still ranked one of the top matches and critically acclaimed fight in WrestleMania history.
Don't Miss: What is Joanna Garcia Swisher's Net Worth? All Details Here.
Under WCW, Hall won the tag team title six times and won his seventh with Nash as The Outsiders. He conquered the United States Heavyweight Championship twice and the World Television title once. Scott suffered several bumps in his career due to substance use issues in the early 20s. Hall announced his retirement from professional wrestling in 2010 but continued to appear on the programming and events until recently. His last match was a win against Chuck Taylor for the DDT Ironman Heavymetalweight Championship in June 2017.
Stay connected to glamour fame for more.
-->