Scott Pelley Fired from Evening News Anchor Jobs after Complaining with Executives about Work Environment
Published Mon May 27 2019 By David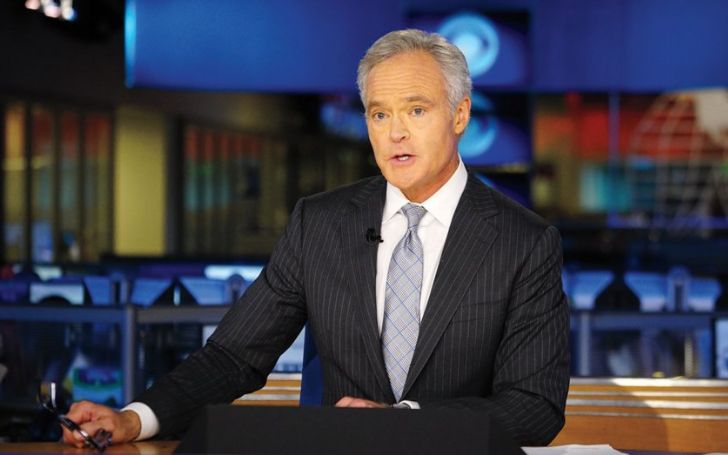 Scott Pelley reveals he lost 'CBS Evening News' anchor job over "Hostile Work Environment" rants.
Former CBS Evening News anchor Scott Pelley reported on CNN's Reliable Sources on Sunday that he lost his job as anchor of the network news program because he "wouldn't stop complaining to management" about the news division's "hostile work environment."
Pelley made the announcement after Reliable Sources host Brian Stelter asked the 60 Minutes correspondent what it's been like to work for the news division which has seen a number of hosts and staff changes over the past 18 months.
Scott Pelley says he was fired from the network for his continuous complaints about the office's hostile work environment.
SOURCE: SUZANNE CORDEIRO/REX/Shutterstock

Pelley said he lost his job at the Evening News because he wouldn't stop complaining to management about the foul work environment. He further explained that four or five years ago, he went to the "president of the news division," who at that time was David Rhodes, and told him the hostile work environment couldn't go on for men or women.
Pelley also shared the time when he was threatened of being fired if he kept on agitating and his concerns were of no interest anymore.
After that, the former CBS anchor said, he went to previous CEO Les Moonves, who brought a lot of controversy to the network in September after multiple women came forward with allegations of sexual misconduct.
Also Read: Mika Brzezinski Slams 'Ridiculous' Allegations Against Joe Biden
Pelley explained -- having exhausted the possibilities in the news division, he went to the chairman of the CBS corporation who listened to him for an hour and asked him some penetrating questions about what was going on. He said – he didn't hear back from the chairman but was dropped off the evening news.
Pelley added while the "last several years" have been a "dark period" of "incompetent management and sort of an offensive work environment in the news division" he's optimistic about the future of CBS News, now being led by Susan Zirinsky, under existing CEO Joe Ianniello.
Pelley, who spoke positively of his new bosses, saying, 'It's all blue sky from here.' On the same note the new 60 Minutes executive producer Bill Owens, said he knew 'these' people and was positive of being on the right track.
Recommended: Stormzy Cancels Festival Headline Following Racism Allegations
Scott signed off from the CBS Evening News in June of 2017. His termination came months before a wave of sexual misconduct allegations rocked Hollywood and the media industry.
Scott Pelley was fired off the CBS in June 2017 following the emergence of numerous sexual allegations in Hollywood and his own workplace.
Pelley has done as many as 20 pieces a season for 60 Minutes while hosting the nightly newscast according to The Hollywood Reporter. His departure was not friendly at all, as The New York Post's "Page Six" reported that Pelley's office was being cleaned out while he was away on assignment.
Pelley moved to a full-time position at 60 Minutes and was ultimately succeeded at the Evening News by Jeff Glor and then Norah O'Donnell.
It's unclear whether Pelley's "hostile work environment" comments concern to allegations of sexual misconduct but numerous blame regarding the inappropriate behavior at CBS News have emerged over the past 18 months, beginning with accusations against former CBS This Morning host Charlie Rose, which came to the public in November of 2017 and quickly led to Rose's exit from the CBS morning show.
CBS News found itself under additional investigation as a Washington Post inquiry published in May of 2018 revealed there were more alleged incidents of sexual misconduct by Rose than previously complained and managers were warned about his conduct toward women at the network on three occasions over a period of 30 years, dating back to as early as 1986 and as recently as April 2017, according to insiders who had the firsthand knowledge of the conversations.
And, as more allegations of sexual mistreat at CBS News began to emerge, 60 Minutes executive producer Jeff Fager departed off the network in September 2018 after sending a "harsh" text to network reporter Jericka Duncan as she investigated those accusations imposed on him.
There were also numerous inspections into conduct at CBS and in its news division.
A rep for the CBS Evening News is yet to respond despite having been asked to comment by multiple sources.
-->