Sheryl Sandberg Is Married to Businessman Tom Bernthal: The Complete Story Here
Who is Sheryl Sandberg's new husband, Tom Bernthal? The duo tied the knots in a Western-Themed Wedding.
One of the most successful women in Silicon Valley, Sheryl Sandberg is best known for her title as the chief operating officer of the Meta platforms, which owns Facebook, Instagram, and WhatsApp. Sandberg has since stepped down from her role as COO of Meta and has founded her organization called LeanIn.Org, a non-profit establishment dedicated to supporting women.
Sheryl Kara Sandberg was born on August 28, 1969, in Washington, D.C., to Joel Sandberg, an ophthalmologist, and Adele Sandberg, a community leader. A self-proclaimed geek, Sandberg has been relentless in her pursuit of inspiring and harnessing the power of women all around the world. But the business executive doesn't think of herself as a barrier-breaker. "I only wanted to do things that were doing good for the world. I don't think of myself as a barrier-breaker," says the multi-hyphenated billionaire.
Who is Sheryl Sandberg married to?
After a long engagement, the executive is finally married to her fiance Tom Bernthal; a businessman now referred to as the husband of billionaire Sheryl. Sandberg's nuptials with Berthnal proves it's never too late to find love again. Sheryl was utterly engulfed in grief after her second husband; Dave Goldberg, who died while on vacation with Sheryl in 2015.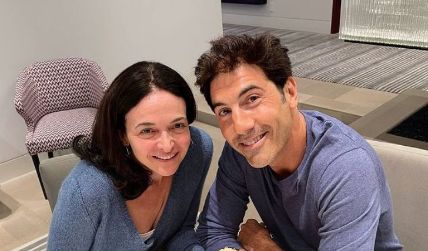 Sheryl married Tom in a western-themed wedding in Wyoming.
Photo Source: Instagram
"When Dave died, I could barely imagine dating again, much less getting married," the COO said after her engagement with Bernthal. The smitten pair tied the knots earlier this weekend in Wyoming. The LeanIn.Org founder took to her Instagram and shared a string of snaps from her dreamy wedding. As a tribute to their shared love for country music, the pair tied the knots on a ranch, embellished with a slew of western touches.
Don't Miss: Who Is Ashley Olsen Dating? Meet the Designer's Boyfriend.
"Married," Sandberg captions followed by multiple red heart emojis. Donning a gorgeous ivory gown, Sandberg can be seen holding hands with her new husband as she looks away from the camera. Bernthal shared the same pictures on his page and penned a sweet caption in honor of their milestone. He writes, "After both experiencing loss, @sherylsandberg and I weren't sure we would ever find love again."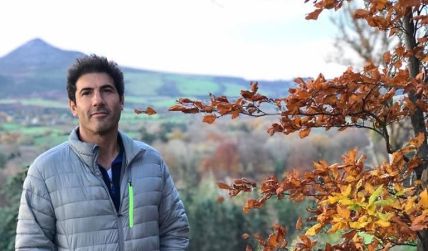 Bernthal is an Emmy-winning producer and a businessman.
Photo Source: Instagram
Tom added, "Over the last three years, we've merged our lives and blended our families. Our wedding today was a dream come true." a marketing CEO and former NBC News producer. A native of Washington, D.C, Bernthal primarily flies under the radar but is nonetheless as accomplished as her wife. Bernthal is best known as the founder and former CEO of Kelton Global, a Los Angeles-based strategic consulting agency.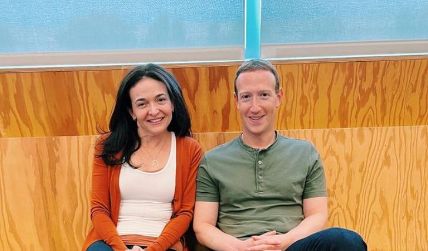 Sandberg and Tom started dating in 2019, four years after Sheryl's second husband's death.
Photo Source: Instagram
Before meeting and falling in love with the billionaire executive, Tom was married to his first wife, who remains an unidentified individual at the moment. Bernthal shares three children with his ex-wife, and Sandberg has two kids, a son, and a daughter, with her now-deceased husband, Goldberg. Bernthal's host of accomplishments includes three Emmys as a national producer at NBC News. He is popularly known as the big brother of actor Jon Bernthal.
Inside Sheryl Sandberg's Last Marriage!
The sudden death of Dave Goldberg, a management consultant, and businessman, left Sandberg completely lost. Despite the devastating personal loss, Sandberg had to grapple with the intense media scrutiny and publicized nature of her grief. In 2004, Sheryl married Goldberg, who was a reputed and widely loved member of the Silicon Valley.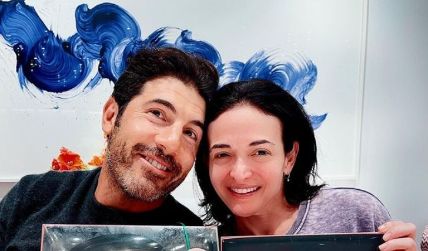 Sheryl's second husband, Dave Goldberg, died on May 1, 2015.
Photo Source: Instagram
Goldberg was an executive at Yahoo when Sandberg married him in 2004. Although the late businessman had a strong presence in the tech industry, Sandberg was always the better-known half of the two. The executive couple was vacationing in Mexico when Dave died from alleged head trauma on May 1, 2015. The CEO was 47 at the time of death.
Recommended: Who Is Jameela Jamil Dating? Inside the 'She-Hulk' Actress's Love Life.
During their decade-long marriage, Sandberg and Goldberg constantly exhibited an equal marriage. "Perfect equality is hard to define or sustain -- but we allow the pendulum to swing back and forth between us," the Facebook COO said while dishing on her married life. After Dave's death, Sandberg penned her book, Option B: Facing Adversity, Building Resilience, and Finding Joy, with her friend, psychologist Adam Grant.
"When Dave died, I could barely imagine dating again," Sheryl.
Source: OWN
Reflecting on Goldberg's death, the mother of three shared how she overcame grief and how a reawakening followed the trauma. "I always thought traumatic experiences would break people," says the businesswoman, adding, "One of the most important things that happened to me was in the midst of really the depths of grief." Before Goldberg, the Washington-born executive was briefly married to Brian Kraff.
Stay connected to glamour fame for more.
-->