After "Split" With Travis Scott, Kylie Jenner Was Seen Outside of Ex Tyga's Recording Studio
Published Thu Oct 03 2019 By Travis
Travis Scott and Kylie Jenner are reportedly splitting up and it seems Kylie is moving on with her ex, after she was seen outside the studio of former flame Tyga.
Kylie Jenner is not taking any time off it seems, the reality star who is said to be taking a break from Travis Scott was seen outside of Tyga's recording studio. The couple was said to be only taking a break when the reality star was seen outside her former boyfriend's hotel.
The makeup mogul was taking a ride to the hotel with her friends Anastasia "Stassi" Karanikolaou and Kelsey Calemine and it was reported the three, along with Tyga partied the whole night. The split between Travis and Kylie was only said to be a small break for them both to assess their careers but this new development seems to portray the whole thing in a new light which says they are broken up.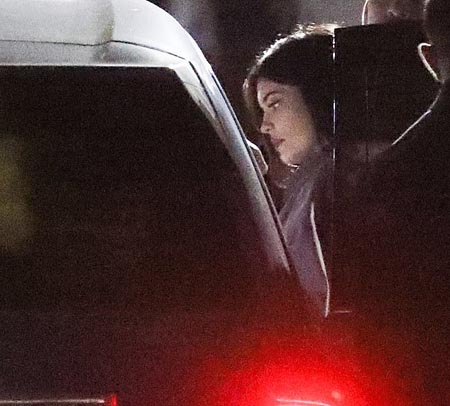 Source: Mail Online
Kylie and Tyga were former flames who dater for three years before calling it quits in 2017 and then she met Travis with whom she started a relationship only a couple of months later. But now the "break" seems to be a full-blown split and the TMZ source looks more and more true by the passing moment.
The source told the news site the two were broken up and both are single at the moment and after almost three years of relationship, the two were said to be "walking away" from their relationship. The couple shares a daughter and if the split is true then we are not certain who will be taking the kid and how they are going to manage to be joint parents.
Source: Mail Online
After the break was made public there was another source who came forward and said the couple was taking different path moving forward because they were going through a lot of problems in their personal lives. Kylie was said to be ready to get pregnant again but her wishes were not fulfilled it seems and there were a lot of cold spaces in the relationship between Kylie and Travis.
There was no confirmation of the split from the two people involved but it seems the whole thing is blown to ashes and there seems to be no way they are getting back together. Visiting your ex is a big no-no when it comes to relationship, even when being on a break. So, the power couple is done it seems and it is a sad day to see the two split, but it seems she is happy partying with her ex.
Source: Mail Onlline
So, maybe Tyga and Kylie are back together or they could be only partying together which would be unusual but no one can say for sure until Travis and Kylie come out and pronounce their relationship dead.
Before you leave, make sure to check out the Entertainment section to know more about the Kardashian/Jenner clan. Also, visit Glamour Fame for all the latest news and information on all of your favorite celebrities.
-->