Suspense Writing Legend, Mary Higgins Clark Dies at 92
One-of-a-kind suspense writing legend Mary Higgins Clark dies at the age of 92 on Friday in Naples.
According to Mary Higgins Clark's publisher, Simon & Schuster, the best-selling author died peacefully while being surrounded by her family and friends.
Clark was a legendary writer who pegged the sobriquet 'Queen of Suspense' and successfully sold more than 100 million copies in the United States alone. All of her 51 books were bestsellers in the United States and European countries.
Some of her commendable works are: 'Where Are the Children?' 'A Cry in the Night,' 'The Cinderella Murder' 'Every Breath You Take,' 'All Around the Town,' 'Dashing Through the Snow,' 'A Stranger Is Watching,' 'We'll Meet Again,' 'Loves Music, Loves to Dance,' 'The Second Time Around' and many more.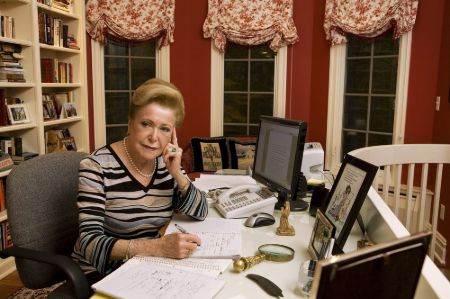 The prolific writer was writing one book a year even at the age of 90.
Source: Bloomberg
The prolific writer was a widow with five children when she started writing in her thirties. Even after being tragically widowed, Higgins wrote short stories to support her family. She's always showed her genuine and keen interest in writing when going through her interviews. We can see that through the works of the natural storyteller.
Also See: Who is Martyn Eaden? Some Interesting Facts to Know About the Writer, and Chrissy Metz Former Husband
The master craft wrote suspense, mystery, psychological thriller stories in her lifetime. Her books are translated into 35 languages, and more than 20 of those were adapted for television and cinema.
Mary's trademark stories were of death and suspense where women's brave adversity and good triumphs over evil.
Even at the age of 90, Higgins was producing one book a year, making her one of the top-selling fiction authors in France.
Mary Higgins Clark's last work, 'Kiss the Girls and Make Them Cry'.
Source: Aarp
In recent years, the 'Where are the Children' writer collaborated with Alafair Burke on the 'Under Suspicion' series. Now her most remembered work, her last job is 'Kiss the Girls and Make Them Cry', which was published in November 2019.
Mary Higgins Clark, From 1927-2020.
Source: CNCB
Writers like Mary shape the history and the future of female career development through their impeccable works, especially those that empower women through writing.
Even though Mary is no longer here with us, her works will be passed onto generations, and she'll live forever among the pages of her books.
You May Also Like: Ulla Sandrock (Ulla Klopp) is Married to Jurgen Klopp - Some Facts to Know About the Author
For more Entertainment updates visit Glamour Fame.
-->