How Many Tattoos Does Carson Daly Have?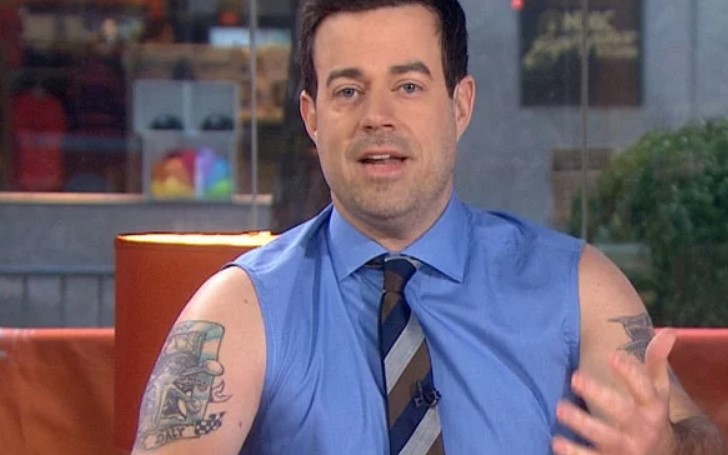 Carson Daly is an American radio and TV personality who is famous as a VJ on MTV's Total Request Live. The star is also well-known for his work in radio station 106.7 KROQ-FM. Since then, the 46-year-old is climbing the ladders of success.
The biggest break after MTV was when Daly joined NBC, where he hosted and produced the late-night talk show, 'Last Call with Daly Carson.'
The star hosted the show for almost seventeen years until Lilly Singh replaced him with her own late-night show, 'A Little Late with Lilly Singh.'
The star, however, is on his new journey as the host and co-producer of NBC's reality singing competition show, 'The Voice.' While Carson's career sounds appealing, there's something more interesting about the star.
The 46-years-old TV personality is covered in tattoos, and we can't stop talking about them. The NBC singing competition host has a total of eight tattoos on his bodies, and they all carry a very significant meaning. We are covering some of the important ones only.
Carson Daly's One-Eyed-Jack Gets All the Eyes.
Carson's love for his son, Jack Daly.
Source: Carson Daly Instagram
Carson's One-Eyed jack tattoo gets all the attention, and why should it not, Daly designed the art himself and inked it on his right arm.
The star described the tattoo which he made for his son, Jack Daly. The reference for 'Jack' can be found all around the tattoo. At the top, it has Carson's son's date of birth and name at the bottom.
Carson's New York Tattoo
So much love for the New York.
Source: GH
The 46-year-old's love for New York is quite evident as he etched an 'NYC' tattoo for himself. The star inked it on his right wrist, which shows the pride Carson takes being a New Yorker.
The star said, "This NYC one I got the day after September 11, here in New York. I went to work at MTV in Times Square, and there was a bomb threat the next day, so we had to evacuate the building."
Also Check: Get Every Detail of Jason Momoa Tattoos
He further added, "As we were trying to figure out if we'd be on the air, I was kind of aimlessly walking around New York ... I went to my tattoo shop and sat there listening to music and ended up having him put that on me as a sign of pride for being a New Yorker."
Carson Daly Has a Tattoo of US Army Special Forces Logo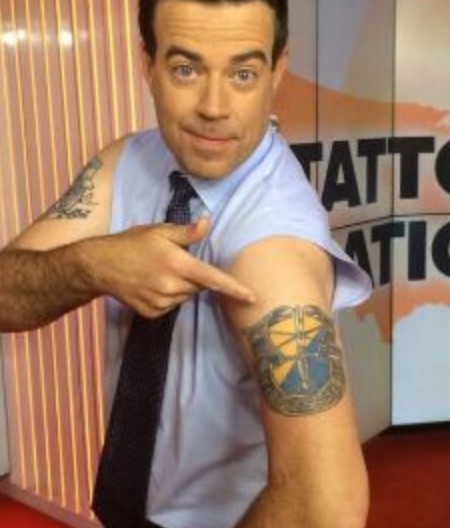 Carson's ode to his grandfather who served in Green Beret, US Army Special Forces.
Source: Body Art Guru
It seems like the TV personality takes a lot of pride in being an American. Daly's US Army Special Forces logo just proves it.
The 46-year-old has a 'De Oppre Sso Libre' with the Special Forces flag. The Latin words translate to 'To free the oppressed.' It was such a beautiful ode to his grandfather, who was a green beret in the special forces.
The TV Personality Inked His Niece's Name on His Left Arm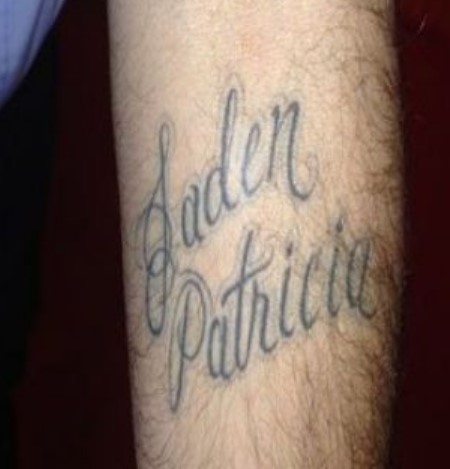 Jaden Patricia is Carson's name, but when we separate the full name in two, Jaden is Daly's sister name, while Patricia is TV personality's mother name.
Source: GH
This one is to show love to his niece, Jaden Patricia. The TV personality inked her name on cursive. But her niece has a deeper meaning as well. While Jaden is Carson's sister's name, Patricia is Daly's mother's name.
The star said, "I still owe Catherine, my other niece. She's next."
465 on Carson's Left Leg - What's That?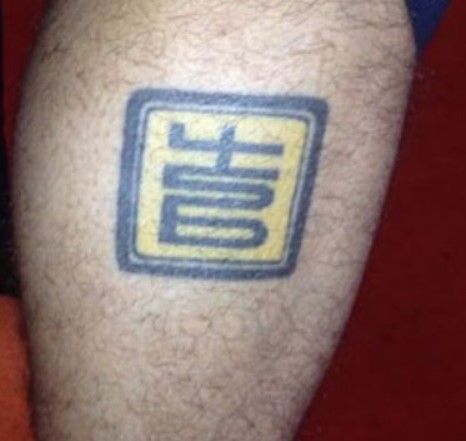 Carson inked his record label name on his calf.
Source: Body Art Guru
The TV personality has a logo of his former record label, 465, tattooed on his left leg. The star said he got the name from an NYC street dice game.
The actor said, "We had a hip-hop label, so it all made sense at the time."
Crab Claw Pocket Knife on Carson's Right Leg
Crab Claw Pocket name to cover Daly's ex-girlfriend name.
Source: Body Art Guru
This tattoo has one of the hilarious meaning why Carson chose to ink it on his right leg. Back in the days, when he used to work as the host for Total Request Live, Daly dated actress Jennifer Love Hewitt.
The TV personality inked her name on the same place where the crab claw pocket knife is tattooed now. The reason for the cover-up was, well, you pretty much know, they broke up.
To know more about your favorite celebrities' lifestyle, stay tuned to Glamourfame.com, and don't forget to sign up for the newsletter.
-->