Teen Mom's Jenelle Evans Teases a New 'VERY DIFFERENT' Project with 'NO DRAMA' after MTV Refused to Take Her Back
Published Sun Mar 01 2020 By Chester
Former Teen Mom star Jenelle Evans teases us sharing a new project on the way.
Initially, there were rumors of MTV recasting one of their famous star Jenelle Evans amid her controversies with psychotic husband, David Eason.
A short recap for those who've missed what happened in between, former MTV's Teen Mom star Jenelle Evans was boycotted from the show in May 2019 after her lunatic husband slaughtered their bulldog Nugget. As an aftermath, it left a negative impression on the show, and it's ratings, and made MTV fired her.
Evans hints about a new project.
SOURCE: Jenelle Evans Instagram
Nevertheless, after so much drama, heated argument, and troubles, the mother of three is finally breathing the air of peace. Jenelle shared jolly news of working on a new project teasing her 2.9 million filled Instagram writing, ""Cannot waaaait to share the project I'm involved with! It's going to be super fun, positive vibes, and no drama! Very different. I'llI'll keep you posted with updates within these new few months. #Staytuned."
Check Out: 'Teen Mom 2' Alum Jenelle Evans Opens up About 'Closeness' With Estranged Husband David Eason
Lately, Jenelle, 28, who preferred anonymity from the social media couple months ago and was recently rumored to delete all her social media presence, is now spotted making series of clips on TikTok and YouTube. Well, the reality star is back filled with more energy, and we can feel that.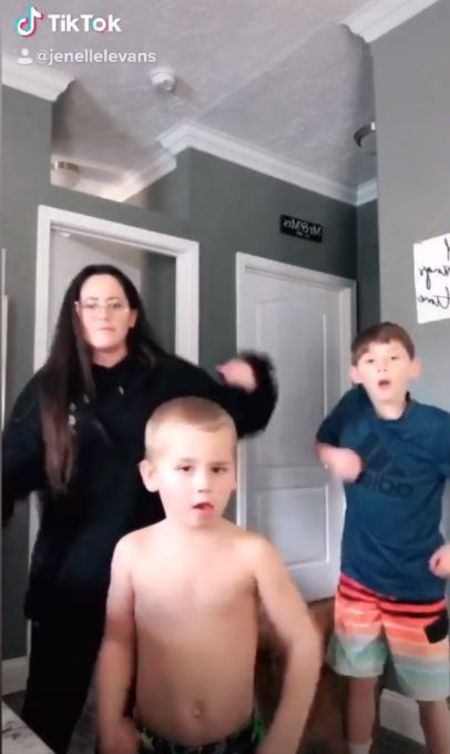 Snippet of Jenelle with her son Jace and Kaiser making a Tik Tok video.
SOURCE: @jenellelevans TikTok
The news comes right after Jenelle was spotted with her estranged husband David at her home at Nashville, Tennessee. So guys, aren't you excited for what's happening on the way. Stay tuned with us to find the updates.
Find Out: Teen Mom Star Jenelle Evans Hints Pregnancy Rumors Shortly After Reunion with David Eason
We hope you enjoyed the article, for more Entertainment articles, visit Glamour Fame.
-->