For Thaddeus Moss, The Last Name from Father Randy Moss Is a Burden but Is Finally Living up to It
Published Tue Jan 14 2020 By Sea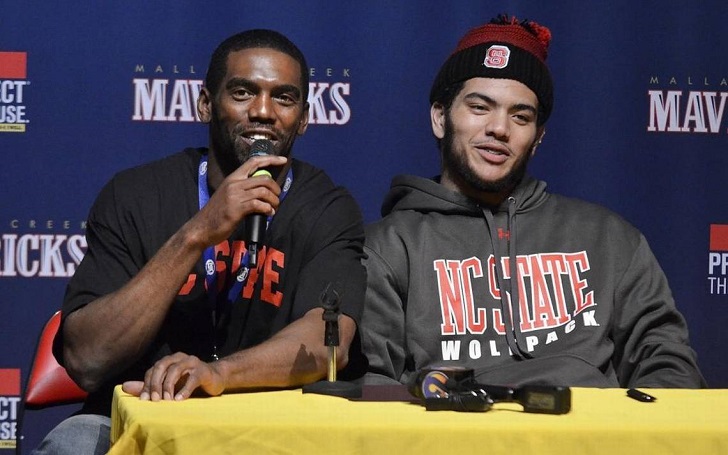 After a few stints of failed seasons early on, Thaddeus Moss' LSU career is his best, and it's so very important for hanging the last name from father Randy Moss.
Thaddeus Moss knows he is the target for opposing team's defensive backs, but it not just because of his career which in on the high right now. He knows it all too well that his last name is enough to make it trigger the oppositions.
The opposition players, too, would tell him he'll be as good as his father. Everyone else will as well. It doesn't bother him, but is the name blessing or a curse, only his full career will tell. But the beginnings were not as savory as one would think after being the son of the infamous Randy Moss.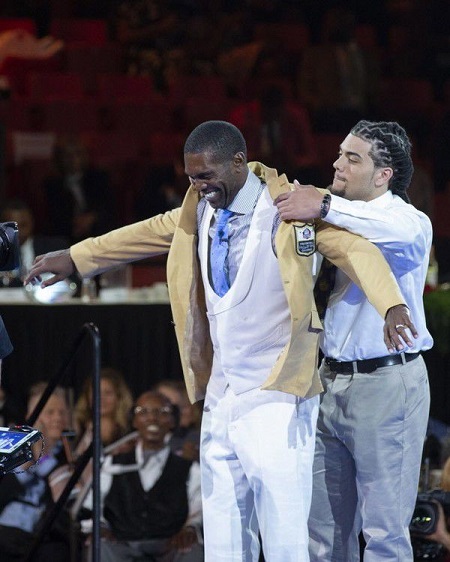 Thaddeus Moss takes the burden of his last name from father Randy Moss.
Source: Bob Rossiter
Moss Junior was the one to give the introductions when Moss senior was inducted into the Pro Football Hall of Fame in 2018 in Canton, Ohio. Now, he says his name is a burden.
"He told me the last name means something," Thaddeus told ESPN. "We're normal people, but others don't look at us as normal people. With the last name, people expect more of us and look at us a certain way."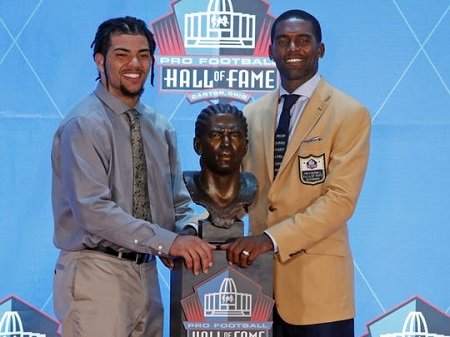 Will Thaddeus finally start living up to the name of his father?
Source: Gene J. Puskar, The Associated Press
"I'm 21 years old, but it's still a burden. Obviously, having that last name carries its perks, but I always say it's a blessing and curse at the same time," Thaddeus continued. It has its ups and has its down with just the way some people treat you. They expect certain things from you."
The 21-year-old further said it would be good enough if he can be something like Randy.
How is the relationship of Thaddeus Moss with his father Randy Moss?
After completing high school from five high school across four states — finishing at Mallard Creek in Charlotte — Thaddeus enrolled at N.C. State. But it wasn't anything like he ever thought there and transferred to LSU. Now, it's a boon that he did as he had a huge season in 2019.
On why he left N.C. State, he told The Charlotte Observer he didn't feel any connection in the team and didn't like how he was being used. The Offensive Coordinator he really wanted to play with, Matt Canada, was dismissed after the 2015 season.
Watch: Randy Moss Is a Proud Dad, After All
"...What I thought it was going to be is not what it was going to be. I didn't like the locker room. I didn't like how I was being used. I didn't feel a connection with none of the players. The OC that I really wanted to play for, he wasn't there. So just what I thought it was going to be in recruitment, it wasn't that. I didn't like how I was treated. I didn't like where my game was at that time. So I felt like a move would be best for me."
When he transferred to LSU, it was not that awesome for him either. For two seasons, he had it slow. He had to sit out the entire 2017 season because of the NCAA transfer rules. When 2018 season rolled in, his problematic foot injury required two surgeries, so he was out for the entirety of it as well.
However, 2019 was nothing like those, and he's hitting the spotlight on occasions now.
Stay tuned and connected to GlamourFame for more Entertainment content.
-->