The Duggar Family Show 'Counting On' Is Scripted Admits Derick Dillard
Published Wed Jul 31 2019 By Andrew
Derick Dillard recently admitted that The Duggar Family show 'Counting On' is scripted.
Sibling rivalry can sure be a common thing. While other siblings tend to compete against each other on the basis of career goals, physical fitness, or contributions to the communities in which they live, others seem to deter from the mainstream. Similar is the case among the siblings of the Duggars household.
Well, the Duggars sibling rivalry seem seem to stand out as they are trying their utter best to outshine each other in areas like baby-making, and keeping their husbands happy.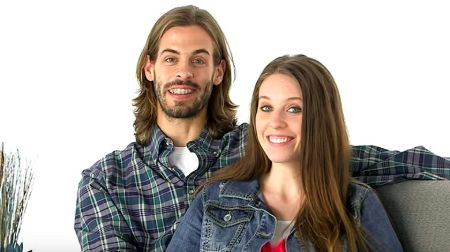 Given that the family prefers to live such an ultra-traditional existence, the grounds they are competing over seems quite justified.
With all these facts under consideration, Jill Duggar probably shouldn't be taken aback by the news concerning some fans having trouble taking her political commentary seriously.
The mother of two recently was in attendance of a celebratory function dedicated to women's suffrage at the Arkansas Governor's mansion. As she took to her Instagram to let the world in on her thoughts about the occasion many were less than thrilled.
As it turns out, the response to her post was quite swift and rather harsh. From killing a bee to being bashed over buying an expensive house she's faced a lot of criticism but this time around things seems to have escalated exponentially.
One of her followers took to the comment section and maintained,
I had to giggle. The ladies in your family have no rights. The men control you. I do love your family and show but come on!!
Jill calmly replied to the comment with a simple, "You're mistaken."
Unlike Jill, her husband Derick Dillard is the one who handles the comments and issues in a rather confrontational and aggressive manner.
Derick hit the harsh commenter with,
"If you only know our family from a semi-scripted show then you are either assuming things that aren't there or believe that all you see is all there is,"
He went on to add,
"If Jill felt the Lord leading her to run for governor, I would not only vote for her, but support her in every way a spouse can."
As a matter of fact, only a Duggar family member is able to give off a "I would totes vote for my wife if she were running for office" and be perceived a weakling for saying so.
Wait what? Did he just confirm that Counting On is a "semi-scripted" show? Jim Bob's is sure not gonna like that.
Later, when another one of the followers came through with the comment asking if he would "vote for a female president?" Derick replied with a positive response.
Following the previous trends, most of the fans of Jill stuck by her side but it was quite a close call this time around.
Watch: Jill addresses the issue on why she prefers to be a housewife.
A surprising number of followers out of a total of 1.6 million, bashed the reality star for her alleged hypocrisy. Moreover, the argument suggesting she possesses no right to celebrate women's victories in the political arena while participating in a cult that actively works to oppress women's rights, were quite abundant as well.
"I find this strange from a family brought up with such a stringent guideline for the woman's role and patriarchal control," expressed one follower.
Another comment saw a fan call out the way Duggar daughters were brought up.
While another wrote,
"They don't even go to college or have jobs outside the family home! You all can deny it all you want but they do not live like most!!"
It seems as if Jill is planning to sit this one out going forward.
However, it is a given that Derick is in the line to wage war against the "haters." If that seems to be the case it sure isn't intuned with her argument that women in the Duggar family have equal rights to men.
For more updates on the Duggar family, stick with us at glamourfame.com.
-->