Thomas James Burris and Karen Carpenter — Life Together Before the Singer's Untimely Death in 1983
Published Tue Jan 28 2020 By Sea
Karen Carpenter was a coveted singer back in the day, however small her time in the world was. While the band 'The Carpenters' with brother Richard Carpenter took off quite well, she failed as a solo singer in the late '70s. But there were more pressing issues in her life, particularly her persistent weight loss and sickness.
Another thing that was in between was her relationship with husband Thomas James Burris. It was a fairytale at first but later turned out to be tumultuous, to say the least. There are a lot of things happening between the singer and the real estate developer before, during and after the time they were together.
While Karen Had No Intention of Marrying Because of Music, Thomas Was Already Married Once
There was a moment Karen Carpenter declared in early interviews, "As long as we're on the road most of the time, I will never marry." But while seeking independence, she was not gung-ho into the idea of women not having to cook for her husband. If she would get married, she said she would do those things.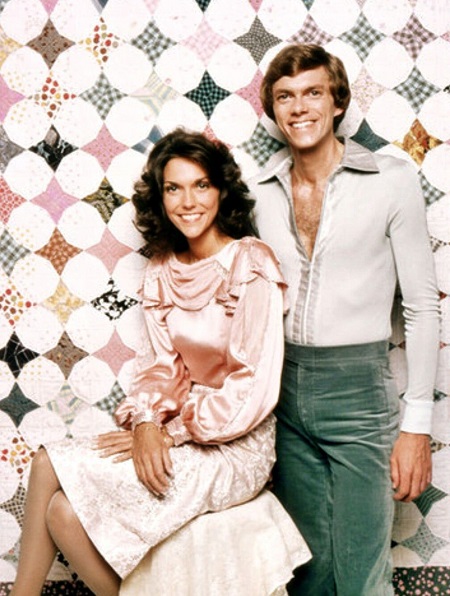 'The Carpenters' comprised of Karen and her brother, Richard.
Source: Pinterest
Despite declaring it was difficult for her to find someone to date because of her career, Carpenter went on to date several notable individuals the likes of Mike Curb, Tony Danza, Terry Ellis, Mark Harmon, Steve Martin and Alan Osmond. She was not that revolting though. She admitted to Olivia Newton-John about wanting a happy marriage and family, something that would be an issue during her time with Burris.
Meanwhile, Burris was already once a married man before he met Carpenter. He was divorced with an 18-year-old son by the time he met her at a dinner in 'Chic Ma Maison' restaurant in 1980. He was nine years older than her.
Karen Actually Wanted to Call Off the Wedding, But Her Parents Urged to Go On — Here's Why
The romance between Karen Carpenter and Thomas Burris shot faster than any normal relationship would. They started dating immediately after meeting, and two months after that, Burris told her he wanted to spend the rest of his life with her. Yes, he proposed.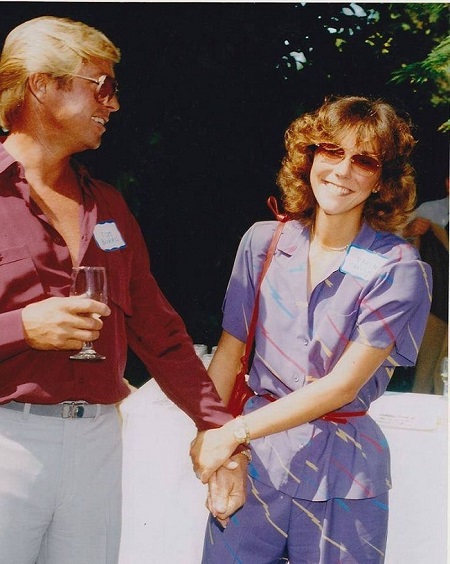 It was a whirlwind of romance between Karen Carpenter and Thomas James Burris.
Source: Greening
How did this particular relationship skyrocket so quickly? Apparently, the then-39-year-old Tom was the ideal man she met upto the limit a man could be for her. He fulfilled most of her requirements in a potential husband. "He was very attractive, very nice, and he seemed very generous," said Carole Curb.
Learn more: The truth behind the breakup of 'The Beatles'
The couple initially planned to wait for a year after the engagement so that they could actually take some time before the wedding. But in July 1980, they announced their plans to get married in August that year. It was particularly alarming for her friends, as "that's when everybody's antennas went up".
Few Days Before the Wedding, Thomas Confessed He Had Vasectomy Before They Met
By the time they were married on August 31, 1980, in the Crystal Room of the Beverly Hills Hotel, Carpenter was already five years into her struggle with anorexia and bulimia nervosa. Richard also overcame his Quaalude addiction. She performed her new song 'Because We're in Love' at the wedding, which was released later in 1981.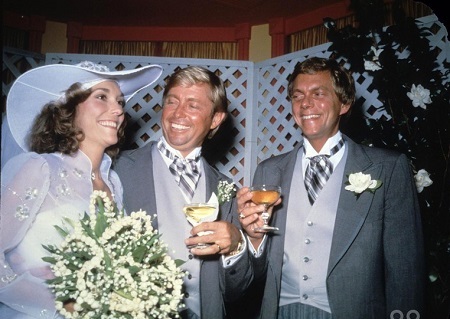 Despite everything, Karen tried a fake smile every time she would be upset.
Source: ZUMA Press, Inc.
The wedding was, however, not how she planned it to be. A few days before the wedding reception, Karen was left dumbfounded when he heard the most grave of news from Thomas. A while before meeting her, he'd undergone a vasectomy. But Karen's dream of married life was to have kids.
Tom refused her monetary offer to reverse the procedure. Karen felt betrayed by the very fact that he'd kept the important part of him to himself. After all, the possibility of children was the main requirement she'd set in a man.
The then-29-year-old wanted to call off the wedding and cried while explaining her mother, Agnes, of his lie on the phone. Her mother did not let her cancel the wedding because family & friends were invited from all over the country to attend the event, and the wedding cost had been paid out already.
"The invitations have gone out. There are reporters and photographers coming. PEOPLE Magazine is going to be there. The wedding is on, and you will walk down that aisle. You made your bed, Karen," Agnes told her. "Now, you'll have to lay in it."
Thomas Apparently Couldn't Afford the Lifestyle He Was Showing, People Knew after the Wedding
At the time of the relationship between Thomas Burring and Karen Carpenter, expensive cars and properties tagged multimillionaire in him. Karen's friends and family all thought so. But the truth was far from that simple.
Carpenter's personal assistant and her band's secretary, Evelyn Wallace, who passed away in 2013, recalled, "It wasn't long after they got married that he started asking her for money. He'd give her some excuse, and she'd give him the money. He'd ask for $35,000 and $50,000 at a time. Finally, it got down to the point where all she had left was stocks and bonds."
According to Karen's later tour companion, Karen "Itchie" Ramone, "Tom couldn't afford the houses, the cars, her wedding ring; he couldn't pay for anything."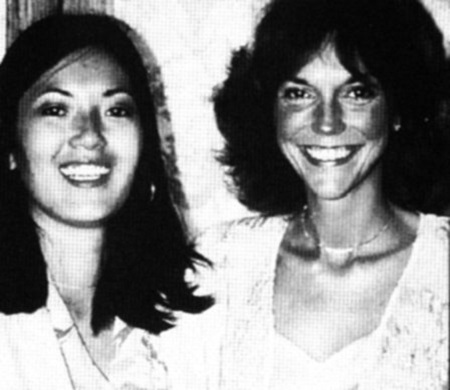 Itchie Ramone was the closest friend Karen had.
Source: Tumblr
Karen shared those household fallouts with her friends, and that's how Ramone recounted those days. (She also passed away.) Her friends indicate Tom was abusive towards, her and she even admitted to being fearful when he lost his temper.
While her disease was setting in, her behaviors also continued to change. After a heated discussion when Karen told him she wanted kids and a violent reaction from Tom, her friends wanted her to see a marriage counselor with Tom.
However, after reportedly being called a "bag of bones", her reformed band, 'The Carpenters', chose to go on an international tour in Europe and South America. Itchie went along.
The Carpenters, Karen Carpenter (1950 - 1983) and her brother Richard, in Amsterdam, Netherlands, February 1974.
Source: Michael Putland, Getty Images
After the tour's conclusion, she came back to Los Angeles in November 1981. But she had revised her will September 1981, before returning, so that her marital Newport Beach home & its contents would go to Burring, while the rest of her $5-$10 million ($14-$28 million in 2019 value) would be for her brother and parents.
After an argument after a family dinner two months later, they officially broke up after 14 months of marriage. She relocated to NYC's Regency Hotel in January 1982. But after severe effects of her disease, she was admitted to Lenox Hill Hospital in September 1982.
Thomas Burring Has Not Resurfaced Once after Karen's Demise
A month later, on October 28, 1982, she filed for divorce from Thomas while still in the hospital. The battle with anorexia was too much for her despite improving in weight while at the hospital. She made her last public appearance on January 11, 1983, at a gathering of past Grammy winners.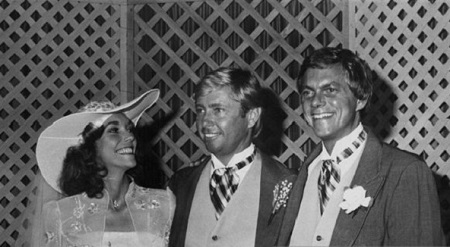 Burring (center) hasn't been in the spotlight since Karen's passing.
Source:
On February 4, 1983, after collapsing in her bedroom in her parents' home while getting dressed, she passed away. The cause of death was not the disease itself, however. It was heart failure due to the repeated use of ipecac syrup, an emetic used to induce vomiting.
The divorce was not finalized completely yet since she had the final papers yet to sign before that weekend. The story between she and Thomas just ends there.
You might be interested: Marcus Lemonis revealed he also suffered from Bulimia. What's his weight loss story?
While the whole world was mourning the loss of an iconic singer, Thomas was not heard from with regards to Karen. Fans don't know if he attended the funeral or not.
While several others in Karen's life passed away, there are reports that Thomas Burris is still alive. But if there ever will be words from him, it would only be known when he chooses to say so.
Stay tuned and connected to GlamourFame for more updates.
-->