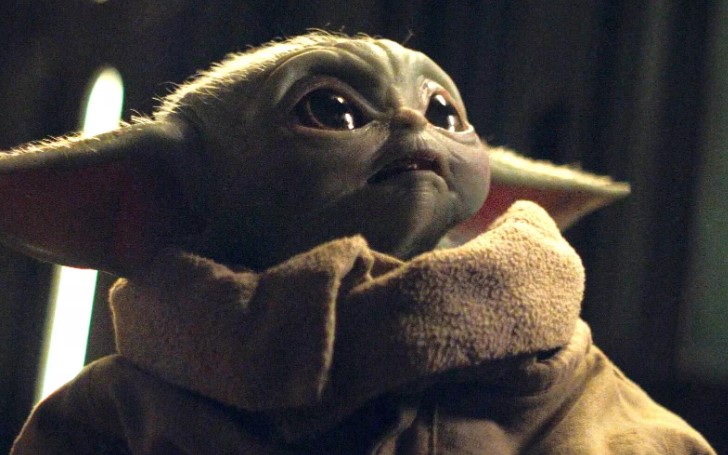 Disney's 'The Mandalorian' TV series is getting hugely popular among the 'Star Wars' fans, while we never doubted it, but surprisingly, it's grabbing the attention of new fans who never bothered to watch the Star Wars Saga. (Yes, there are some people who never watched the classic 'Lucasfilm' saga.)
The Mandalorian tells a story of a lone bounty hunter, 'Mando,' in the outer reaches of the galaxy, far from the authority of the New Republic. The show got an impressive ratings 9 out of 10 on IMDb. With the show's massive popularity, one of the characters, 'Baby Yoda,' is storming the internet with whole new fan followings.
The internet now is filled with Baby Yoda's memes, and we doubt you have never come across one. However, Baby Yoda isn't just the latest meme craze. The cute little character is also a trendy tattoo these days. This ongoing trend really stole our heart, so we kind of decided to make a list of 'Baby Yoda's tattoo people opted to ink on their skin. If you are looking for Baby Yoda's tattoo ideas, here are 10 of them, we hope you will find them cute, adorable, and funny.
10. Baby Yoda on His Good Ol' Pod
We were all excited and thrilled to see Baby Yoda for the first time as Mando opens the pods; however, we were not at all ready to behold the cuteness overloaded Disney will present to its viewers.
Also See: Is The Mandalorian Cast Member Omid Abtahi Married?
One of the tattoo artists tried to catch just that feeling on his Mandalorian art piece. Just look at it, adorable, isn't it?
9. May the Force Be With You
We all want "Force" to be with us, and a Star Wars fan, there's nothing more precious than it, and if it comes from Baby Yoda, you have already won the half of all galaxies. One of the tattoo artists inked one of the epic scenes from the show when Baby Yoda uses his powers for the first time after meeting Mando.
8. Highest Details possible
Though the tattoo is missing colors, it has all the details possible. It looks real than the real character itself. This one truly stole our hearts.
7. Here comes the Meme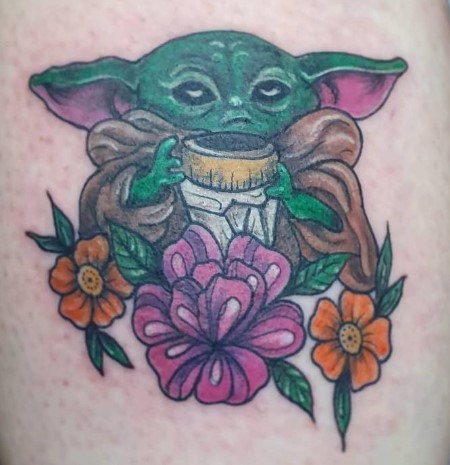 Well, a while ago, we discussed how extremely Baby Yoda's memes are taking over the internet. It seems like one of the fans is struck by the meme craze and decided to ink the meme on his skin. Baby Yoda surrounded by flowers while he takes a sip of his coffee, maybe.
6. Minimalist Baby Yoda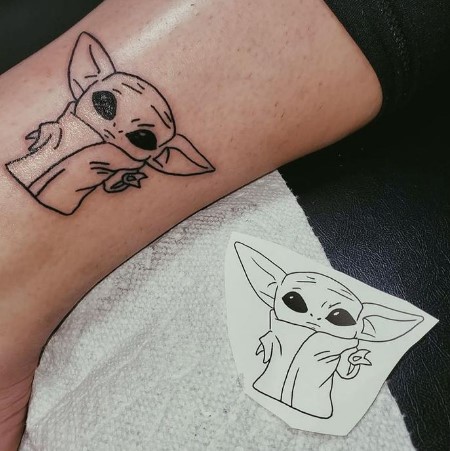 One of the fans of Baby Yoda got a real cute tattoo of it, which is simple and minimal in design but has all the details needed. Those eyes, though, and 'Who Cares?' hands is enough to make a statement.
5. Mandalorian Holds Baby Yoda on His Arms
It's always nice to see Mando and Baby Yoda together, and when it's the lone bounty hunter holding Yoda in his arms, it's one of the best beautiful sights we will ever see.
This tattoo, if we have to rate it, would rate it ten out 10 in terms of design, details, and cuteness. While talking more about the design, it plays off some religious iconography, as it seems, there' a halo around Mando's head.
4. The First Time We Saw Baby Yoda Gulping a Frog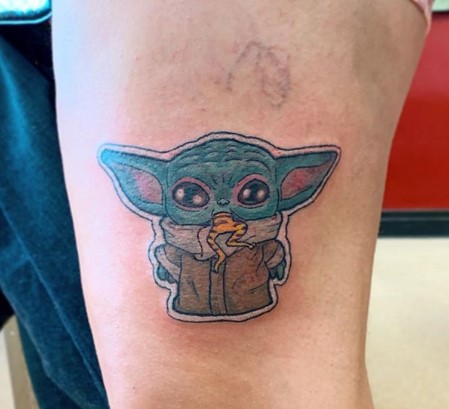 It was disgustingly adorable to watch when the first time Baby Yoda catches and gulps down his prey - a frog. This one made us fall in love with Baby Yoda even harder. We absolutely loved Baby Yoda being Baby Yoda, and of course, someone thought it was worth tattooing, and the person has our approval.
3. Baby Yoda Holding a Can of White Claw, What Should Be His Legal Age Anyway?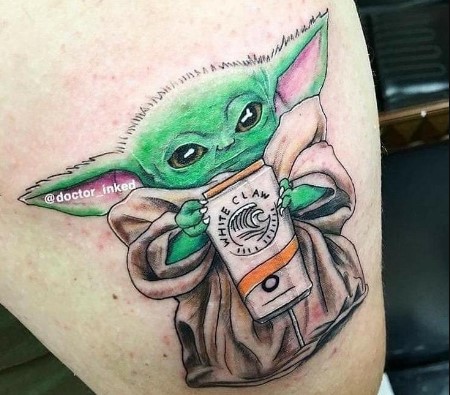 Baby Yoda's popularity is clearly evident from this tattoo. One of the fans inked a tattoo where Baby Yoda is holding a can of White Claw. But is it legal yet for him? Well, we know he is 50 years old, but he is still a baby. Well, this one is for sure going to be on the list of 'Funny Tattoos,' but who cares? We loved it anyway.
2. Grumpy Baby Yoda With a Sunshine?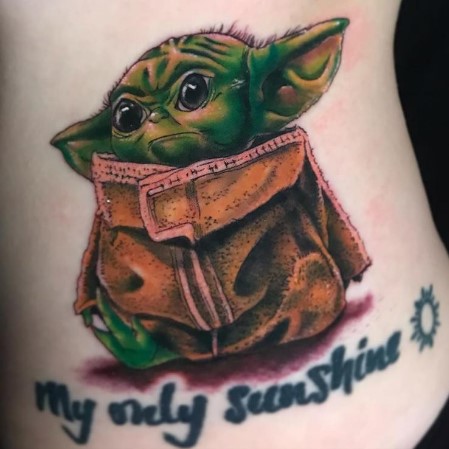 We love when a baby gets mad, the grumpy looks on their face is just too adorable beyond any words. And while we have seen a time or two Baby Yoda getting all grumpy on the Mandalorian series, a fan seemed too mesmerized by his looks, and decided to get a tattoo of Baby Yoda's grumpy face, with a text, "My Only Sunshine." Well, it's apparent how much they loved it.
1. Oh No! Baby Yoda is Sad
While this one is not from the show, the tattoo captures the essence of Baby Yoda. He seems sad, but those puppy eyes are enough to steal your heart. And of course, "MAY THE FORCE BE WITH YOU" texts and those geometric shapes just gives enough outline needed for a perfect tattoo. But again, no shapes can really win those puppy eyes.
For more information on your favorite celebrities' lifestyle, stay tuned to Glamour Fame, and don't forget to sign up for the newsletter.
-->