Top 5 Facts About Derek Carr's Wife Heather Carr!
Published Sun Aug 11 2019 By Travis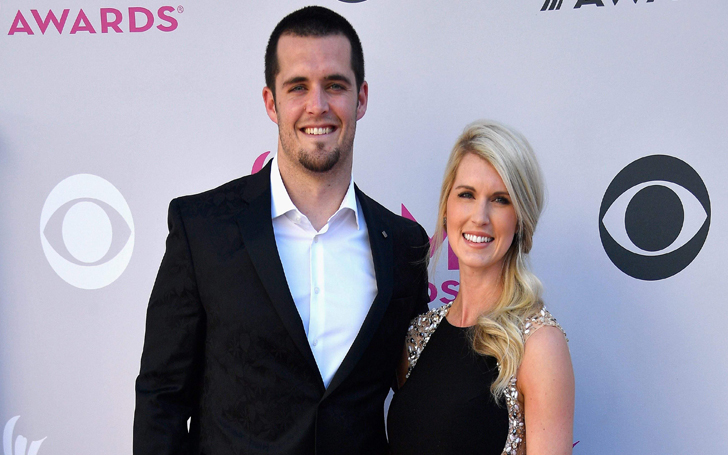 This year 'Hark Knocks' made their way to Oakland California to document the training camp of the NFL team 'Oakland Raiders'. The HBO documentary series which premiered its fourteenth season started the show with the recent acquisition of Antonio Brown as he was making his return from a foot injury. We all expected the show to start with AB, he is the main attraction there now but then the cameras found their way to Derek Carr's house. The man who is going to throw the ball to AB this coming season if all goes well.
Derek was sitting poolside with his children and his beautiful wife Heather Carr who was wearing a big sunglass and talked to the cameras. The wife of Derek is the rock of his life who was the one who helped her get through the gruesome injury which ruined his season where he was performing at the MVP level.
Like most successful men, a women holding down the fort is key to their success and Heather is a gem who makes sure Derek reaches the heights he was on before he broke his leg in 2016. Here are five facts you should know about the wife of Derek Carr.
5. Heather Wrote Him A Letter To Bring Him Down To Earth
Derek was a graduate of a Christian school but after his brother dominated in the school playing football. Derek was coasting through and letting all the success go to his head which resulted in him losing his faith. Heather who was at the particular time in a relationship with Derek was angry because he was talking one thing and then doing another.
Heather was not having any of it, someone who practiced her religion every day, she was angry so she sent him a letter saying, "You're not the person that I thought you were." Derek said the letter hit him real hard and he gave up on his party ways and got back down to things which really mattered.
4. Heather Gave Birth To Three Children
Heather and Derek are happy parents of three beautiful boys. The couple welcomed their first child on August 2013, Dallas Carr, was born with a medical condition which resulted in him having to go through three different surgeries and finally he was deemed healthy and we saw him playing with his little brother in Hark Knocks.
The couple welcomed their second son, Deker Luke Carr, in 2016 and recently Heather gave birth to their third child, Deakon Derek Carr, who is one month old and he was on his mother's lap when the HBO show visited the Carr family home.
3. Heather Married Derek In College
After his initial loss of faith and his affinity towards partying ways were corrected, Heather thought he was the right man he can be with and someone she can see his future with. The couple got married on 10 July 2012 and is happily married with three kids since then.
2. Heather Was A Cheerleader In High School
Heather's husband is not the first brush of football she went through in her life. Heather was a cheerleader before she even met Derek. She was a high school cheerleader in Fresno but gave it up after she started college.
1. Heather Met Carr While Waiting Table For Him
Heather was a working college student who took the job as waiter in BJ's Brewhouse so she can fund her way through college. One day during her shift Derek came in and told her she was wearing only one earring, he was hitting in her but still the comment made her check and the rest they say is history.
Also Read: Tom Brady Makes An Epic Social Media Post Wearing Thanos' Infinity Gauntlet
Heather said, "I had like diamond earrings in my ear and I had them both, I knew I did. And he said, 'Why are you only wearing one earring?' And it made me check my ears. And I was like, 'that's your pick up line?' [It worked] it did work. I talked to him."
Also Read: Things are Heating Up! Olivia Culpo and Christian McCaffrey's Meet up in Mexico
Derek Carr is heading into a crucial season with Oakland this year, the one year of MVP caliber performance looks more and more like a fluke than norm but he still got a season to prove his worth and justify the $120 million contract he signed with the team. The person who can help Derek reach the previous level of success is AB but more importantly the one person who can really get him over the top is his wife Heather who supported him through everything. This season Heather needs to be there more than ever.
-->