Top 7 Zendaya Movies And TV Shows!
Published Sun Jul 07 2019 By Travis
Zendaya has worked in many movies. Check out her most acclaimed movies!
Zendaya has already made a serious mark in the movie and TV industry. From her stint in the Disney channel to now starring in controversial shows in HBO, saying she has come a long way is a gross understatement.
From a girl who was molded into a Disney actress, to break out from her set parameters, in such a way that now it feels like two different people were involved in making of the Disney shows and the raucous performance of her later years. Most actors and actresses coming from Disney are never really able to shake off that label that gets stuck on once you are a child actor at Disney, but Zendaya has done a great job of diversifying her filmography so that she won't be recognized as that girl on Disney.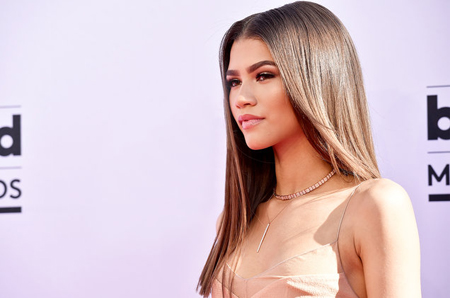 Zendaya attending the Billboard Music Awards. (Source: Billboard)
You won't be able to find another person who has such drastic roles in her filmography than Zendaya. So, let's take a look at some of the best TV shows and movies starring Zendaya.
7. Smallfoot
Let's start things off with an animated movie from Warner Bros. Smallfoot follows a group of Yetis that come across a human being and each being thinking the other was a myth. It was a funny premise, and Zendaya played 'Mechee,' daughter of the chief 'Stonekeeper,' played by 'Common.'
This was a beautifully written comedy musical, and voice acting by all the people involved was on point. Starring Channing Tatum, LeBron James, Common, Zendaya, and James Corden, this movie was a huge success, generating $214 million from an $80 million budget.
6. K.C. Undercover
KC Undercover was a hit show for Disney Channel. Zendaya produced the show, and she portrayed the title character as well. In this show, Zendaya played a teenage girl named 'K.C.' who becomes a spy.
Check out the clip of Zendaya's portrayal as K.C. in D.C. Undercover!
It is exactly what you would expect a Disney show to be, but Zendaya and her acting skills are what really keep this series going. Don't overthink while watching this show; just enjoy Zendaya's performance.
5. The Greatest Showman
This movie was one of the first real significant successes for the still-young career of Zendaya. Starring opposite Zac Efron and Hugh Jackman was a real test of her acting skills, and she rose to the occasion. Playing 'Anne Wheeler', a trapeze artist in the 'P.T. Barnum' show, she is the love interest of fellow Disney alum Zac Efron.
This movie though receiving a mixed critical reception, was still a success, generating over $400 million at the box office.
4. Spider-Man: Homecoming
This one is a bit lower than expected because there was not much Zendaya had to do on the first Marvel Cinematic Universe Spider-Man. She was just an awkward girl sitting in the corner, whom no one really cares for. Zendaya has an ok relationship with 'Peter' in the movie, but their real relationship doesn't shine through till the second movie.
Zendaya still gives a brilliant disinterested performance in the film, and her inclusion is made clear when we hear her name is 'MJ' at the end of the movie.
3. Shake It Up
The first appearance of Zendaya on Disney, Shake It Up was a show starring Bella Thorne and Zendaya who played background dancers on a local show followed their shenanigans off the set as were their attempts to raise their social status.
Check out the video of Zendaya dancing in the intro of the Disney show Shake It Up!
The show which lasted for three seasons was our first introduction to Zendaya, and the world is better for it. This show is so high on the list only because this is the first appearance of Zendaya ever on a TV or movie.
2. Euphoria
The visceral portrayal of teenage life in the modern world, where sex and drugs are prevalent, is so hard-hitting that the Parents Television Council complained about the contents of the show. In Euphoria Zendaya plays a recovering drug addict who is struggling to find herself and find her place in the world.
Check out the clip of Zendaya's performance in Euphoria!
Euphoria deal with teenage angst, love, sex, trauma, identity, social media, and friendship, and it is so realistic in portrayal; you have to see it, to believe. (Just a fair warning, in one of the episodes there are close to 30 penises flashed on the screen.)
1 Spider-Man: Far from Home
Spider-Man: Far from Home is where Zendaya's characters set up in the first movie really shine through. The relationship between Peter and MJ is beautiful, and when she realizes that he is Spider-Man, her expression and her response are priceless. She shines not as Peter's love interest but someone who is caring beyond what her face shows, her demeanor might suggest she is disconnected, but she doesn't change herself for anyone.
The starlet is who she is and not going to change for anyone, that is a sign of a good character. The deadpan humor and disinterest she shows in the movie are why this is at the top of our list.
Also Read: What Did Kris Jenner Do Before Fame?
Zendaya has been part of blockbusters, she has been part of a controversial series, and she has also danced and sang in a Disney show. This lady can do everything, and we are patiently waiting for Dune where she can kick some serious ass.
-->