Who is Tulsi Gabbard's Husband? Grab Details of Her Married Life!
Published Tue Dec 17 2019 By Travis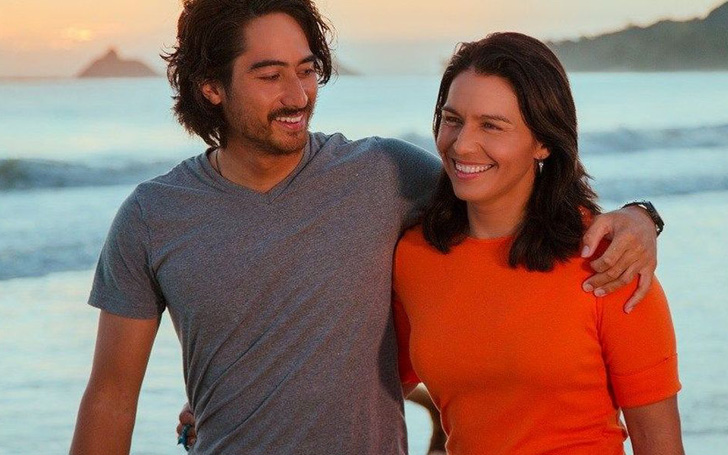 Tulsi Gabbard is the Democratic candidate running for the President of the United States in 2020. She is a Democrat in name only though, someone who opposed gay marriage, considers the chemical attack on the people of Syria by Bashar al-Assad as a hoax, and really is someone who positions herself as a Democrat but carries Republican views.
The congresswoman from American Samoa is currently running in the wide field of Democrats who are hoping to topple Donald Trump and become the President and will not run for Congress. She is one of the most controversial figures running for the office of the President, and she is unlikely to get the nomination to run for the primary still, here she is still, making her case.
Tusli Gabbard is a congresswoman who is currently running for the President of the United States.
Source: Mobile App
Tulsi was the youngest person in 2002 to be elected into the Hawaii House of Representatives. She is also a war veteran who currently holds the rank of Major in the Hawaii National Guard. Tulsi is also a married woman who is currently living with her second husband, whom she met while he was documenting her campaigns.
Tulsi Got Married to Her Husband, Abraham Williams After an On-Sea Proposal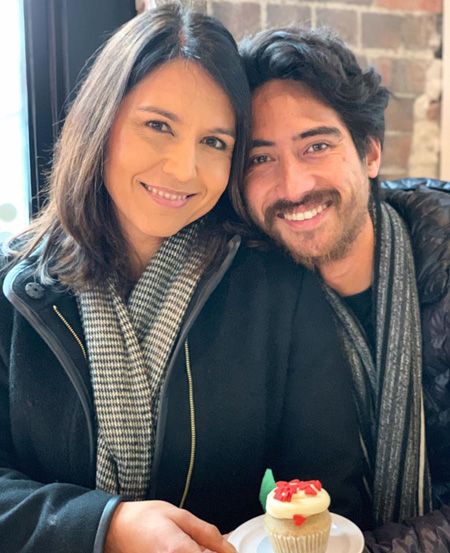 Tulsi Gabbard and Abraham Williams got married in 2015.
Source: Facebook
Tulsi Gabbard was married for a while with her husband Eduardo Tamayo, and the couple was together for about four years when the couple called it quits. For a long time, she was single and living on her own while also being on tour in the Middle East and other war-torn zones. Tulsi finished her tour and came back home and running for public office again.
When Tulsi decided to run for Congress for the first time in 2012, Abraham Williams came forward and volunteered to shoot her campaign ads. It was the first time the two met, and their relationship at first was rooted in work. But then after closely working for a year and a half, Abraham was confident enough to ask Tulsi to go out with him.
Tulsi Gabbard and Abraham Williams got engaged on the ocean.
Source: Instagram
"About a year and a half later, he asked me out for the first time at a birthday party that a mutual friend of ours threw me," Tulsi said. "It was the first time that we had a chance to kick back, relax, and really talk on a personal level," and the two liked who they were as a person, they worked together, but this was the first time they connected on a human and personal level.
Around 2014, the couple started dating, but they were hesitant about making their relationship public. The two connected further with their love for the ocean and surfing, and this resulted in Abraham deciding the ocean was the perfect place to propose.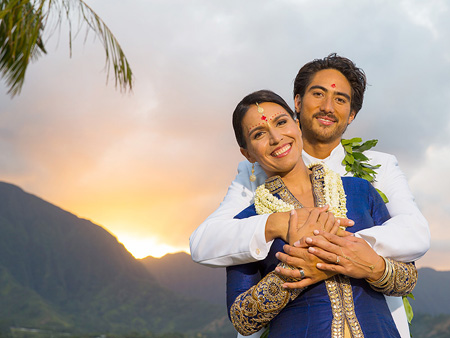 Tulsi Gabbard and her husband Abraham Williams got married in 2015 in a Hindu ceremony.
Source: People
They were going surfing, and the sun was about to set, "By the time we got there and were paddling out, the sun was just about to dip under the horizon," Tulsi said. "He paddled quickly out to the lineup, way ahead of me, and waited as I slowly made my way out. Then he paddled over, pulled out a double-tethered contraption attached to a gold duct-tape-covered flotation device, with a beautiful ring attached, and said, 'I have a question for you: Will you marry me?'"
Also Read: Who is Is KJ Apa Girlfriend? Is He Dating Britt Robertson?
The wedding ceremony was held in Hawaiian island Ohau, and it was a traditional Hindu wedding with the bride wearing a d blue dress instead of a sari, and the groom wore a white shirt with a white jacket on top. With a Hindu priest, the whole thing was a traditional affair, and the couple was deeply pleased with the way their wedding was handled.
Tulsi First Marriage to Her Ex-Husband Eduardo Tamayo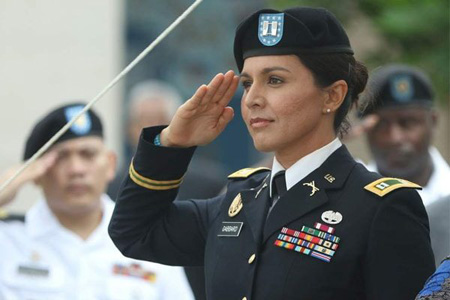 Tulsi's military career was the reason for the failure of her first marriage.
Source: SuperbHub
Tulsi was married to her husband Eduardo Tamayo for a short period of time, and their marriage was riddled with Tulsi going off with the army to fight the war, and the whole thing took a toll on their marriage. After she returned from her tour in 2005, there was a chasm of a gap between the husband and wife, and they could not live together anymore.
Tulsi and her husband got married in 2002, and about four years later, in 2006, the couple called it quits. "I returned home from an 18-month long Iraq deployment with the Hawai'i Army National Guard. The deployment was very hard on my husband and on our marriage. Sadly, Eddie and I became another statistic, another sad story, illustrating the stresses war places on military spouses and families," Tulsi said about changing her name back to Gabbard.
Also Read: Does Michelle Wolf Have a Husband? Details of Her Dating History!
Before you leave, make sure to visit Glamour Fame to be in the know of all the happenings in the world of show business.
-->