Biggie, The Notorious B.I.G., Biggie Smalls, Christopher Wallace, all the names of the hip hop legend from Brooklyn, New York, but you do not even need to know all the names to know whose song it is when the first 10 seconds of 'Juicy' plays. That is the power of Christopher Wallace, such a small catalog and still be considered one of the greatest ever to spit a bar, he was truly great.
Biggie made his career in the streets of Brooklyn, where he started dealing drugs and dropped out of school to support his family, and soon at the insistence of Diddy, the rapper left the drug dealing behind to be one of the greatest rappers to have ever lived. Later on in his life, the rapper would talk about his drug dealing days and how he would provide everything for his children, so they would not be in the same situation he was, choosing dealing drugs or school.
Watch: The Notorious B.I.G. song 'Juicy,' considered one of his greatest work
The rapper was the proud father of two kids before he was ruthlessly slain in California in 1997, Biggie was only 24 years old. Though there are many theories as to who killed the rapper, the case is still not solved, like that of Tupac Shakur, Biggie's onetime friend turned enemy. But even almost 23 years of the rapper's death, the legacy of Biggie lives through his two children, the eldest of who is T'yanna Wallace.
5. Biggie Started Dealing Drugs to Support His Baby Mama and Provide for His Daughter T'yanna Wallace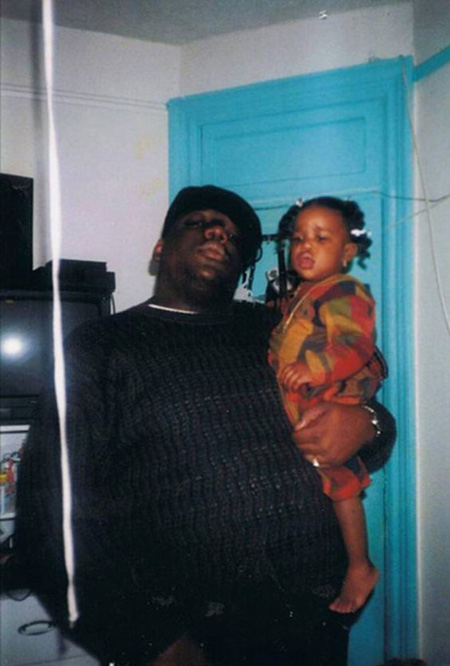 Source: Pinterest
The rapper was only starting on his rap career, you've probably seen the baby faced Biggie wowing in the streets of Brooklyn in 1989. But like most aspiring rappers of the time, his career was not going anywhere instead of some street and underground notoriety. The rapper was managing school and also trying to handle his relationship with his high school sweetheart.
Biggie was trying to get his rap career to new heights when his girlfriend got pregnant, and T'yanna Wallace was born on 3 August 1993. Biggie and T'yanna's mother, Jan Jackson, was already on the outs when she was born, and the rap game was not cutting it when it comes to supporting his new child and baby mama.
So, in order to provide for his baby girl and his former girlfriend, the rapper started on the path of dealing drugs. Only later, when the rap game took off for the artist, and Diddy convinced him to give up the illegal way of life, the rapper gave up.
4. T'yanna was Only Three Years Old when Her Father Biggie was Shot and Killed
Biggie recently was involved in an accident which resulted in the rapper breaking his leg and while he was walking with a cane the album he was working on, 'Life After Death,' was also coming together and to promote the upcoming release of the album Diddy took the rapper to California where Bad Boy Records was not particularly well-liked.
Despite objections and death threats of retaliation for the death of Tupac, the Bad Boy team still arrived on the west coast and did their interviews. Biggie and the team went to a party on 8 March 1997 when the fire department broke up the party around 12:30 am due to overcrowding and on 9 March 2017 midnight the whole team got into two GMC vehicles and while leaving the party, at a red light a man shot and killed Biggie, he was struck with four bullets and died on 1:15 am.
At the time of his death, T'yanna was only three years old and getting ready to turn four only four months later. The father and daughter shared a great bond T'yanna sometime recall things she remembers about her father during their short time together.
3. T'yanna Fulfilled Her Father's Dream by Graduating from College
Source: Instagram
Biggie was a high school drop out, and as mentioned above, the rapper was also not exactly living on the right side of the law. He saw how young men lost their youths in prison during his time inside and promised himself he would not go back and make sure his children stay as far away from as possible.
The rapper also wanted his children to be in school, and Biggie talked about his daughter getting an education and never needing to worry about anything. He told Rolling Stone, "She ain't got nothing to worry. All she gotta do is finish school. Everything she wants, she'll get if she just finish school."
Biggie wanted his daughter to finish school, and she not only finished high school but then graduated from Penn State in 2015. If Biggie were alive, he would've been a proud father, seeing his daughter graduate from college.
2. T'yanna Keeps Her Father's Legacy Alive Through the Clothing Store Notoriouss
Source: Instagram
The daughter of Biggie is keen on keeping her father's legacy alive, though people are never going to stop humming Hypnotize, it is still important to remind the greatness of Biggie Small. To that extent, T'yanna opened a clothing store in 2013 to keep her father's legacy and legend alive through art and clothes.
T'yanna said, "I always wanted to be involved in fashion. I had been designing clothes and accessories since high school, so once I got to college, I made the final decision to seriously start a clothing line. It's heavily influenced by my dad, his music, and his birthplace, New York…I'm hoping with my clothing line, Notoriouss, I can keep [Biggie Smalls'] legacy alive."
The clothing store also holds Biggie art competitions, and it is also supported by some of the biggest names in hip hop who shop there from time to time. The store was named Notoriouss for obvious reasons, but the extra "s" at the end means the "swag or style."
1. T'yanna and C.J. Wallace Share a Great Sister-Brother Bond
Source: Instagram
T'yanna was born before all the hub-bub started regarding the career of Christopher Wallace in 1993, but after the break up of the relationship between T'yanna's mom and Biggie, the rapper started to date Faith Evans. The singer and the rapper got married, and they also became parents to their son C.J. Wallace Jr.
C.J. is also a rapper and an actor, and T'yanna shows love for her baby brother. He is three years younger than T'yanna, and they share an amazing sister-brother relationship despite having different moms.
Also Read: Michelle Mylett - Top 5 Facts About the Canadian Actress
Before you leave, make sure to head on over to our Entertainment section for all the latest news and gossip on your favorite celebrities. Also, do not forget to visit Glamour Fame to be in the know of all the happenings in the world of show business.
-->