Tyler Cameron Sparks Romance Rumors with Hannah Brown Again After He Reportedly Picks 'The Bachelorette' Star From Airport
'The Bachelorette' star Tyler Cameron ignites romance rumors with Hannah Brown after he was spotted picking her up from the Palm Beach International Airport in Florida.
Tyler Cameron, being the perfect gentleman, picked Hannah Brown and her belongings from the Airport in Palm Beach, Florida.
At first, it looked like a woman who just gave out a strong resemblance to that of Hannah, but we confirmed from a fan video who was quick to shoot the moment.
Hannah and Tyler share the on and off chemistry from 'The Bachelorette.'
Photo Source: Glamour
For further proof, we could relate to the post of the bachelorette contestant, where she documented missing her flight by five minutes.
The reality actress wrote, "I just missed my plane by maybe five minutes," Further elaborating, she also went on with, "So now I'm stuck at the airport for a little bit, the airport is empty. But there is wine. So I'm fine."
You May Like: The Bachelorette: How Does Tyler C's Family Handle His Fame?
Florida is Cameron's hometown, which is just a short drive from the Palm Beach Airport. The hunk is recently taking time off and living there after the sudden news of the death of his mother. Earlier this month, Tyler faced the tragic news of his mother's untimely death at 55 due to a brain aneurysm.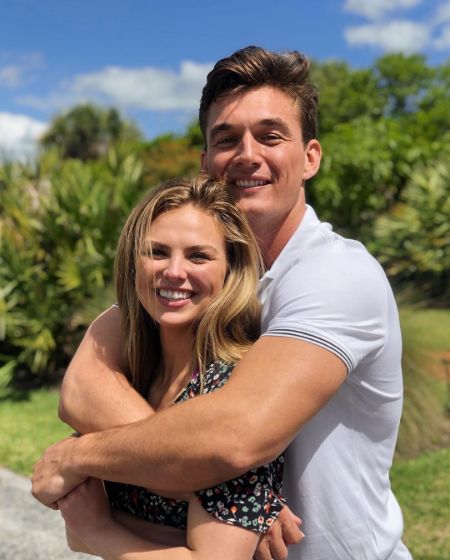 Reportedly Brown was also a part of a few events of fellow contestants passed away mother.
Photo Source: Cosmopolitan
Despite us gushing over the secret meeting of the 'supposed' couple, our sources deny of any link-ups or dating rumor.
The runner up of the recent Bachelorette show also dated Gigi Hadid right after things were off with Hannah. Not only Tyler, but our gorgeous actress also called off her engagement with Jed Wyatt.
Also See: Who is Nina Warhurst? Some Facts to Know About the British Journalist
It looks like there's only one ship here, and that is 'Friendship.' For now, that is, who knows what happens ahead. To get more information on your favorite celebs be sure to subscribe to Glamour Fame.
-->