Inside Vince Gill and Amy Grant's Marriage: All Details Here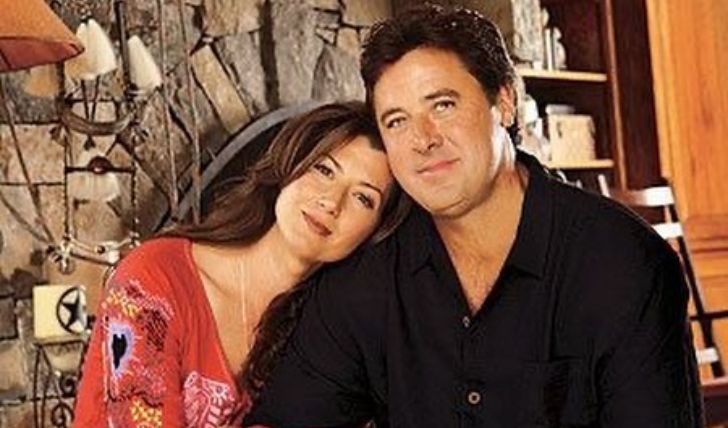 Vince Gill and Amy Grant have been married for more than twenty years: Complete story here!
Vince Gill is an acclaimed country music singer with hits like When I Call Your Name, Look at Us, Restless, and I Still Believe in You in his profile. Gill's wife of 22 years, Amy Grant, is as accomplished and often referred to as the queen of Christian pop. Gill and Grant's enduring relationship came to light recently after the Look at Us crooner canceled his shows over Grant's hospitalization.
Vincent Grant Gill, 65, is a native of Norman, Oklahoma. His musical career started with the country rock band Pure Prairie League in 1979. Vince started gaining attention around the 90s, and as of 2022, he boasts 22 Grammys. Before marrying Grant in 2000, Gill was married to singer Janis Oliver for nearly a decade.
Inside Vince Gill and Amy Grant's marriage!
Gill and Grant's life merged at the heels of their first tumbling marriage. Gill was an up-and-coming singer when he met Janis Oliver of the country duo Sweethearts of the Rodeo. He married Oliver in 1980, and the duo went on to retain their vows for almost eight years, during the period they welcomed their daughter, Jenny. Gill and Oliver's marriage started going downhill in the mid-90s, and soon came their divorce in 1997.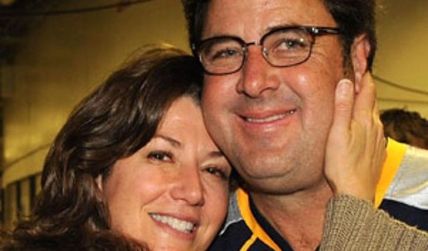 Gill and Amy were married to their first spouses when they first met. Photo Source: Instagram
Grant's marriage with singer Gary Chapman, who she married in 1982 and welcomed three children, was experiencing a course similar to that of Gill's. Amy, who met Vince in 1993 to collaborate on Gill's Christmas concert in Tulsa, was instantly attracted to the Oklahoma stud, and so was Vince to Grant, But it wasn't until Amy's divorce from Chapman in 1999 that she admitted to her illicit infatuation with Gill.
Don't Miss: Bradley Cooper and Huma Abedin Spark Dating Rumors: Inside the Actor's Dating History.
"I think that a part of me loved him instantly," Grant confessed years later. The Ageless Medley crooner says she thought she had the happiest family life until Gill came along. Overwhelmed by the unprecedented situation, Grant recalls a faith crisis and lambast from her fans, who pulled out her albums from shelves, and some stations stopped playing her songs. But the condemning babble wasn't going to stop the duo, who started dating shortly after their divorce and got hitched on March 10, 2000.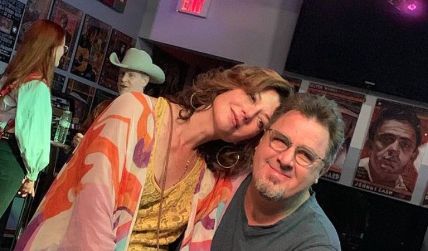 Gill and Grant tied the knots on March 10, 2000.
Photo Source: Instagram
After their tranquil nuptials on a rainy day on the hillside outskirts of Nashville, Gill and Grant now had a new yearning that would complete their union- to form a blended family. "In our wedding pictures, all of the children are grim-faced and understandably so because these were not their choices," Amy says in an interview. Grant says her and Gill's level-headed approach and patience eventually brought their kids together. The singer duo went on to welcome a daughter of their own, Corrina, in March 2001.
Get to know Vince Gill's wife!
A native of Augusta, Georgia, Grant is best known for her string of Christian-pop hits. Amy had initially started with Contemporary Christian music but gradually made a swift crossover to pop and cemented her career in both. Grant's fourth studio album, Age to Age, proved to be her breakthrough in fulfilling her ultimate dream of becoming the first Christian singer and having a title as a contemporary singer.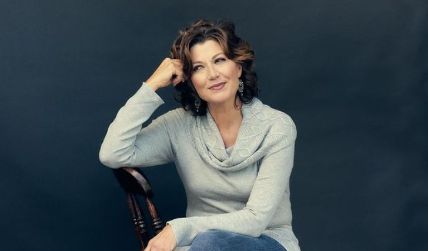 Amy is a Six-Grammy-winning contemporary Christian singer.
Photo Source: Instagram
A highlighting point came in Amy's career when she became the first gospel singer to rank on Billboards hot 100 with her seventh album, Unguarded, which includes her ever-green mainstream sound-infused songs like Find a Way, Everywhere I Go, and Wise Up. Grant successfully entered the mainstream channels through her ninth studio album, Heart In Motion, which catapulted the Augusta native to unprecedented stardom.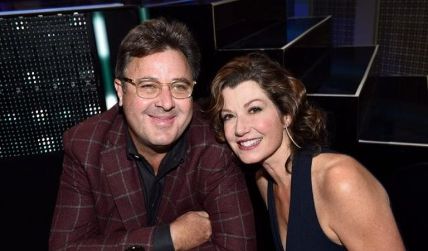 Gill and Grant share a daughter of their own and four kids from their previous marriage. Photo Source: Instagram
Grant's crossover career only soared higher with every album released- Home for Christmas, House of Love, and Behind the Eyes. Grant's fourteen album Legacy. Hymn and Faith marked her swift return to Gospel music and her demure image. She released her last album, Tennessee Christmas, in 2016. In her forty years as a musician, the contemporary gospel singer has earned six Grammys and multiple Dove awards.
Vince Gill canceled shows after Amy Grant's hospitalization!
The Gospel musician was involved in a bike accident earlier this week and was rushed to Vanderbilt hospital. Although Grant sustained only minor injuries, her husband Gill thought it necessary to cancel his upcoming shows to tend to Grant. While some fans are disappointed and have even taken to social media to voice their complaints, many are touched by Vince.
Vince has canceled three upcoming shows and has no plans of rescheduling amid Amy's accident.
Source: Taste of Country
As per Ticketmaster, the 22 Grammy winner has canceled his three anticipated gigs, previously scheduled for July 28, 29, and 30 at Ovens Auditorium. The Restless crooner has no plans to reschedule the canceled shows until his wife's complete recovery.
Recommended: Anya Taylor-Joy, Secretly Married: Inside Her Relationship History.
"Earlier this week Amy Grant was in an accident after hitting a pothole while riding her bicycle with a friend (note; she was wearing a helmet)," Grant's team's message read on Instagram. The statement read, "following a brief hospitalization, where she was treated for her injuries, doctors have ordered additional recovery time at home for Amy."
Stay connected to glamour fame for more.
-->