Wendy Williams is Taking a Break from Her Eponymous Show Following Her Mother's Death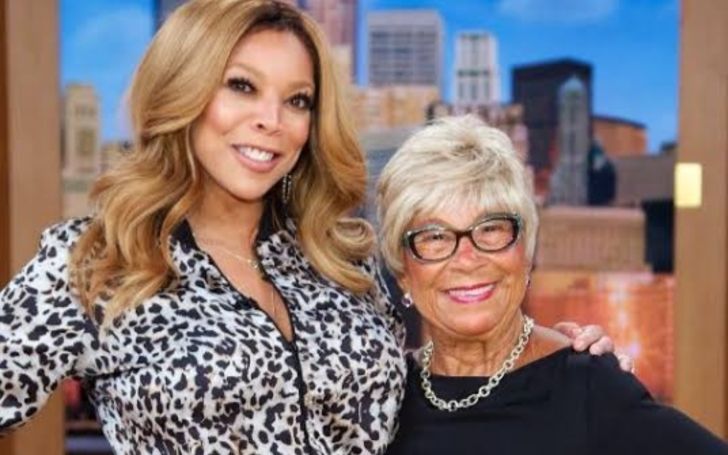 Wendy Williams announces taking a break from her eponymous show, The Wendy Williams, following her mother's death.
The reality show team recently confirmed that The Wendy Williams Show would not air next week as the host Wendy Williams takes her time off to grieve the death of her mother, Shirley Williams.
The statement read, "Next week, The Wendy Williams Show will air repeats to allow Wendy to travel and be with her family at this time." They also added that the show would return with original episodes on Monday, January 4th.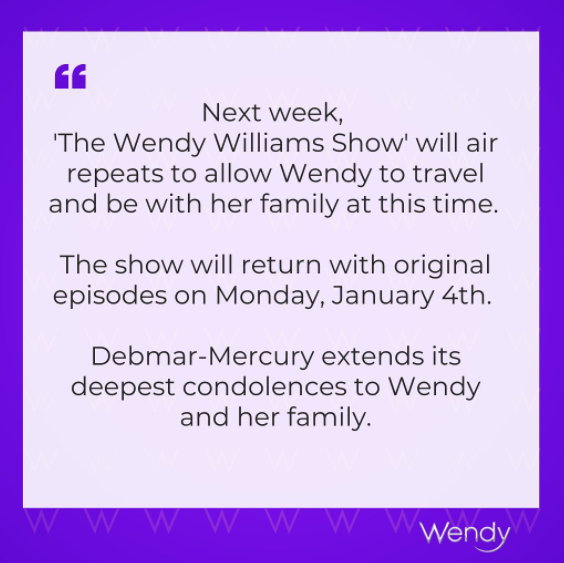 An official statement by the Wendy show.
Photo Source: Instagram
The 56-year-old confirmed the loss of her mother, saying it happened 'many weeks ago.' She spoke about her grief to the media going by,
"You know how you lose track of the day and time? All I know was it was a long time ago. The five of us, my mum, dad, my siblings, the five of us – she will always be here."
You may also like: Who was Abraham Quintanilla's First Wife? Find Out About His Ex
Wendy and her mother, Shirley, were known to be very attached. They would share every little detail and behave girly and ridiculously giggly to the end. Her mother died peacefully and surrounded by love without suffering any problems.
The TV host remembered her mother with, "She is everywhere, the first thing I think about in the morning, the last thing I think of when I go to sleep."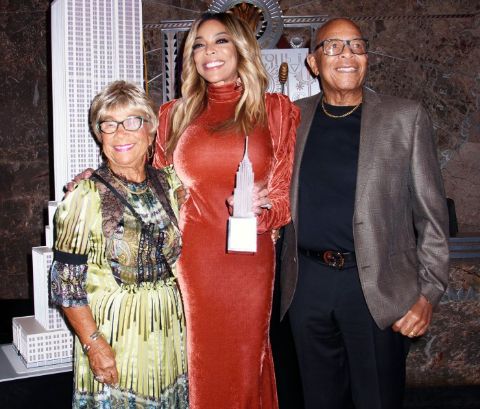 Wendy Williams with her mother and father.
Photo Source: Us Weekly
Williams had also previously taken a three-week break from the show when she was diagnosed with Graves disease. It was a condition where the immune system attacks the thyroid.
In her moment of grief, she's accompanied by her son Kevin Hunter Jr. Apparently, her son has never experienced a family death, so she wishes to be a support system for her little one.
You May Also Like: Wendy Williams Has Hired A Team To Ensure Her Finances Are Secured
Follow Glamour Fame for more news on your favorite celebs!
-->