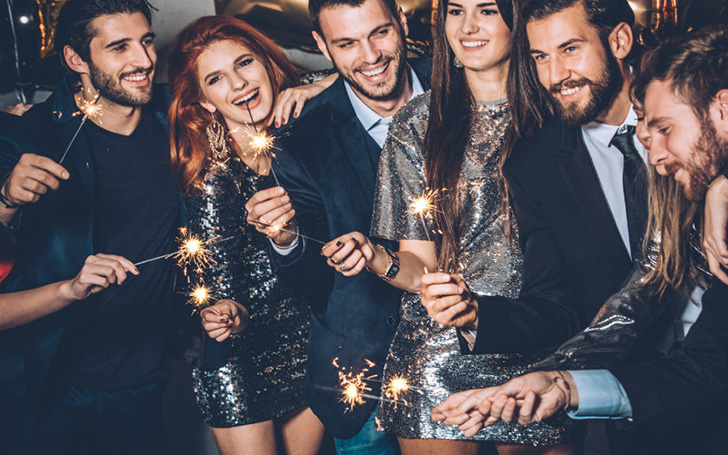 Cocktail attire demands effortless elegance. This style blends formality with personality. This attire is the mid ground to less dressy "casual" attire and formal "black tie" dress.
In general, cocktail attire refers to a semi-formal style of dressing in which suggests men wear a dark suit with a tie whereas, women are typically required to wear a dress that finishes at or above the knees with high heels. As this festive attire calls for playfulness and festive attitude, it is frequently placed as dressing code on invitations for holiday parties, weddings, receptions, class reunions, and anniversary celebrations.
Cocktail Attire For Men
For guys, this dress code calls for a dark suit with a tie. Going for something tailored that is a suit or blazers in dark colors is absolutely fine. However, a tuxedo is too much for a cocktail party.
If your dress code isn't strict then go ahead and explore dark colors such as burgundy, olive green or khaki. Avoid patterns as far as possible limiting it to windowpane check and pinstripes.
Keep the shirt in harmonious tune with your suit or blazer. Make sure your shirt's collar looks crisp and is sharply pressed and avoid floppy and limp shirt collar. Your tie must compliment your shirt or suit pattern. Similarly, your pocket square should be silk and of complementary color to your suit.


SOURCE: vogue freaks
Great shoes ultimately ground the cocktail attire and should never be overlooked or underestimated. A traditional round toe leather is generally the timeless choice of shoe for this dress. You can also go for this style in authentic leathers and switch things up with different textures like brogue punch holes. For less formal events loafers in classic black, brown, and navy colors can also be considered. In addition, choose over the calf socks that match the trousers or something from your attire.
You might also like: 2019 is Your Time To Stand Out From The Crowd, New Year's Eve Party Dresses
Stick to the classics while deciding an appropriate belt for cocktail attire. Leather and Suede are safe choices that won't date.
A good attire is never complete without great fragrance. Go for a clean yet memorable scent that adds depth to your semi-formal looks.
Cocktail Attire For Women
SOURCE: kiyonna
This particular dress code suggests women wear dresses that finish at or above the knees paired with high heels.
While dressing for a cocktail function, pick a dress that is less revealing and finishes at knees for the perfect length. Two-piece ensembles and jumpsuits can also opt for a cocktail dress whereas a floor-sweeping gown is way too formal.
SOURCE: vogue freaks
Ideal for a sophisticated finish to your look, heels are almost always a must. Paired perfectly with your cocktail dress a sandal or a pump style heels will let your dress shine. Add bold shoes and accessories to a simple dress to create a statement.
Also read: Best Christmas Party Dresses For This Festive Season
Add a bag and accessories to complete your cocktail outfit in style. However, keep in mind that a clutch or a mini bag reads as elegant and refined to a slouched bag over your shoulders alongside a nice dress.
-->