Who Are Zendaya' Parents? Grab All The Details Of Her Siblings And Family!
Zendaya, probably all of you know the name very well, but how well do you know about her parents and siblings?
Zendaya, a famous actress, dancer, and a singer's full name is Zendaya Maree Stoermer Coleman still lives with her parents.
Who are Zendaya's Parents?
Zendaya still lives at home with her parent, mother Claire Stoermer. The star is still with her parents not because she can't afford to live on her own, but the actress enjoys the perk residing with the family as she told on Ellen's show. "No alarm clock, no driving, and all the free food you want," the actress said.
While digging more on Zendaya's parents, we found out that Claire, 55, is a teacher. Zendaya said that watching her mother teach was a significant inspiration.
When the actress moved to LA upon being a cast in Shake it Up, Claire stayed in Oakland to teach. However, Zendaya still saw her every other week.
See Also: Tommy Hilfiger and Zendaya Set To Debut First Collaboration at Paris Fashion Week
Zendaya and her mother, Claire, as it seems, two of them have a very close relationship.
Stoermer never misses her daughter's special events. Recently, Stoermer attended the premiere of the 'Spider-Man: Homecoming' and 'Spider-Man: Far From Home.'

While talking about the parents, Zendaya's dad, Kazembe Ajamu Coleman, is a full-time manager and a bodyguard of Zendaya. What a way to protect her daughter, right?
Well, Kazembe is a father of 5 and a grandfather too. Zendaya is the only child Coleman has with Claire. All other half-siblings of Zendaya are married and have children.
Ajuma is doing a lot as a father, and Coleman filters the negative message from Zendaya's account. However, he believes if the actress dates someone, she should keep it private.
Read Also: Zendaya's Tommy Hilfiger Show Displays Tribute to '70s Fashion, Fierce Females, with Endless Fun
This news might come as a surprise for many, but Claire and Kazembe are divorced, but still maintains there civil when they are all together.
All for the love of the daughter, The trio is often seen having a good time together, and the former couple seems like the best friends.
Zendaya's Siblings - Who Are They?
Zendaya is very rich when it comes to family, the actress is blessed with 5 Half siblings, and they all love her little sister.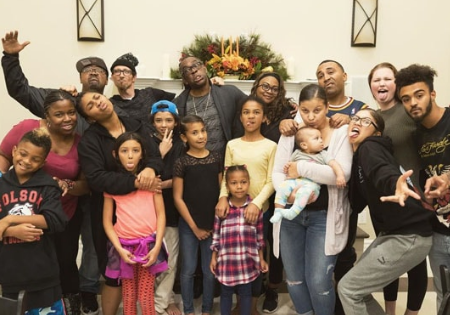 Zendaya has two older brother and three older sisters, which makes her the youngest in the family.
Zendaya's oldest brother is Austin Stoermer Coleman, then comes sister Kaylee Stoermer Coleman, brother Julien Stoermer Coleman, sister Katianna Stoermer Coleman, sister Katianna Stoermer Coleman and finally, sister AnnaBella Stoermer Coleman.
Zendaya is comparatively very young compared to her older siblings, and it may sound funny, but the actress was born aunt as her older siblings already had children when she was born.
Recommended: Zendaya Looks Stunning In Plunging Sequin Gold Dress On 'VOGUE' Cover
The Stoermer-Coleman siblings like keeping their private life under the radar despite having a superstar sibling with millions of followers.
Zendaya's Relationship with Niece and Nephews
Though Zendaya loves her older siblings, the actress loves her niece and nephews more. It is evident through the actress' adorable Instagram post.
The young aunt loves spending time and doing all the fun activities with her niece and nephews. The 22-year-old actress' niece and nephews love to call their aunt "Auntie Daya," now how adorable is that!
-->