Who is Berenice Schkair? Why is She Deleting Instagram Posts?
Published Sun Jan 27 2019 By Tess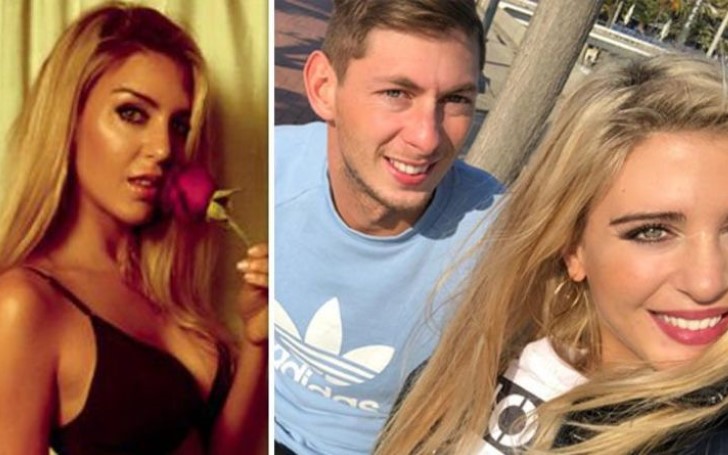 Shortly after Cardiff City's record making addition to the team, Emiliano Sala disappeared, emotional and persuasive social media posts appeared from Berenice Schkair.
Following the unexpected disappearance of the English footballer Emiliano Sala, his ex-girlfriend Berenice Schkair has made a number of emotional social media posts. Many of which are, however, deleted.
Her posts aroused questions regarding her identity and the reasons behind the removed posts.
Berenice Schkair is a 27-year-old model from Buenos Aires, Argentina.
Berenice Schkair made several emotional social media posts after the footballer Emiliano Sala disappeared

SOURCE: Wales Online
She is also the ex-girlfriend of Emiliano Sala, the Cardiff City footballer who went missing in a plane over the English Channel.
Even after days since his plane went off the radar in the English Channel Emiliano Sala still remains missing.
Cardiff City's new £15million record signing was due to train with his new team for the first time on Monday.
But without a sign of the missing plane, the pilot, Dave Ibbotson or Sala, the footballer's ex-girlfriend took to social media demanding the authorities to 'investigate the football mafia'.
Why is Berenice Schkair Deleting Her Instagram Posts?
The model expressed pain, regret and hope through emotional social media posts. Some of which were later deleted. Initially, she said:
"I want to wake up and all of this to be a lie. Please investigate because I cannot believe this accident. Don't suspend the search for bad weather when you only just found objects floating. I need to read that you have shown up."
Posting her message last night, she added:
"I cannot believe they're suspending the search until tomorrow, they're losing time and aren't investigating. I feel impotent, I'm in a nightmare. I cannot stop thinking about you, Emi."
She continued:
"The thing I regret most is not having told you that you made me feel like I haven't felt in a while and I love you. Why does this misfortune happen to such a fascinating man full of projects, hardworking, a good person dedicated to his job. Emi, my heart is broken. I still cannot understand it. I'm destroyed, I feel pain, fear, anger and impotence for not being able to do anything. I know you're strong. We are waiting for you."
In a separate post which was later deleted, Schkair also assumed the incident wasn't an accident but an intentional approach by Football mafia:
"Investigate the football mafia because I don't believe this was an accident."
When asked by Argentine media outlet Infobae for a comment, she said:
"The only thing I want is for him to show up. Out of respect for the family I prefer to wait, I'm going to say what I need to say in a few days."
Sala and Ibbotson went missing since their plane disappeared from radar over the Channel as the footballer was being flown to Cardiff having been sold to the Welsh club by Nantes for £13m.
You may also like: Kaila Methven Goes Completely Naked - Poses in Nothing But Diamonds
The plane took off at 7.15 pm on Monday and was flying at an altitude of 5,000 ft (1,500 meters). On passing Guernsey, it "requested descent", but Jersey air traffic control lost contact with it while it was at 2,300 ft.
Also read: Carol Kirkwood Apologises For Teasing Naga Munchetty On The Breakfast Programme
Rescue chiefs initially held hopes the pair boarded the plane's life raft, but the status of the operation since then changed from a rescue to a recovery mission. Guernsey Police suspended its search for the missing plane on Wednesday night and said the decision to whether to resume it or not would be made on Thursday morning.
-->