Kaila Methven Goes Completely Naked - Poses in Nothing But Diamonds
Published Fri Jan 25 2019 By Jessica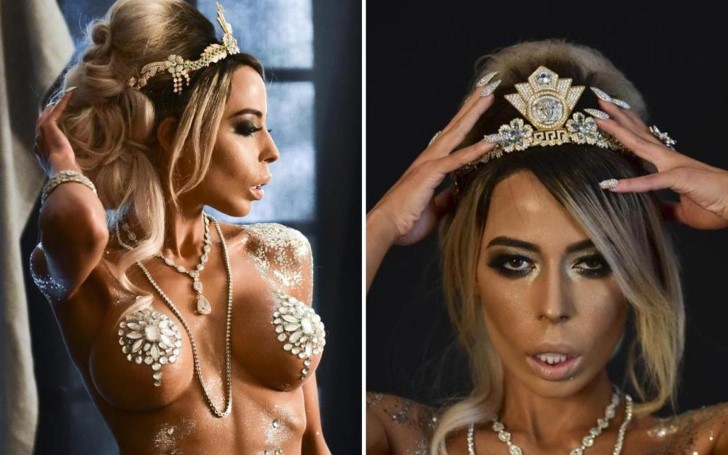 KFC heiress Kaila Methven poses in nothing but diamonds to spread women body positivity.
With big Hollywood celebrities including reality star Kim Kardashian and Paris Hilton holding history of doing nude photoshoots, another celebrity recently followed a similar footstep.
This time, its fast food restaurant chain, KFC's heiress Kaila Methven.
The Lady Gaga look-alike Kaila recently did a nude photo shoot for JMG Lifestyle Magazine, a luxury and lifestyle publication, wearing nothing as she showcased her private body parts.
Kaila Methven poses nude for JMG Lifestyle Magazine

SOURCE: The Daily Mail
For her latest photoshoot, the 26 years old decided to drool in JB diamonds as she gave serious face look poses.
You may also like: Actress Heather Locklear Spotted Together With her Boyfriend Chris Heisser After Getting Out Of Rehab
Methven's diamonds pasted on her body that only covered her nipples along with her long diamonds necklace, bangles and earrings are calculated to cost a huge amount of $10 million.
Her stylist added glitter decorations to embellish her naked body to touch more glamour and sexiness to her photoshoot.
Kaila Methven showcases her nude body
She also wore a diamond Versace crown on her head estimated to cost nearly $3 million.
Don't miss: Hailey Baldwin Talks Her Serum Savior, Burt's Bees Fix and Morning Routine
The celebrity reveals that she wanted to do something empowering for women in an artistic manner.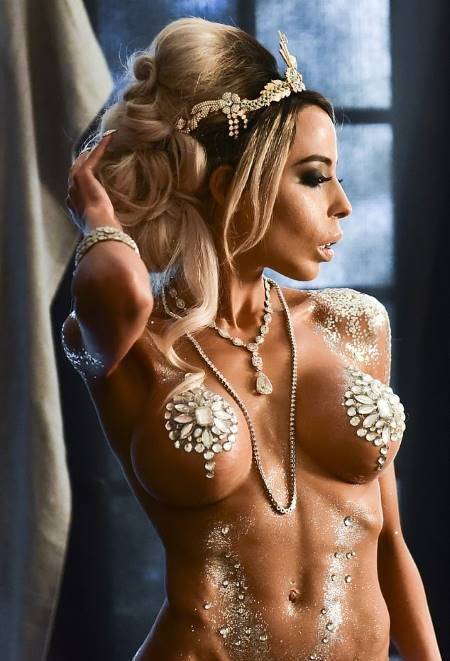 Kaila Methven wearing nothing but diamonds
SOURCE: The Daily Mail
Kaila Methven said:
"For the shoot, I had to be naked in front of about 20 people, which was a little scary at first, but it really wasn't about nudity for me, this was about creating something artistic and empowering with a woman's body"
She reveals she did the photo shoot to show respect for women and her own late mother Lisa Methven who committed suicide when Kaila was just a teenager.
Kaila adds:
"I have so much respect for women and my own mother had to face many challenges and inequality. I hope to empower other women to be themselves and fight for their rights and help each other."
The classic James Bond movies concept inspired photo shoot promoted the classic 'diamonds are forever' themes from the '60s and '70s.
The pictures shot by photographer Michael Bezjian took place at The Artists Project.
Also see: Chris Brown Released in Paris with No Charges; 'Heartbroken' Over The Possibility Of Being Locked Up & Away From Daughter
The publisher of the JMG Lifestyle magazine, Chinga Moalusi believes Kaila to be the perfect choice for the cover of their new issue.
On the topic he says:
"Kaila is a great cover star, she is an educated business owner and a person that is well cultured, well-traveled, and inclusive of others. Our decision was easy to feature her on our cover, we wanted to give her a platform for her goals and views."
The magazine is available to purchase online.
Meanwhile, despite being born into a wealthy family, Kaila grew up in a turbulent environment.
The entrepreneur moved to France to live with her father and stepmother, whom she didn't get along after her alcoholic mother died and her stepfather abandoned her.
Don't miss: Supermodel Naomi Campbell Goes Braless for Valentino fashion show
She opened up about her childhood and upbringing in an interview with Medium in September last year.
Kaila Methven is the CEO and designer of the lingerie brand Madame Methven.
-->