Hailey Baldwin Talks Her Serum Savior, Burt's Bees Fix and Morning Routine
Published Thu Jan 24 2019 By Jessica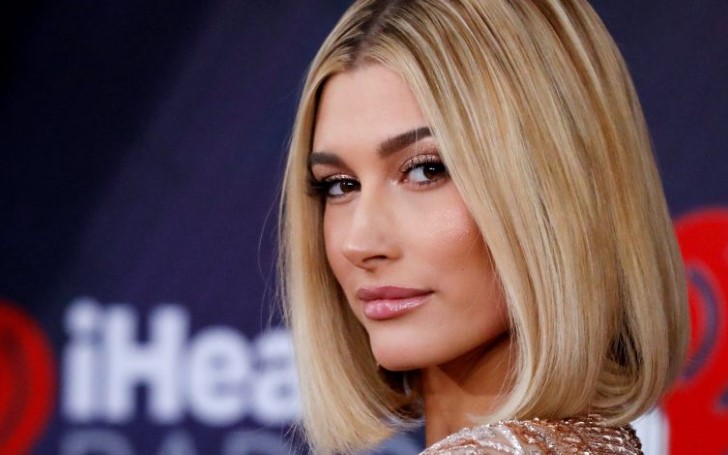 American model Hailey Baldwin shares her beauty product secrets and it's amazing.
Hailey Baldwin who goes by the name Hailey Bieber after marrying her boyfriend Justin Bieber is not a new or strange name in Hollywood.
Surely, anyone can easily think the top model who usually walks off the runway for Tommy Hilfiger, Off-White and Dolce & Gabbana relies on expensive beauty products to maintain her flawless face. However, surprisingly that's not true.
Hailey Bieber at an event
SOURCE: Hailey Bieber Twitter
As a matter of fact, when it comes to appear beautiful and take care of her skin, the 22 years old model reveals to Elle that she likes keeping everything casual and simple.
You may also like: Chris Brown Released in Paris with No Charges; 'Heartbroken' Over The Possibility Of Being Locked Up & Away From Daughter
Yup, that's true, the model who recently got an accusation of abusing dog prefers simplicity. Haile answers she feels more beautiful with bare face instead of being baked with the makeup.
Besides, Hailey also reveals the religious side of her. The first thing the model does when she wakes up is no fitness or jogging stuff but rather by devoting her time to Jesus.
The model listens to an app called Jesus Calling right after waking up, further explaining that it helps her sets her mind away from social media and work.
Furthermore, to address on the product Hailey uses on her favorite face feature which is apparently her lips, she prefers a lip balm that is a little bit tinted with colors.
Don't miss: Life is Strange 2 Episode 2 Releases Emotional New Trailer
As a matter of fact, Hailey Bieber uses Burt's Bees 100% Natural Tinted Lip Balm, for its nonintense shades quality that is enriched with super conditioning features.
Burt's Bees 100% Natural Tinted Lip Balm, Pink Blossom with Shea Butter & Botanical Waxes


SOURCE: binge
You can get the product on Amazon at only $9.98.
Likewise, Hailey applies Dr. Barbara Sturm Hyaluronic Serum to keep her skin healthy and flawless from getting dry which occurs from the constant traveling her modeling works bring on her.
DR. BARBARA STURM Hyaluronic Serum

SOURCE: Goop Shop
Baldwin's serum savior easily available at Amazon cost only $300.
Do read: Lady Gaga's Interesting Reaction To Bradley Cooper's Oscar Snub
Hailey who follows mineral-based product line has worked with beauty company bareMinerals as its face.
-->