Hailey Baldwin Changed her Instagram Name Hailey Bieber After Marriage With Justin Bieber
Published Mon Dec 10 2018 By Jessica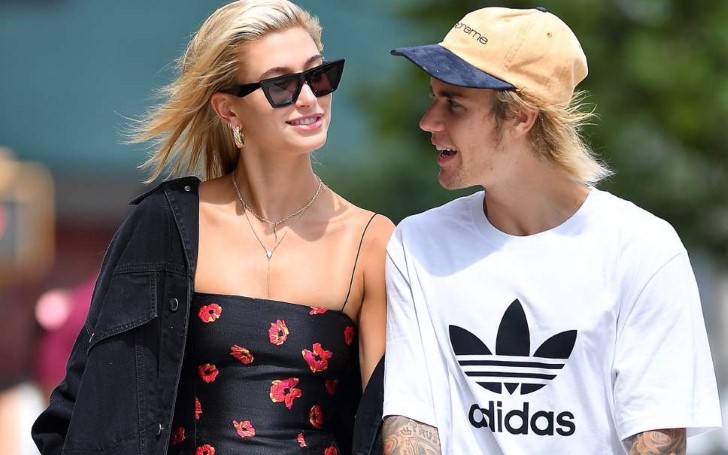 It's official for Mrs. Hailey Baldwin and Justin Bieber after Hailey changed her Instagram name to Hailey Bieber. And if you need a tissue whilst listening to That Should Be Me then we're right here.
Remember when we all were 13 and thought we would be married to Justin Bieber someday whilst watching his music video Baby on TV? Yeah, well let's laugh to that. Although all of our 13 years old self is crying in the dark corner right now, we also couldn't be happier for Justin to have found his One Less Lonely Girl AKA Hailey Baldwin Bieber.
Girlfriend to wife. Yes! Guys, it's official for Justin and Hailey. Hailey who previously was on her social media with her last name Baldwin has now changed it to Bieber. And not soon after that, the whole Internet freaked out over the news.
Also Read: Demi Lovato Spotted Out Dinner Date With New Boyfriend Henry Levy And Have a Sweet Kiss
Justin and Hailey dated on-off for the past three years while Justin still dated ex-girlfriend Selena Gomez in between. The couple only got engaged in July this year, and later tied the knot through court marriage presumably in September.
The new husband and wife, Justin and Hailey are also active on Instagram sharing their pictures with cute captions with some of them even being NSFW nature.
Justin captioned one of the photos with saying:
"My wife is awesome"
Another picture captioned with:
"Hailey I am soooo in love with everything about you"
Likewise, the 22 years old model as well posted a pic with Justin with a caption saying:
"absolute best friend"
Meanwhile, Hailey recently appeared in a Carpool Karaoke video with fellow model bestie Kendall Jenner. However, Hailey in a recent Instagram story mentioned that she is currently staying off her social media also mentioning the reason behind it - apparently it causes her anxiety and impacts negatively towards her relationship and career.
Read Also: Emily Ratajkowski Showed Her 'Weekend Dreamz' on Instagram With a New Bikini Pic
Before meeting the love of her life, Mrs. Bieber reportedly dated another Canadian singer Shawn Mendes. The ex-duo confirmed their relationship by appearing in Met Gala 2018. However, their relationship couldn't last and broke up right before the month Hailey got back together with Justin.
Hailey is also reported to have dated 25 years age NBA player Jordan Clarkson, who also dated her bestie, Kendall Jenner. Similarly, Hailey was seen with Canadian rapper Drake multiple times in public but no confirmation on their affair was made by either of them.
You May Also Like: Natalie Portman Apologizes After Jessica Simpson Calls Her Out
Likewise, Hailey was also seen together with Youtube star Cameron Dallas, but they couldn't last either when the surfaced break up news turned true when Hailey unfollowed him on Instagram.
The way Mr. and Mrs. Bieber defends their relationship privately and publicly is a huge couple goal. Also a big Congratulation to the new power couple in Hollywood.
-->