Who is Ariana Biermann Boyfriend? Know About Her Past Affairs
Published Tue Sep 10 2019 By Sea
Ariana Zolciak Biermann has been on TV for a long time, considering her age of just 17 years old now and the age of just 10 to have started in Bravo TV's family reality series, 'Don't Be Tardy'. She has five siblings and comes out on top after her only older sister, Brielle Biermann, in terms of popularity.
The large family of mother Kim Zolciak-Biermann with her husband, Kroy Biermann are documented in their show as they go on with their life, and these people have certainly not been tardy when it comes to expanding horizons. The mother and the eldest sister almost seem inseparable after they both got cosmetic surgery on their lips (the one part of the body they are allowed to) and the second daughter also wants to follow into the family business. Ariana, too, did the same with her lips, and the three of them together created the KAB Cosmetics.
Source: Kim Zolciak, Instagram
The 17-year-old is notable for posting raunchy posts on social media and went through an amazing weight loss journey where she lost 30 lbs in 2015. But that's not the only incredible thing in her life. As is famous in the social media world and publicized by her mother, she has a history. In relationships that is. Despite her age, she's gone through two breakups already and starting another relationship which is going well for the moment. Who are these unfortunate boys and who is the one for her now?
The First - The Adorable Colin Lipman
Colin Lipman was the first to enter into the dating scene for the former 'The Real Housewives of Atlanta' sweet-pea after her weight loss phenomena. He first appeared officially to the world when she posted a photo of themselves enjoying on October 17, 2017, on Instagram.
Though it can be guessed it began much before that. Well, you know, since they were at a fair celebrating the girl's 16th birthday. It seems they had a nice dinner at a restaurant later.
Source: Ariana Biermann, Instagram
Source: Ariana Biermann, Instagram
Unfortunately for the fans, their relationship didn't cross the next year's summer. Colin stopped appearing in Ariana's feed since July 2018. They broke up was the thing as Ariana herself confirmed in a comment section of her second boyfriend's October post, that "three months ago", it was over.
Source: Ariana Biermann, Instagram
Despite getting even her mom's approval, they had to call it quits. The reasons are unknown. She might still be in good terms with him though, since she hasn't deleted any photo that includes him. She did delete all her pre-2016 photos, so she may be trying to just show the people her coolness.
The Second - Aspiring Model Hudson McLeroy
Another boy, Hudson McLeroy entered into the scene immediately after the separation with Colin. The two went public with their relationship after they went to a homecoming dance together on the second weekend of October 2018. Ariana's mother sent them off together as she helped her daughter doll up for the event.
Source: Hudson McLeroy, Instagram
This was another guy who got the stamp of approval from her mother as she shared their photo together for the party. But it should have been better than the last because of all the common things the couple had. They are exactly the same age as they are only a few hours apart in their birth, and could understand each other. But, all good things come to an end.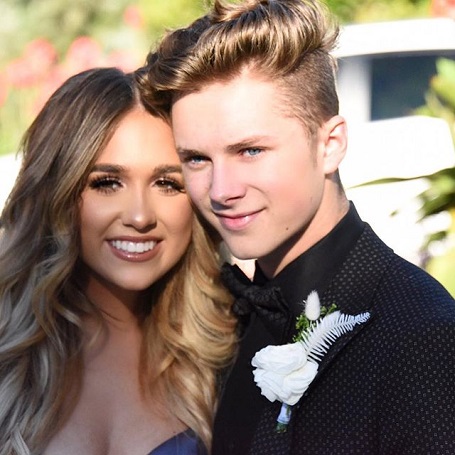 Source: Kim Zolciak, Instagram
A few days after the homecoming was Ariana's birthday. She was 17 on October 17, 2018. She got a surprise from her then-beau, with a bouquet of flowers. She shared the video clip on her Instagram Story that day and also posted a selfie on her story thanking him for being the best birthday lover.
Source: Ariana Biermann, Instagram Story
Source: Ariana Biermann, Instagram Story
The end came around Valentine's day, and Ariana posted a photo of her conversation with her best friend, Austin Anderson, that suggested her status of 'single'. This was probably a bad breakup since she removed each and every photo that included Hudson from Instagram. Although, the guy still hasn't. Are there some unresolved feelings still?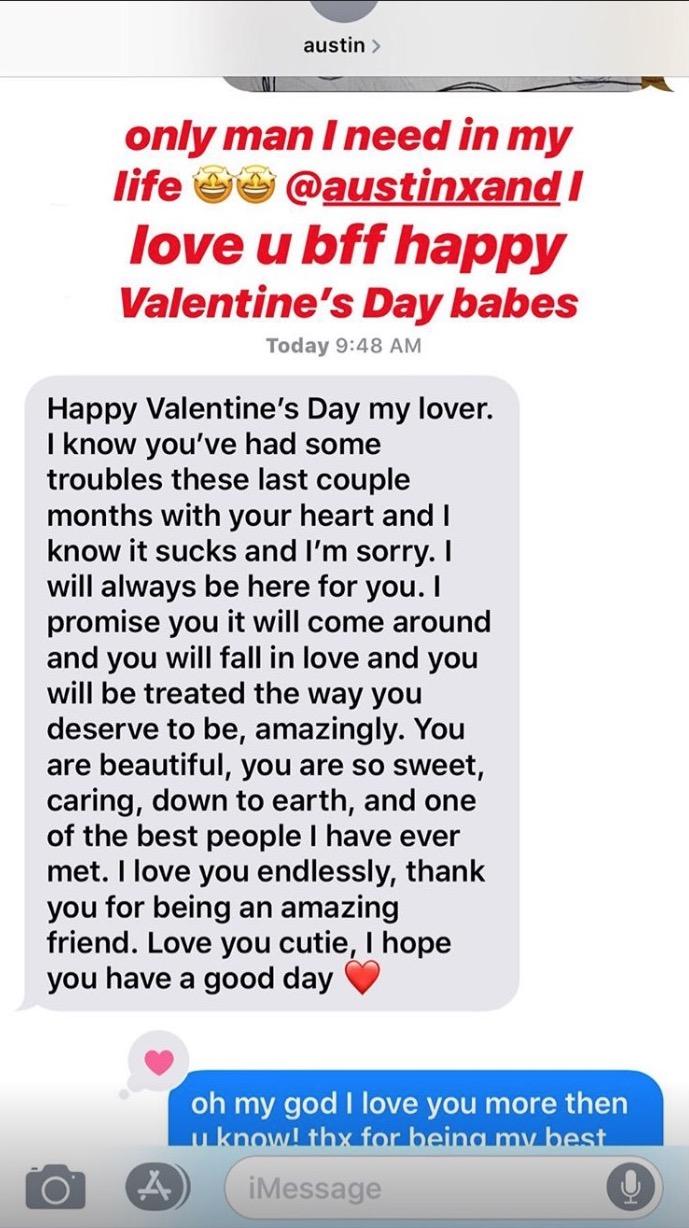 Source: Ariana Biermann Instagram Story
Despite what this photo suggests, Austen can only go as far as being the best friend. They are not together. Guess, she knows the value of friendship so much so that she is smart enough to keep a guy best friend around her in case of trouble. (We know the real reason why though. Later, you will too.) Besides, someone else was entering her life after a couple of months...
Then, The Latest - Chandler Jones
Ariana went through three months without a relationship after that. But who knows, she is being extra careful with these kinds of thing and getting more discrete about it. She was having night outs and different kinds of fun with her BFFs; then this other guy popped up.
Chandler Jones got his chance of taking the girl of his dreams as his prom date. On March 24, they dressed up good and almost looking bridal.
Source: Ariana Biermann, Instagram
Chandler is a wide receiver/defensive back and played football at Milton High and then at Cambridge High. He will be attending Mercer University as a preferred walk-on, which is closer to where Ariana is right now.
Watch: Chandler Jones At Milton High
It is actually going smoothly, if you consider no news of their split yet revealed. Ariana attended Jones' high school graduation ceremony on May 23 and congratulated him with a kiss. She posted several PDA packed photos on Instagram.
Source: Ariana Biermann, Instagram
We're sorry for the lack of pictures with the current boyfriend. But it's not our fault. She deleted every other photo, except the prom one, of her and Chandler together from social media. This might lead to some speculations that they are already split up. You know, since the last boyfriend had his photos removed from her feed as well. But Bravo TV still believes it's on as they indirectly reported they are still girlfriend and boyfriend. Still, fingers crossed until the next boyfriend emerges.
And The Guy Best Friends
It's no secret that the recent high school senior student has many BFFs. Lots of them. And most of them stand out to be guys. As already discussed, she is smart about keeping the most important people in her life just to a position where she won't have to worry about ever feeling awkward talking to if they ever stop. Wonder how the guys feel about being friendzoned.
Austen Anderson is already introduced, and the two kids are, well, kids. They enjoy each other's company, and Ariana doesn't have to worry about him ditching their friendship. He is, after all, the one who needs to be there to console the growing star whenever some other guy lets her heart be shattered. June 14 was his birthday, and she was obedient enough to let her know how much she cares about him.
Source: Ariana Biermann, Instagram
Another guy who made one appearance as her BFF on her Instagram feed is Camden Croucher. Make of it what you will. He probably has a girlfriend, someone other than Ariana.
Source: Ariana Biermann, Instagram
Seeing Chandler being taken off from her Instagram feed begs the question of if they are still together. And we haven't been able to figure it out yet. But the friendship with Austen is more intense than ever. They both claim they love each other and it's not new. So, we'd be surprised if they already got together in a non-platonic relationship after Ariana breaking up for the third time.
But hey, it's not possible; because Austen is already in a relationship with another person. A guy named Chaes Houston Hatfield. Yes that's right; no speculation needed.
Source: Chaes Houston Hatfield, Instagram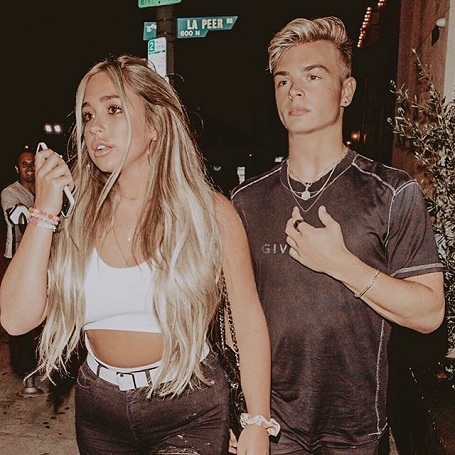 Source: Austen Anderson, Instagram
For now, we cannot easily say that Ariana is in a relationship with Chandler Jones, but since their status doesn't seem to be officially announced, it is alright to say that they are together. He is still in her Instagram Highlights section titled 'bffs'.
-->